Goldman Names Scherr Strategy Head as Chisolm Retires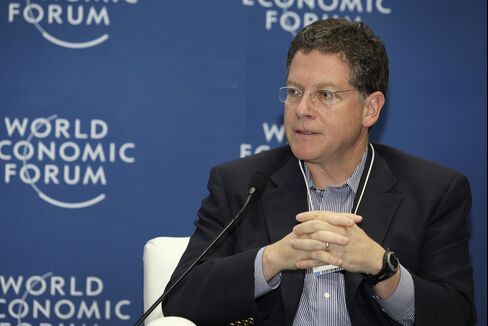 Goldman Sachs Group Inc. named Stephen Scherr as the firm's chief strategy officer to replace Andrew Chisholm, who's retiring after 29 years.
Scherr, 50, will remain head of Latin America in addition to the new role, according to an internal memo today from Chief Executive Officer Lloyd C. Blankfein and President Gary Cohn. David Wells, a spokesman for the New York-based bank, confirmed the memo's contents.
Blankfein's strategy since the financial crisis has been to remain in the firm's primary businesses even as some competitors more aggressively exit areas of trading. While Goldman Sachs has cut costs and assets, Blankfein has said he won't risk missing out on the opportunities of a rebound in trading activity for short-term gains in profitability.
Goldman Sachs earned an 11 percent return on equity last year, higher than peers while one-third of the returns it posted before the financial crisis. Cohn said last month that the current environment is "abnormal" and features trading clients that are the least active in years.
Scherr's role will include seeking opportunities for revenue growth even if broader market conditions don't improve in the near term, said a person with direct knowledge of the assignment.
"As part of his role, we have asked Stephen to help coordinate our lending business as we leverage our existing bank platform to provide credit to both corporate and individual clients," Blankfein and Cohn wrote.
Esposito, Nachmann
Scherr has led Goldman Sachs's financing group since 2008, a unit that often deals with both the firm's investment bankers and traders. The underwriting business produced a record $4.03 billion in 2013, topping $2 billion in debt underwriting for the first time and ranking first in global equity offerings.
Jim Esposito and Marc Nachmann will replace Scherr as co-heads of the financing group, according to a separate memo. Esposito, 46, previously led the unit in Europe, while Nachmann was co-head of the global natural resources investment-banking group.
Nachmann's co-head, Brett Olsher, 53, will become co-chairman of the natural resources group with John Vaske, while Gonzalo Garcia and Suhail Sikhtian will run the group, the firm said.
Chisholm will continue as co-chairman of the company's commitments committee through at least the end of the year, according to the memo from Blankfein and Cohn. He joined the bank in 1985 and helped build the financial institutions group within investment banking.