Fera at Claridge's Shines as Successor to Ramsay, at a Price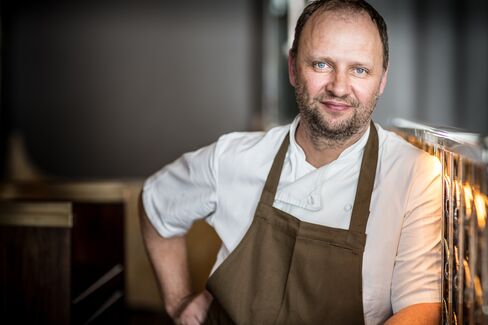 Simon Rogan is a big name in the U.K. culinary scene and has yet to develop a wide following overseas.
His chance has come with the opening of Fera, which has just replaced Gordon Ramsay as the restaurant at Claridge's.
The chef has quietly been working wonders for a decade at L'Enclume, in the northern village of Cartmel. The obstacle is that's more than four hours from London, which means many people best know that establishment from the TV show "The Trip."
The waves you make with a restaurant in the Lake District may be little more than a ripple by the time they reach the capital. Not that I am saying Rogan is washed up. He's just getting started.
At Fera, he showcases his style of cooking, which focuses on extracting maximum flavor from the best ingredients, many of which come from his own farm. That may be the aim of most chefs, yet few achieve dishes that are so clean and focused.
Let me put that another way: The food is delicious.
You may start with snacks such as pea wafer, with fennel and flowers. It is a happy marriage of taste and texture and it is also very pretty. Then you may move on to rabbit with lovage, another canape where you hold a world of flavor in your hand.
The menus are six courses or 10 courses, with a few extras thrown in for good measure, so let's step away from the table and take a look around the room. It is glamorous without being vulgar. It's grand without being intimidating. Best of all, it's Art Deco without being cliched. There's also a cute bar.
If you want to feel intimidated, take a look at the prices.
The set menus are 95 pounds ($159) for six courses or 125 pounds for 10. Throw in wine, water, coffee and service and you will be lucky to escape for less than 150 pounds per person, even with the shorter menu.
Duck Hearts
There is an a la carte menu for 85 pounds for three courses. The pricing at just 10 pounds below the shorter tasting option makes it an unlikely choice. There's a lunch for 45 pounds for two courses, 55 pounds for three. I realize this is Claridge's, but I would like to see some less-expensive options and, ideally, a more considered a la carte option.
There are several highlights to the tasting menu, including duck hearts in a bowl of pureed potato and Winslade cheese; and an even more unlikely-sounding dish, grilled salad with Isle of Mull cheese, truffle custard and cobnuts. Bread is served as a course in itself with a mushroom broth on the side. It works.
The wine list is less scary and more adventurous than it might have been. The sommelier is unsnooty and is happy to suggest unusual options, such as an orange-colored natural wine from Georgia for 49 pounds. (While I don't regret accepting the recommendation, I wouldn't order it again unless to revisit a farmyard without leaving London.)
The service is generally friendly and welcoming. In many ways, Rogan is inspirational, and his enthusiasm has rubbed off on the staff. They appear dedicated to sharing the joy rather than reminding you that you are in one of the world's poshest hotels. Diners are also welcome to visit the open kitchen.
Changing the Menu
If you go along for cocktails in the new bar and then have a leisurely meal in the impressive dining room, you may enjoy some of the best food and service in London.
One of the joys of Fera is that Rogan plans to change the menu regularly, so this is likely to be a living restaurant rather than a hotel museum of unchanging dishes.
The disappointment is that at such high prices, and with tasting menus the main option, most of us will only get there for special occasions.
Rating: 8/10.
Fera, 49 Brook Street, Claridge's, London, W1K 4HR. Information: http://www.claridges.co.uk/FERA/ or +44-20-7107-8888.
(Richard Vines is the chief food critic for Bloomberg. Opinions expressed are his own. Follow him on Twitter @richardvines)
Before it's here, it's on the Bloomberg Terminal.
LEARN MORE