Jewish Museum Suspect Held as Hollande Targets Jihadists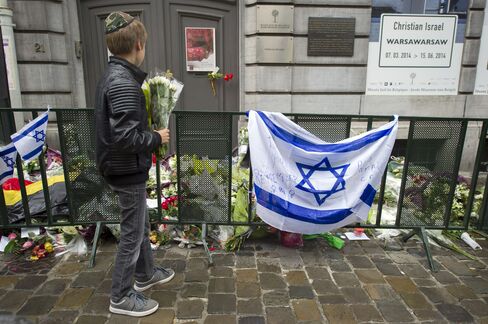 June 2 (Bloomberg) -- France arrested Mehdi Nemmouche, a 29-year-old with a history of jail time and "religious radicalism," as the prime suspect in the deadly May 24 attack at the Brussels Jewish Museum, Prosecutor Francois Molins said.
The suspect, a Frenchman described by Belgian authorities as a "radicalized" former fighter in the Syrian conflict, "was arrested as soon as he set foot in France, in Marseille," French President Francois Hollande said yesterday. Hollande said his country is determined to combat jihadists.
Three people, including an Israeli couple, were shot to death last month at the museum. Belgian officials described the attack, which lasted less than 90 seconds, as "cold-blooded" and "determined." A fourth victim is in a coma.
Nemmouche was caught carrying an assault rifle, a loaded handgun and other objects similar to those used in the Brussels killings, during a "random check" by customs officers on May 30, Molins told a press conference. A video was also found on which a man can be heard saying he killed people in Brussels, Molins and Belgian prosecutor Frederic Van Leeuw said in separate news briefings.
"The entire government is mobilized to stop the jihadists from doing harm," Hollande said. "It's a constant battle -- these jihadists, we will combat them."
'Radicalized' Threat
The suspect has so far refused to speak, Molins said. Nemmouche, who was previously jailed five times, left Europe in December 2012 for more than a year to countries including Syria, he said. Two people were being questioned by police in the Belgian town of Kortrijk, Van Leeuw said.
"We can confirm that this person was radicalized," Eric Van der Sypt, a spokesman for the Belgian federal prosecutors' office in Brussels, said by telephone. "He went to Syria to fight there and then came back to France. That is a problem that is occurring in every European country at the moment."
Belgium has issued a European arrest warrant for the man, Van der Sypt added. A judge will decide whether Nemmouche should be extradited for trial in Belgium, Molins said. Belgian and French police will continue to work together and should extend their collaboration to prevent such events, Belgian Prime Minister Elio Di Rupo said in a statement.
French Interior Minister Bernard Cazeneuve and his Belgian counterpart Joelle Milquet together called for better sharing of police intelligence between countries in the European Union, in a joint press conference in Paris yesterday. EU countries will discuss further cooperation at a June 4-5 ministerial meeting in Luxembourg, Cazeneuve said, adding that he will seek legislative changes to help track potential jihadists.
New Strategy
At that meeting, the ministers "will also be discussing a new strategy to counter the phenomenon of foreign fighters," Michele Cercone, spokesman for EU Home Affairs Commissioner Cecilia Malmstroem, told reporters today in Brussels. This phenomenon "is becoming more and more real," he said. "We have now seen a specific act being performed and that obviously requires action, intervention."
"International cooperation is an essential condition if we're going to succeed against these terrorists who are mobile and use social networks," Cazeneuve said. "We need measures to help circulate information better."
The European Jewish Congress welcomed the arrest and said the attack showed the need for a concerted effort to prevent such assaults.
"There is a wave of terror against the Jews in Europe," Moshe Kantor, president of the EJC, said in a statement. "We need far greater cooperation and resources to catch these people before they act."
'Potential Targets'
Antwerp Mayor Bart De Wever said the Jewish commmunity in Belgium's second-largest city is under "serious threat" and called for more protection of "potential targets," the Belga newswire reported.
Investigators on May 25 released video footage showing the killer entering the Jewish Museum in Brussels, pulling a Kalashnikov-type assault rifle from a bag, firing it and then leaving on foot. The federal police posted the tape on the Internet and called on the public to help find the attacker.
To contact the reporters on this story: Marie Mawad in Paris at mmawad1@bloomberg.net; Peter Chapman in Brussels at pchapman10@bloomberg.net
To contact the editors responsible for this story: Kenneth Wong at kwong11@bloomberg.net Jones Hayden, Peter Chapman