Crimea Adopts Ruble as Ukraine Continues Battling Rebels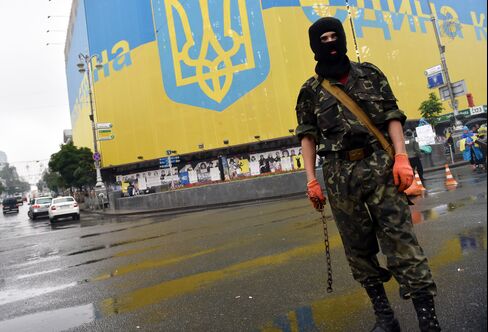 June 1 (Bloomberg) -- Crimea adopted the ruble in a further step toward integration with Russia, which annexed the Black Sea peninsula in a move Ukraine and its allies the U.S. and European Union have denounced as illegal.
Crimean shops will no longer use double pricing in hryvnia and rubles, and all transactions will be carried out solely in the Russian currency, Russia's central bank said in a statement. The currency switch comes as Ukrainian forces battle to stop pro-Russian separatists from carving off more territory in the country's east as President-elect Petro Poroshenko tries to right the economy and keep the country from splitting apart.
In Ukraine's capital, activists protested after the city's authorities tried to remove the tent camp that was the center of deadly protests and led to the February ouster of former President Viktor Yanukovych. Kiev Mayor-elect Vitali Klitschko, an ex-world boxing champion, said general elections should be held as soon as possible.
"The things we are doing are going step-by-step," Klitschko said to a crowd that at times jeered and whistled. "Parliamentary elections must be held in the nearest future."
Ukrainian forces are continuing to fight insurgents in eastern regions, Defense Ministry spokesman Vladyslav Seleznyov said by phone.
"Each of the men taking part in the anti-terrorist operation is carrying out his task on schedule, and more information will be provided after the military action is over," Seleznyov said.
Rebels Attack
Rebels armed with rifles and grenades damaged military telecommunications equipment in eastern Luhansk and seized more than 40 weapons newswire Unian reported, citing the press-office of regional prosecutor's office. Another group took over an ammunition plant in Luhansk, Ostrov newswire reported, citing regional police.
Leaders in Kiev and the U.S. and EU accuse Russian President Vladimir Putin of encouraging the tumult by sending the separatists cash, arms and manpower. Russia says Ukraine's army should stop targeting its own citizens, a sentiment echoed by Czech President Milos Zeman, whose country is a member of the EU and the North Atlantic Treaty Organization.
"When the Ukrainian army, including paramilitary organizations, fight against their own citizens, they are still citizens of Ukraine," Zeman said in an interview on Czech Television today. "They should also realize that if it really comes to civil war, it would be a very comfortable pretext for the Russian Federation to invade."
Kiev Protests
A group of about 300 "self-defense forces" joined the government troops near the eastern Ukrainian town of Slovyansk to fight the insurgents, the National Security Council's Chief Andriy Parubiy said on Facebook.
In a speech in Singapore, Russian Deputy Defense Minister Anatoly Antonov criticized "punitive action" by Ukraine's central government. Authorities in Kiev say they're fighting rebels from Ukraine and some fighters from Russia who have terrorized the country's east by killing dozens of soldiers and civilians and abducting scores of journalists, pro-Kiev activists and electoral officials.
Crimean Church
Armed men wearing Russian Cossack uniforms attacked a Ukrainian Orthodox church of the Kiev Patriarchate in Crimea near Simferopol, wounding two women, the Journalists' Investigation Center says, citing Archbishop Klyment.
The attackers shouted "satanists" and "fascists," Klyment said, according to the Journalists' Investigation Center. They are trying to push the Ukrainian Orthodox Church out of Crimea, he said.
More than 1,000 people gathered in Kiev's Independence Square to protest removal of tent camp and commemorate 100 victims of deadly clashes three months ago that preceded Yanukovych's ouster.
About 90 of the 300 people that went missing during February protests before Yanukovych fled have not yet been found, and police haven't done their job, Maidan volunteer leader Taras Matviyiv said.
Meanwhile, the Organization for Security and Cooperation in Europe said it still had no contact with two observer teams it sent to monitor the unrest in eastern Ukraine that went missing in Luhansk region on May 26 and May 30, according to Michael Bociurkiw, the OSCE's spokesman in Kiev.
The organization has information that they are safe and "has confidence" they will be released in the future.
After talks brokered by the EU in Berlin, Ukraine its first payment in months yesterday to Russia's OAO Gazprom, transferring $786 million to pay for gas received in February and March.
While debts and future payments remain in dispute, EU Energy Commissioner Guenther Oettinger welcomed the move as "building blocks for a package that, given the evident goodwill of all parties today, doesn't seem out of reach." Talks are due to continue on June 2 and Ukraine doesn't rule out arbitration as a solution.
To contact the reporter on this story: Volodymyr Verbyany in Kiev at vverbyany1@bloomberg.net
To contact the editors responsible for this story: James M. Gomez at jagomez@bloomberg.net Michael Winfrey, Elizabeth Konstantinova