Cameron Threatened as 'People's Army' Marches on Newark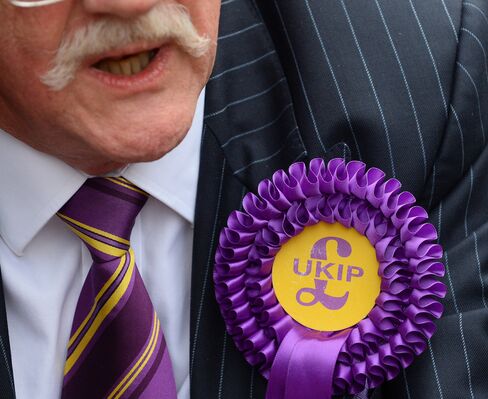 In May 1646, King Charles I admitted defeat in the English Civil War and surrendered to rebels besieging Newark-on-Trent. This week, as the town prepares to elect a member of Parliament, a new insurgent force led by Nigel Farage is on the march.
After the resignation of the incumbent lawmaker, Patrick Mercer from Prime Minister David Cameron's Conservative Party, a by-election will be held June 5. On paper, it's a safe Tory seat: Mercer took 54 percent of the vote in 2010, when Cameron won power. On the ground, days after the "People's Army" of Farage's U.K. Independence Party took first place in European elections, the district is in play.
The Conservatives, beaten into third place in the European ballot, have so far been able to argue that UKIP's historic successes were protest votes in elections most people ignore. That calculation would be shattered if UKIP won its first ever House of Commons seat. Senior Tories have flooded the central English town, and battle lines have been drawn: The Conservative campaign office is to the west of the cobbled market square. UKIP's to the east.
"I voted Conservative all my life, but they're not doing anything," said Gordon Plant, 67, a retired farm worker, over a coffee and a cigarette in no man's land, in the middle of the square. He plans to vote UKIP, and can't see himself returning to the Tories, he said. "Not unless they do something about immigration. The town's full of them."
Party Standings
UKIP polled most votes in the district in the European elections, scoring 32 percent to the Tories' 31 percent. Two opinion polls there in the past week have now put the Tories ahead. The latest, published today by Conservative lawmaker Michael Ashcroft, has the Conservatives at 42 percent and UKIP at 27 percent. Ashcroft polled 1,000 adults by phone between May 27 and June 1. No error margin was given.
While UKIP's founding ideal, and even its name, are a call to leave the European Union, its success has come through campaigning against immigration, and arguing that Cameron's government can't meet a pledge to cut it while the country remains in a bloc that's committed to freedom of movement.
Net migration to the U.K. was estimated at 212,000 in 2013, according to the Office for National Statistics. That's more than double Cameron's target of getting it below 100,000 a year. In a YouGov Plc poll conducted May 27-28, 56 percent of respondents said immigration was one of the most important issues facing the country, making it the most named topic, ahead of the economy at 53 percent.
Economic Data
Newark is 93 percent white British, according to the 2011 census. It's also prosperous -- 77 percent of people are employed, according to the latest ONS data, compared with the national average of 72 percent. Earnings are 7 percent above those in the surrounding East Midlands region.
With trains taking less than 90 minutes to cover the 120 miles (190 kilometers) to London, this is an attractive place to live. A few hundred yards from the 12th-century castle, reduced to ruins after the Civil War, the local council advertises free wi-fi in the market place. This prosperity means it's not ideal UKIP territory, according to Matthew Goodwin, author of "Revolt on the Right," a study of UKIP's rise.
"In our analysis of the most UKIP-favorable seats, Newark falls in the top half, but it's nowhere near as favorable as some of the seats that will be occupying their mind in 2015," Goodwin said. "It would be quite remarkable for UKIP to win in a seat with this kind of population: slightly more financially secure, more educated, more advantaged than UKIP's core demographic."
Support Surge
Still, UKIP's support in Newark is up 24 points from the 2010 general election, according to the Survation poll, for which 606 people were contacted by phone May 27-28, and which has a margin of error of 4 percentage points.
That low vote last time that may have influenced Farage's decision not to run in the by-election, leaving the field free for Roger Helmer, a European lawmaker who defected from the Tories to UKIP and was re-elected last month.
Helmer argued that the results from the May 22 elections show anything is possible this week.
"Elections like this are naturally volatile," he said in an interview as he knocked on doors. "The great breakthrough is people starting to realize that the things they do care about are driven from Brussels."
'It's Hard'
Paul Bamborough is one such voter. In 2010, he backed the Labour Party, which lost that election after 13 years in power. Now, he wants a party that will take Britain out of the EU. "I'm a 50-year-old man, I've been out of work four years," he said. "But it's hard to find work, because of the immigration."
Home Secretary Theresa May, one of the three Tory Cabinet ministers in the district on May 29, acknowledged voters' concerns.
"One of the issues we've been clear about is we need to root out abuse of free movement" from the 27 other countries in the bloc, she told reporters. She went on to hint that it may be an area where the Conservatives demand a change as they try to renegotiate the terms of Britain's EU membership: "We do need to look at free movement in the future."
The Conservative candidate, Robert Jenrick, had a head start on his rivals, having been selected to fight it six months ago, after Mercer was filmed by undercover reporters offering to ask questions in Parliament in return for payment.
Worst Ever
"I've done 250 community meetings, all before Patrick Mercer's resignation," Jenrick told reporters. He said it would be a mistake for voters to see the election as another chance to inflict pain on the government. The Tories' third place in the European vote was their worst ever result in a national election. "This community needs a strong, local candidate," Jenrick said.
Radu Cocut, a 37-year-old taxi driver from Romania, arrived in Britain three years ago. Farage had to deny charges of racism last month after saying he wouldn't want to live next door to Romanians. Cocut was unimpressed. "They don't mean Romanians like me," he said on a drive through Newark. "They mean gypsies." He'd vote Conservative, he said.
Not all the arrivals from eastern Europe are recent. Part of the town cemetery is given over to the graves of 397 Poles, mainly airmen, who died during World War II, flying from nearby bases. Their commander-in-chief and prime minister, Wladywslaw Sikorski, who was killed in an air accident in 1943, was also buried there until 1993, when his body was returned to Poland.
Helmer bridled when asked about this.
"We have enormous respect for all the Poles who died to help the allied cause," he said. "We're not against foreigners. We have got something against the 250,000 net immigrants a year."