Obama's Deputies Defend Taliban Deal That Freed Soldier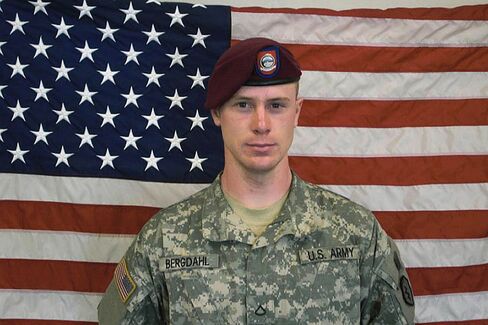 June 1 (Bloomberg) -- President Barack Obama's administration defended itself against accusations that it made concessions to terrorists and failed to give Congress adequate notice of its initiative to secure the release of Army Sergeant Bowe Bergdahl from the Taliban.
Bergdahl, 28, captured in 2009, was delivered yesterday to U.S. forces in exchange for five prisoners held at the U.S. facility at Guantanamo Bay, Cuba. The Taliban had long sought their release. Qatar officials negotiated the deal, agreeing that the detainees would stay in their country for a year.
Those released included Afghanistan's deputy defense minister under Taliban rule and others who played roles in the regime that helped shield people involved in the Sept. 11, 2001, terrorist attacks. The arrangement raised concerns among Republican lawmakers that it would encourage the kidnapping of more Americans abroad.
Defense Secretary Chuck Hagel, who made a surprise visit to Afghanistan today, said prisoner exchanges are a standard practice of warfare.
"We didn't negotiate with terrorists," Hagel said by satellite on NBC's "Meet the Press" program. "America's record is pretty clear on going after terrorists, especially those who take hostages, and I don't think what we did in getting our prisoner of war released in any way would somehow encourage terrorists to take our American servicemen prisoner or hostage."
Qatar Restrictions
Susan Rice, Obama's national security adviser, said on CNN's "State of the Union" that the released Taliban prisoners will have "restrictions on their movement and behavior" in Qatar, while declining to discuss details.
Senior congressional Republicans, while welcoming Bergdahl's release, expressed concern at the way it was arranged.
"There are legitimate questions about these individuals who are being released and the conditions under which they will be released," Senator John McCain, an Arizona Republican who was a held as a prisoner of war in Vietnam for more than five years, said on CBS's "Face the Nation" program today.
"These are the hardest of the hard core," McCain said of the five Taliban prisoners freed under the swap with Bergdahl. "These are the highest high-risk people. And others that we have released have gone back into the fight."
McCain said he needs more information about the conditions under which the freed Taliban prisoners will live in Qatar because "they are big, high-level people, possibly responsible for the deaths of thousands."
Kidnapping Incentive
The prisoner swap "may have consequences for the rest of our forces and all Americans," Senator James Inhofe of Oklahoma and Representative Howard "Buck" McKeon of California said in a joint statement yesterday. "Our terrorist adversaries now have a strong incentive to capture Americans."
McKeon heads the House Armed Services Committee, while Inhofe is the leading Republican on the Senate Armed Services panel.
While members of Congress were notified once Bergdahl was in U.S. custody, concerns about Bergdahl's health made it impractical to provide the required 30 days' notice to Congress for the release of Guantanamo prisoners, Rice said.
"We had reason to be concerned that this was an urgent and acute situation, that his life could have been at risk," Rice said on ABC's "This Week" program. "We did not have 30 days to wait, and had we waited and lost him, I don't think anybody would have forgiven the United States government."
Sacred Obligation
Rice said "we have a sacred obligation that we have upheld since the founding of our republic to do our utmost to bring back our men and women who are taken in battle, and we did that in this instance."
The Afghan Foreign Ministry criticized the agreement's restrictions that keep the freed Taliban prisoners from leaving Qatar for at least a year.
"The Afghan government wants unconditional freedom of its citizens and demands from U.S. and Qatari governments to treat them like free individuals," the ministry said in an e-mailed statement.
The deal that won his release may be seen as potentially helping the Afghan government, which soon will have a new president, in efforts to end strife with the Taliban -- a point seconded by Jonah Blank, a senior political scientist at the Santa Monica, California-based Rand Corporation.
Influential Figures
"The Taliban prisoners released weren't mere bargaining chips: It's quite possible that, as influential figures, they'll facilitate a broader negotiated settlement," in Afghanistan, said Blank, a former staff member of the Senate Foreign Relations Committee.
Hagel said today it's possible the agreement could lead to a new round of negotiations between the U.S. and the Taliban about the organization's rule in Afghanistan.
"We have strongly supported an Afghan-led effort to come to an agreement with the Taliban," Hagel said on NBC. "Maybe this will be an opening that can produce an agreement."
The detainees released from Guantanamo Bay, according to a U.S. defense official with direct knowledge of the matter, are: Mohammad Fazl, Mullah Norullah Noori, Mohammed Nabi, Khairullah Khairkhwa, and Abdul Haq Wasiq. Fazl is a former deputy defense minister for the Taliban, Wasiq is a former deputy intelligence minister, and Norulla Noori and Khairkhwa were regional governors.
Fazl has been connected to the murders of thousands of Shiite Muslims, and "was noted having a long record of human rights abuses," according to a classified 2008 Defense Department detainee assessment that previously has been posted online by WikiLeaks, an anti-secrecy group.
'High Risk'
"If released, detainee would likely rejoin the Taliban and establish ties with anti-Coalition militias participating in hostilities against U.S. and Coalition forces in Afghanistan," the assessment read. Fazl was rated as a "high risk, as he is likely to pose a threat to the U.S., its interests and allies."
Michael Hayden, a former director of the Central Intelligence Agency and National Security Agency, said he would "frankly be uncomfortable" if the Taliban prisoners were able to communicate, see visitors and leave Qatar after a year.
"There's a definite risk" to national security if the five Taliban members can live freely in Qatar, Hayden said on CBS.
Bergdahl's release was the culmination of a five-year effort since his capture. Although the Taliban broke off talks in 2012, the U.S. continued to explore ways to free him, Hagel told reporters traveling with him on the visit to Afghanistan.
Right Timing
Fresh negotiations resumed recently when "we found some openings," Hagel said, without elaborating. "We had the Emir of Qatar willing to take the lead. The timing was right and the pieces came together, and the consistent efforts we've been making paid off."
Obama announced earlier this week that all U.S. troops will leave Afghanistan by the end of 2016. The U.S. invaded the country in October 2001 to drive its Taliban rulers from power after the Sept. 11 terrorist attacks. Obama said he plans to reduce the force to 9,800 at the beginning of 2015 from the 32,000 U.S. military personnel currently posted there.
Bergdahl, from Hailey, Idaho, had been missing from his base in Afghanistan since June 30, 2009.
Bergdahl's parents today held a news conference in Boise, Idaho, to wish their son well and thank government officials and friends who have supported them.
"Bowe has been gone so long that it's going to be very difficult to come back," the father said of his son's recovery. While the process will take time, "he's passed all the checkpoints with flying colors," Bob Bergdahl said.
Although details of the swap had been agreed upon, U.S. commandos arriving to take Bergdahl from the site along the border with Pakistan came prepared to fight, Hagel said.
"Where there's always danger, you prepare for all eventualities," said Hagel.
To contact the reporters on this story: Gopal Ratnam in Washington at gratnam1@bloomberg.net; David Lerman in Washington at dlerman1@bloomberg.net
To contact the editors responsible for this story: Jodi Schneider at jschneider50@bloomberg.net; Bernard Kohn at bkohn2@bloomberg.net Bernard Kohn, Andrea Snyder