Billionaire Gokongwei Eyes Philippines Mom-And-Pop Chains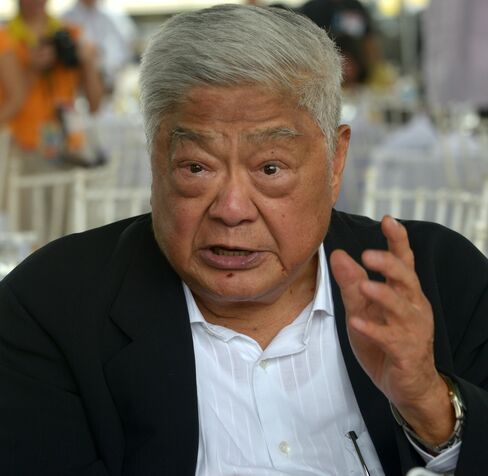 Billionaire John Gokongwei is scouting chains of mom-and-pop outlets to buy into faster-growing Philippine towns as part of a plan to compete with retail stores controlled by the nation's richest man, Henry Sy.
Robinsons Retail Holdings Inc. is looking for family-owned grocery or pharmacy chains of three to eight outlets outside the capital Manila, President Robina Gokongwei-Pe said in an interview. It plans to spend 26 billion pesos ($593 million) through 2016 on expansion, said Chief Financial Officer Dong Zapata. The stock rose the most in almost four months today.
Robinsons Retail has made at least four acquisitions since November, when its shares started trading, as it competes with Sy's SM Retail Inc. and Puregold Price Club Inc. Gokongwei-Pe's push to expand in other parts of the country comes as President Benigno Aquino plans to boost spending to a record this year and lure investments to improve infrastructure and create jobs.
"We can see that growth is spreading," Gokongwei-Pe, the eldest daughter of John Gokongwei, said May 29 in Manila. Outside Metro Manila "is where the penetration of modern trade is still very low and people are looking for a better store environment, a better product range, better customer service," she said.
Robinsons Retail climbed 5.4 percent to close at 66.90 pesos in Manila trading, the sharpest gain since Feb. 10. The shares have advanced 15 percent since they began trading Nov. 11, compared with a 5.6 percent gain in the benchmark Philippine Stock Exchange Index.
John Gokongwei has a net worth of $2.9 billion, according to the Bloomberg Billionaires Index.
Beyond Manila
While Metropolitan Manila accounts for 36 percent of the national output, four of the five fastest-growing regions in 2012 were in the Visayas and Mindanao, according to government data. The Visayas is a group of islands in the central Philippines and Mindanao is the nation's second-biggest island. Both are south of Manila.
The Philippine economy expanded 5.7 percent in the three months ended March, slowing to below 6 percent for the first time in nine quarters. Manufacturing growth eased to 6.8 percent from a year earlier, while consumer spending gained 5.8 percent.
The Philippines may reap a demographic dividend as more of its people join the labor force, according to brokerage Maybank ATR Kim Eng.
In addition, overseas remittances and call-center expansion outside Manila are helping to fuel growth in the countryside, Gokongwei-Pe said.
Tacloban Supermarket
The expansion of Robinsons Retail outside Manila is spurred by the performance of some of its existing stores in these regions. The company opened its first department store in Manila in 1980.
The Robinsons supermarket in Tacloban, a city in the central Philippines that was among the most damaged by Super Typhoon Haiyan last year, remains among the company's 10 biggest supermarkets by sales, Gokongwei-Pe said. The store was among its five biggest supermarkets before Haiyan struck in November.
The company, which runs supermarkets, department stores and a pharmacy chain, wants to expand in the Visayas and Mindanao, which currently account for 10 percent of its store count, Gokongwei-Pe said. The company said today that it acquired Chavez Pharmacy, a seven-outlet drugstore chain in Batangas, a province south of Manila.
"They have to keep up and accelerate expansion to stay competitive with their rivals," said Allan Yu, first vice president at Metropolitan Bank & Trust Co., which manages $7.3 billion. "It has to expand to take advantage of the growing middle class and rising wealth in the economy."
Sy Expands
There will be competition in regions outside Manila.
Sy's group this year bought a 34 percent stake in CityMall Commercial Centers Inc., which plans to spend 23.75 billion pesos to build 100 CityMalls by 2020 including in the Visayas and Mindanao. Sy's SM Retail, the nation's largest supermarket and department store operator, is among the prospective tenants of the malls.
"Acquiring an established retail chain saves the company on startup costs and is immediately earnings accretive," said James Lago, head of research at PCCI Securities Brokers Corp. "The pitfall is when they know that a company is in a buying mode, the seller jacks up the price and asking terms."
Competitor Puregold, which has grown through acquisitions in the past two years, now plans to rely on opening its own outlets, Lucio Co, founder and chairman, said May 14. The supermarket operator has bought 40 stores in the past two years, bringing its network to 213 outlets at the end of 2013.
More Space
Robinsons Retail aims to increase its selling space by at least half from 756,051 square meters at the end of 2013, and this will help drive sales growth in the "mid- to high-teens" annually, Zapata said. The company, which raised at least 26.8 billion pesos in an initial public offering last year, targets to have 1,400 stores by the end of this year, rising from 1,064 in December.
Acquiring established family-owned chains has some advantages as the retailer looks to build scale.
"It's location, and the habit is also there, especially in provinces where they are very loyal to local stores," said Gokongwei-Pe. "We don't want to be left out, everybody's getting bigger."