Miami Beats Indiana 117-92 to Reach Fourth Straight NBA Finals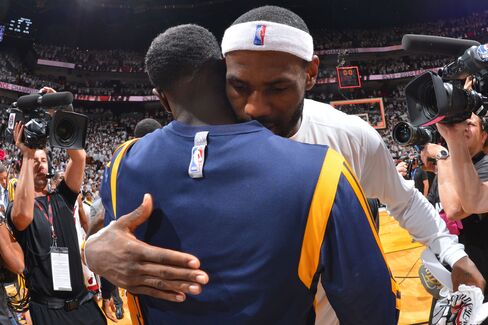 May 31 (Bloomberg) -- LeBron James scored 25 points and the two-time defending champion Miami Heat advanced to the National Basketball Association Finals for the fourth straight season with a 117-92 defeat of the visiting Indiana Pacers.
The win last night at AmericanAirlines Arena in Miami allowed the Heat to win the Eastern Conference title by four games to two.
The Heat became the league's third franchise to reach four straight NBA Finals, joining the Los Angeles Lakers and Boston Celtics.
"We won't take this opportunity for granted," James said in a televised interview. "It's an unbelieveable franchise, an unbelievable group. We still have work to do, but we will not take this for granted at all."
The Heat will play either the San Antonio Spurs or the Oklahoma City Thunder in the NBA Finals. The Spurs lead the Western Conference finals three games to two, and Game 6 is tonight at Oklahoma City -- where the Spurs have lost nine straight games.
If Oklahoma City wins that game at home, a decisive Game 7 is set for June 2 at San Antonio.
James, who was limited by foul trouble to seven points in a Game 5 loss at Indianapolis, went 8-for-12 from the field last night and hit all nine of his foul shots.
Chris Bosh also scored 25 points for the Heat. Paul George led Indiana with 29 points.
The Heat ended the first quarter on a 22-4 run to take control of the game, and expanded their lead to 60-34 at halftime. It was 91-58 at the end of three quarters.
"It was just one of those games we always want to play from beginning to end," Bosh said. "On our home court, we wanted to make a statement."
To contact the editor responsible for this story: Rob Gloster at rgloster@bloomberg.net