SL Green Grand Central Tower to Advance After Zoning Plan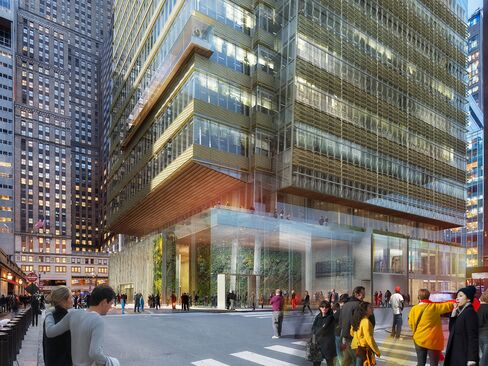 SL Green Realty Corp. is proceeding with a plan to build a skyscraper next to New York's Grand Central Terminal that will be taller than the nearby Chrysler Building after the city proposed new zoning for the area.
SL Green will probably be the first applicant for a special zoning permit in the area, and its plans for the 1,200-foot (370-meter) tower should be under public review in the last three months of the year, New York Mayor Bill de Blasio said today in a statement. The rezoning of a five-block area mostly along Vanderbilt Avenue is part of a "two-track" strategy to rezone the eastern portion of midtown Manhattan, he said.
De Blasio last year promised to revisit former Mayor Michael Bloomberg's proposal to rezone 73 blocks of east Midtown for taller buildings. The city council blocked the measure last year on concerns that plans to upgrade the area's transportation and relieve pressure on crowded sidewalks were inadequate, and that provisions to sell air rights were mispriced.
The Real Estate Board of New York denounced that decision as costly to the city because it holds back development in a major commercial area. The former mayor is the founder and majority owner of Bloomberg News parent Bloomberg LP.
De Blasio said today that "ground-up planning" will "lay the groundwork to keep districts like east Midtown thriving and attracting new businesses for decades to come."
Pedestrian Mall
The plan would turn the block between East 42nd and 43rd streets into a pedestrian mall. SL Green's One Vanderbilt tower -- on a side street just west of Grand Central -- would include a public room at street level that would serve as a western extension of the terminal, with its own train board, Jeremy Soffin, an SL Green spokesman, said in a phone interview.
"We will be moving forward with our plans for One Vanderbilt, a new world-class office tower that is already attracting attention from major tenants desiring modern space in the heart of Midtown," SL Green Chief Executive Officer Marc Holliday said in the mayor's statement.
Canada's Toronto-Dominion Bank, whose TD Bank division has several New York branches, is in negotiations to be the anchor tenant at the tower, the Wall Street Journal reported on May 22. Soffin said SL Green, New York's biggest office landlord, had no comment on those discussions.
Before it's here, it's on the Bloomberg Terminal.
LEARN MORE