Swedish Consumers Increase Spending as Imports Hurt Growth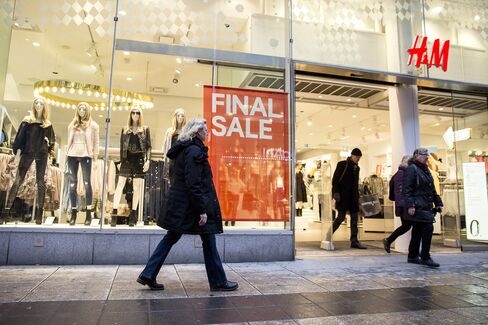 Sweden's economy contracted in the first quarter as imports surged, masking a gain in consumer spending and a recovery in exports.
Gross domestic product shrank 0.1 percent in the three months through March, Statistics Sweden said today. GDP was seen unchanged in a survey of 13 analysts by Bloomberg. The economy expanded an annual 1.9 percent, compared with the 2.5 percent growth predicted by the central bank.
"The headline was a bit weaker than consensus and what we also had, but it's almost exclusively explained by inventories," said Andreas Wallstrom, an analyst at Nordea Bank AB in Stockholm. "If one looks at the components, for example investments and exports, they were better than we had expected. Household consumption continues to push on so if one looks at the demand components things look pretty good."
Sweden's central bank is under pressure to cut its main lending rate for a second time since December to 0.5 percent boost growth and avoid deflation from taking hold. Consumer prices have slid on an annual basis for four straight months, prompting policy makers to last month signal an increased possibility for a rate cut in July.
Another Argument
The krona fell as much as 0.5 percent to 9.0870. The yield on the two-year notes was little changed at 0.53 percent.
Today's GDP reading is "yet another argument for a rate cut," said Knut Hallberg, an analyst at Swedbank AB in Stockholm. It also indicates that "domestic demand is on an upward trend and it will continue for the rest of the year" as the rise in investments is "pretty broad," he said.
Household spending rose an annual 2.1 percent in the first quarter and public spending gained 1.4 percent, while exports rose 3 percent and imports jumped 5.2 percent, Statistics Sweden said. Fixed investments rose 7.7 percent, while inventories crimped growth by 0.1 percentage point.
"Today's GDP breakdown was positive" as exports rose, while private consumption and investments were "robust," Lasse Holboell Nielsen, an economist at Goldman Sachs Group Inc. in London, said in a note to clients.
The government, which trails in polls ahead of September elections, has said its ability to stimulate the $550 billion economy will be limited as it seeks to return public finances to surpluses. That means there's no more room for more income tax cuts which have helped domestic consumption offset part of falling exports. Sweden sells about half its output abroad,mainly to debt-stricken Europe.
Before it's here, it's on the Bloomberg Terminal.
LEARN MORE