New Delhi Locals Cry Foul Against Incinerator's Exhaust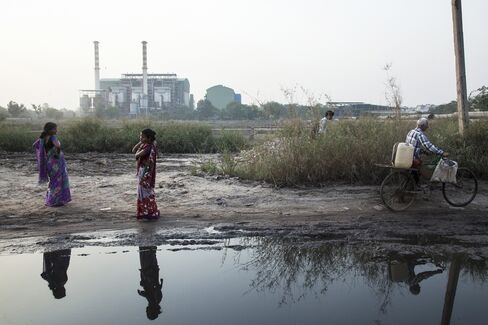 The residents of Sukhdev Vihar are on the front lines of what may be the world's foulest war: megacities' struggle against their mounting piles of refuse.
The New Delhi neighborhood of neat bungalows and lanes shaded with dense trees sits a few hundred yards from a two-year-old incinerator. The complex spews eye-watering noxious fumes and toxic exhaust.
"It's become difficult to live here," said Sonia Softa, 43, a radiologist who lives in the area on the southern outskirts of the capital. "My son has developed severe throat problems and is constantly coughing. We are inhaling poison day in and day out. We certainly don't deserve this."
Her vexation underscores the challenge trash disposal poses for the rapidly growing cities in the developing world. Global municipal solid waste will double by 2025 to 2.6 billion metric tons a year -- equal to about 6 million fully loaded Boeing 747 jumbo jets -- as rising wealth leads to more discarded packaging and used diapers, according to a July 2012 report by the Washington-based Worldwatch Institute.
"As countries and cities around the world develop and aspire to western levels of consumption and consumerism, the global waste problem will only get worse, putting more strain on collection systems and disposal sites," said Adam Read, director for resource efficiency and waste management at London-based Ricardo-AEA Ltd., a consulting company that works on energy and environmental issues.
Indians aren't alone in their ire. In China, a proposed waste incinerator has sparked violent protests in the eastern city of Hangzhou.
Obvious Idea
Sukhdev Vihar's woes stem from what seemed, at first, an obvious idea: New Delhi, whose population will reach almost 21 million by 2015, generates 8,000 tons of garbage a day and it suffers from chronic blackouts. Why not use the waste to generate power?
It works elsewhere. In Paris, three waste incinerators supply power that helps heat the Louvre museum in winter. Electricity from garbage drives trams in Amsterdam and illuminates the Cologne cathedral in Germany.
In New Delhi, not so much. Trash is not separated between organic and inorganic materials -- everything from leftover food to batteries and beverage cans goes into Indian bins -- hurting efficiency and raising toxic emissions. The stacks lack the technology to scrub out the worst of the effluent.
European Technology
An incinerator of a similar 1,800 ton-a-day waste capacity as the 2 billion-rupee ($34 million) New Delhi plant would cost more than 10 times that in Europe, according to Marta Gurin, technical officer at the Confederation of European Waste-to-Energy Plants, or Cewep, in Brussels. Half the investment goes into sophisticated flue-gas cleaning systems, Gurin said in an e-mailed response to questions.
The European plants typically generate both heat and power, raising their efficiency. For instance, Eesti Energia AS's plant in Iru, Estonia, uses about a third of the waste of the New Delhi plant and produces as much electricity and 50 megawatts of heat. It cost 105 million euros ($143 million).
"It's a very expensive way of generating energy, much more expensive than coal, solar and wind, and unless there are strict regulations, it can cause considerable damage to the environment," said Allen Hershkowitz, senior scientist at New York-based environment advocacy group Natural Resources Defense Council.
A bustling market separates Sukhdev Vihar from the road that leads to the Taj Mahal, 200 kilometers (124 miles) to the south. Narrow lanes are clogged with cars. Houses display signboards of lawyers, doctors and property dealers. The enclave has three of the city's biggest hospitals; a bird sanctuary is about 2 kilometers away.
Grey Smoke
The incinerator's two chimneys tower above, emitting wisps of grey smoke. A 15-foot-high wall surrounds the plant site. On the road outside, trucks trundle by, kicking up dust and spilling garbage in their wake.
The residents are waging a court battle to shut the 16-megawatt incinerator, which can power about 19,000 homes out of the city's 2.9 million. Area hospitals have reported a spurt in respiratory illnesses since the plant started in 2012. The National Green Tribunal, a panel created in 2010 to hasten resolution of environment-related cases, is scheduled to hear the matter on July 5.
"We are hoping the tribunal will order its closure," said K.K. Rohatgi, the counsel for the residents' group.
Jairam Ramesh, then minister of environment and forests, visited the plant in March 2011 after receiving complaints from residents during construction. In a letter to Shelia Dixit, the then chief minister of Delhi state, he said the project bypassed the requirement of getting locals' consent.
Environmental Clearances
Jindal Saw Ltd., the company that runs the plant, also didn't get the necessary environmental clearances, Ramesh wrote.
Abha Negi, spokeswoman for Jindal Saw, declined to comment. The company's shares rose 3.1 percent to 89.35 rupees, the highest since April 2, 2013, at the close in Mumbai today.
An inspection by a panel appointed by the National Green Tribunal in March 2013 found dioxin emissions from the plant above permissible limits, according to a report prepared by the inspectors. Dioxin, produced from burning plastics, was a component in Agent Orange, a chemical used by the U.S. military in the Vietnam War. Toxic compounds that remain deadly for decades, dioxins in the soil often are cited as the reason for birth defects in that country today.
Another inspection followed in December, prompting the Central Pollution Control Board, the government anti-pollution watchdog, to ask the plant operators why it shouldn't be immediately shut. Their response wasn't made public.
Failed Technology
"Waste incineration is a tried, tested and failed technology in India," said Gopal Krishna, who runs the New Delhi-based environmental-advocacy group Toxics Watch Alliance. "There are studies that have proved that harmful emissions, such as dioxins and suspended particulate matter, are way above the permissible limits."
The New Delhi incinerator is not the city's first experience with the technology. In 1990, a waste-to-energy plant built with Danish equipment was closed within two months of commissioning because it failed to work. In the international arbitration that followed, which Denmark won, the tribunal found the unsuitable quality of waste caused the failure.
Location Problem
The current problem "is not with the plant per se," said Sukhdev Vihar resident Vimal Monga, who faced the heavy hand of the state when he had to shut his cable factory in 1999 after New Delhi ordered polluting industries moved to the city's fringes. "The problem is with its location. It's right next door."
For others, the plant evokes disturbing images. Neeta Mishra, a gynecologist who lives in Sukhdev Vihar, was a student in the central city of Bhopal in 1984 when more than 40 tons of toxic methyl isocyanate gas leaked from a Union Carbide pesticide plant, killing thousands of people.
"This is another Bhopal in the making," she said. "The long-term effects on people could be disastrous."
(An earlier version of this story was corrected to fix the dateline.)