Departing Deans on Fundraising, Ethical MBAs, and Cartooning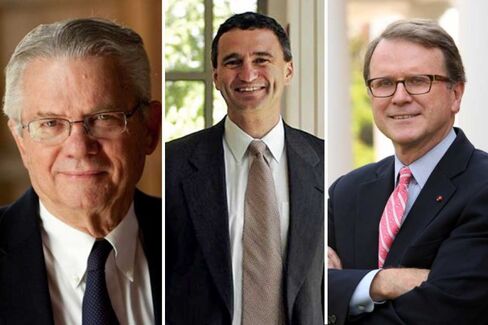 This year, three long-standing business school deans announced they would step down. Paul Danos, dean of the Tuck School of Business at Dartmouth, has been in his role for 19 years. Mark Zupan has been dean of the University of Rochester's Simon Graduate School of Business for 10 years, and Bob Bruner has led the Darden School of Business at the University of Virginia for nine. Deanships that long are rare. The B-school deans at the 62 MBA programs ranked by Bloomberg Businessweek have been in their roles for a median four years.
As they prepare to depart, taking with them nearly four decades of combined experience, we asked deans Danos, Zupan, and Bruner about how their thinking has evolved when it comes to business schools, MBA students, and fundraising, along with some of their less-dean-like pursuits. The following dialog, conducted via e-mail, has been edited for length and clarity.
Bloomberg Businessweek: What advice do you have for your successor?
Danos: Keep the quality of the student experience at the center of your strategy, continuously improve the faculty with additions of world-class thought leaders dedicated to student learning, and carefully monitor the fast-changing world of business education.
Zupan: Constituents on your team generally want to help you. Make the time to listen to what they have to say. It's like the old adage in medicine that doctors will do a better job in healing the sick if they take the time to listen to the patients describe what is ailing them.
When it comes to fundraising, don't be afraid to ask. Duke's business school is named for someone who lived in Atlanta and wasn't an alum. When a reporter asked him why he gave all the money to a school in North Carolina instead of a school in Georgia, Mr. Fuqua replied, "Duke asked."
At the same time, ask prospective donors for guidance first and listen carefully to what they say. As the saying goes: "When you ask for advice you get money. When you ask for money you get advice."
Don't forget to laugh and keep perspective. Things are never as bad as they seem … or as good.
While there are many challenges in our field, there are also growing opportunities for schools that practice what we preach. The Chinese character, "ji" that represents danger also stands for opportunity.
Prize your integrity above all else. It's your most important asset.
How have the students—and their expectations of a business education—changed from when you first became dean?
Danos: There is more emphasis on gaining in-depth knowledge in particular industries or career paths. Tuck has worked hard to balance its commitment to providing a general management education with opportunities for students to focus on their own areas of interest through electives, experiential learning, and interactions with our nine centers and initiatives. Our students are also more concerned about the impact of business on society and the ethical dilemmas business leaders face.
Bruner: There is more emphasis on the social impact of their work and they place greater value on the social network they create at business school.
Zupan: There is a growing interest in entrepreneurship, globalization, and leadership development. And a greater emphasis as well on [Return on Investment], given the rising cost of a graduate business education (especially in light of the opportunity cost of students' time) and the improving means of gauging ROI (rankings, the Internet, etc.).
What was your most unexpected experience as dean?
Bruner: A few weeks after becoming dean, an alumnus handed me a gift to Darden for $1 million out of the blue: no ask or cultivation on my part; no conditions or requirements for recognition on his. He just said, "I believe in you and am incredibly grateful to the school for how it helped me."
Zupan: Getting to fly with the Blue Angels. The Blue Angels offered the opportunity to local media and heads of some of the largest employers in area. University President Joel Seligman received the offer and he asked the President's Cabinet who wanted to represent us. I was first to respond.
What advice do you have for future MBAs?
Danos: Choose a school that fits with your core beliefs about business, leadership, and personal standards. Do your homework on the career options that each prospective school provides. Think about and articulate a personal and organizational philosophy that you want to follow for a lifetime and try to find the school that matches it. Use your time on campus to dig deep into faculty knowledge and to hone leadership skills. Learn from the knowledge and experiences of your peers and generously share your own knowledge and experiences.
Bruner: Slow down. Listen well. Lead from where you are; don't wait for somebody to give you orders. Learn relentlessly. Serve your highest purpose.
Zupan: Success still takes hard work, creativity, persistence, the ability to communicate your ideas, not being afraid to make tough choices, and, most of all, integrity.
What's the most un-dean like thing you're looking forward to doing?
Danos: I love literature, both the reading of it and attempting writing it; and I love creating cartoons. I will write more short stories, and I will try to get more laughs with my drawings.
Being a Cajun from New Orleans, I am obsessed with great cuisine. I will never achieve the level of my wife Mary Ellen, but I would love to master more techniques and raise my game, especially with the old traditional dishes from home.
Bruner: Long-distance cycling.
What's next for you?
Danos: After taking a year off, I would like to develop and teach several new elective courses that draw on my experiences over the last 50 years. Teaching on corporate governance and financial disclosure issues would be close to my technical expertise and professional experience. I would like to develop a course that would help students combine analysis and persuasion in presentations before important audiences, such as boards of directors or financiers of new ventures. I would bring in visitors who have been responsible for making related decisions to play the role of board members or investors.
I would also like to create another course (and this one is a stretch) that would elucidate current dilemmas in business ethics with examples of such conflicts in the great works of literature and cinema.
Bruner: I'll cross that bridge when I come to the end of my appointment. Initially I'll return to Darden's faculty. I don't intend to retire. But for the first time in my career, I can't say what's next in any detail— and it feels pretty good.
Before it's here, it's on the Bloomberg Terminal.
LEARN MORE