China to Cut Reserve Requirement Ratio for Some Banks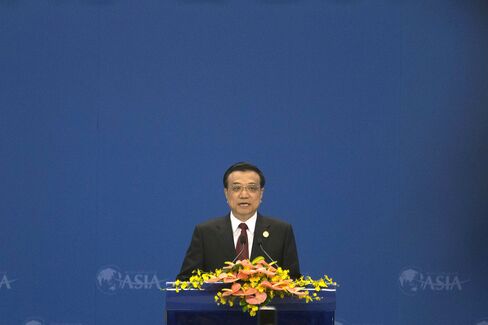 China said it will cut the reserve requirement ratio for some of the nation's banks, the government's latest step to support growth in the world's second-biggest economy.
Policy makers will "appropriately" lower the reserve requirement for banks that have extended a certain amount of loans to rural borrowers and smaller companies, the cabinet said yesterday after a regular meeting led by Premier Li Keqiang. It didn't give more details about the reduction. The State Council also pledged to fine-tune policy when needed, while reiterating it will maintain a prudent monetary stance.
China's economy is forecast to expand 7.3 percent this year, which would be the weakest pace since 1990, according to a Bloomberg survey of analysts this month. Premier Li called last week on regional authorities to help stabilize expansion as he seeks to ensure that the government meets its goal of about 7.5 percent growth for 2014.
The move "shows policy makers are concerned about the economic slowdown," Zhang Bin, an economist with the Chinese Academy of Social Sciences in Beijing, said by phone. "On the other hand, the government is trying to avoid all-out policy easing as it will jeopardize China's much-needed economic restructuring."
The People's Bank of China will set up a re-lending facility for smaller companies and has set this year's quota at 50 billion yuan ($8 billion), China Central Television reported today, citing the central bank. The central bank will also boost bond issues and expand bank credit securitization trials to support small businesses, according to the state broadcaster.
Railway Spending
The Communist Party is trying to revive the economy without repeating the mistakes of its $586 billion stimulus begun in 2008, which caused a record buildup of debt and inflated property bubbles. President Xi Jinping said this month that the nation needs to adapt to a "new normal" in the pace of growth.
The State Council also said in yesterday's statement that the nation will reduce social financing costs and keep reasonable growth in credit and social financing as it faces "relatively large" downward economic pressure.
The central bank cut reserve requirements for some rural banks in April and this month called on the biggest lenders to accelerate the granting of home mortgages. The State Council has also outlined steps including faster railway spending and tax breaks to help ensure the government meets its goal of about 7.5 percent growth.
A property-market slump threatens to limit any economic rebound and pressure policy makers to do more. Chinese home prices fell 0.3 percent in May from April in the first monthly drop since June 2012, SouFun Holdings Ltd., the nation's biggest real estate website owner, said yesterday.
Nomura Holdings Inc. said it expects more policy easing measures in the third quarter after yesterday's statement, with the government focusing on "targeted and gradual" reserve ratio cuts.
"We expect more details to be announced next week on how the government rates the banks in terms of the share of their loans to the 'real economy' and how the size of the required reserve ratio cut will be linked to such a reduction," Nomura said in a note. "The announcement enhances our conviction that policy easing should delay the risk of a hard landing to 2015."