Cab Driver Indicted for Obstructing Boston Bombing Probe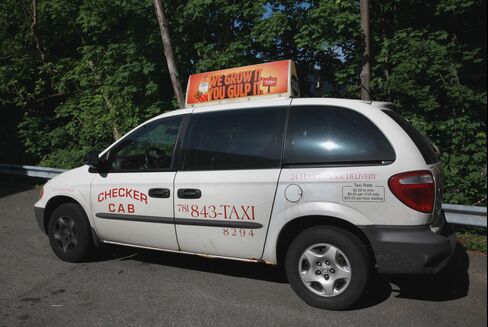 A Massachusetts cab driver from Kyrgyzstan who knew the suspects in the Boston Marathon bombing was charged with obstructing the probe into the lethal blasts and hiding his interest in religious violence.
Khairullozhon Matanov, 23, of Quincy, was charged with deleting hundreds of video files from his computer, erasing his Internet search cache and lying about his links to the suspects, brothers Tamerlan Tsarnaev and Dzhokhar Tsarnaev, according to an indictment unsealed today in Boston federal court.
Matanov "took a series of steps to impede the FBI's investigation into the extent of his friendship, contact and communication with the suspected bombers, and the fact that he shared" their justification for violence, U.S. Attorney Carmen Ortiz in Boston said in a statement today.
Matanov called Tamerlan Tsarnaev on his mobile phone 40 minutes after the April 15, 2013, bombing that killed three people and injured 260, according to the indictment. That night, he bought dinner for the brothers at a restaurant and, in the days that followed, made numerous calls to the men as they evaded capture, the U.S. said.
The cabbie isn't accused of helping to plan the attack or knowing about it in advance, Ortiz said. If convicted, he faces as long as 20 years in prison for destroying evidence and eight years each on three counts of lying in a federal terror probe.
Flight Risk
Matanov, deemed by prosecutors to be a flight risk, was ordered held without bail at a 30-minute hearing today before U.S. Magistrate Judge Marianne Bowler, who scheduled another hearing on the matter for June 4.
Matanov, wearing jeans and a white T-shirt in court, spoke only to tell Bowler he didn't need an interpreter and that he couldn't afford a lawyer. Bowler appointed Edward Hayden, a lawyer approved for indigent clients, to represent him.
After the hearing, Hayden told reporters that Matanov came to the U.S. to study information technology at Quincy College and that he applied for and received asylum in 2010. His parents live in Kyrgyzstan and are "very ill," he said.
"There are a lot of unsubstantiated allegations," Hayden said. "He had no intention to mislead the FBI. What he said and did didn't impede the investigation."
'Just Reason'
Matanov told an unidentified witness on the day of the attack that the bombings could have had a "just reason, such as being done in the name of Islam," according to the indictment. He said "he would support the bombings if the reason were just or the attack had been done by the Taliban," according to the filing.
The Tsarnaevs, immigrants of Chechen descent, had lived in the U.S. for more than a decade. Investigators worked with Russian authorities, focusing on a six-month trip Tamerlan Tsarnaev took in 2012 to Chechnya and neighboring Dagestan, both Russian regions roiled by Islamist separatist movements.
Kyrgyzstan, a predominantly Muslim country in Central Asia, achieved independence in 1991 with the dissolution of the Soviet Union.
After Tamerlan Tsarnaev, 26, was killed in a shootout with police and Dzhokhar Tsarnaev was shot by the authorities and captured, Matanov sought help erasing files from his computer and tried to give his mobile phones to unidentified witnesses, according to the indictment.
'Violent Content'
"The files that Matanov deleted included some files that contained violent content or calls to violence," according to the indictment.
Matanov was friends with Tamerlan Tsarnaev and at one point hiked up a New Hampshire mountain to "train like, and praise, the 'mujahideen,'" according to the indictment.
Dzhokhar Tsarnaev, who's also accused of killing a university police officer after the bombing, faces a possible death sentence if he's convicted at a trial scheduled for November. His defense team hasn't denied he was involved and has focused its efforts on challenging evidence that could encourage jurors to sentence him to death.
Three friends of Dzhokhar Tsarnaev were arrested last year and charged with obstructing the probe into the attack by removing a computer and backpack from Tsarnaev's room after images of him were shown on television.
The case is U.S. v. Matanov, 14-cr-10159, U.S. District Court, District of Massachusetts (Boston).
Before it's here, it's on the Bloomberg Terminal.
LEARN MORE