Bank Loans Gone Begging Favor Stock 'Melt-Up'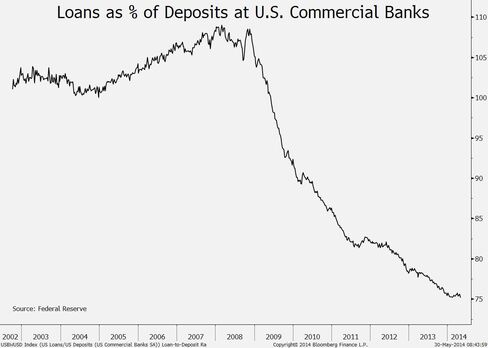 Lack of demand for bank loans may help pave the way for a "melt-up" in stocks, according to Michael Hartnett, chief investment strategist at Bank of America Corp.'s Merrill Lynch unit.
The CHART OF THE DAY tracks loans as a percentage of deposits at U.S. commercial banks, using weekly data compiled by the Federal Reserve. The figure at the end of last month was
75.2 percent, the lowest level since 1978.
Borrowing in the week ended May 14 was 1.4 percent lower than the record $7.74 trillion, set in October 2008. During the same period, deposits rose 42 percent and exceeded $10 trillion for the first time.
The gap has left "liquidity trapped in Wall Street," Hartnett wrote two days ago in a report featuring a similar chart. It's among four potential triggers for higher share prices, the New York-based strategist wrote.
Relative calm in stock trading is another possible catalyst, Hartnett wrote. The Chicago Board Options Exchange Volatility Index dropped last week to 11.36, the second-lowest closing level for the VIX since February 2007.
Hedge funds are generally betting against U.S. stocks and money managers worldwide have the most cash as a percentage of assets in two years, he added, citing data compiled by Bank of America. Higher stock prices may lead to changes in investors' holdings that spur further gains, the report said.
Before it's here, it's on the Bloomberg Terminal.
LEARN MORE