U.K. House Prices Rise as Consumer Optimism Improves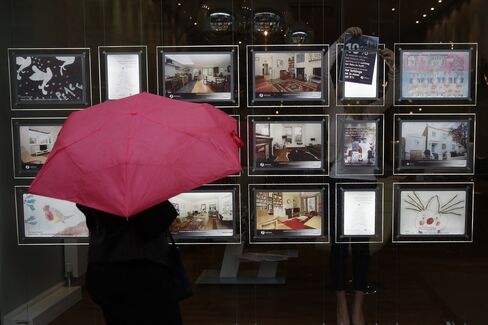 U.K. house prices rose for a 16th month and consumer confidence increased to a nine-year high on an improving outlook for the economy.
Hometrack Ltd. said home prices in England and Wales increased 0.5 percent in May after a 0.6 percent jump in April. In a separate report, GfK NOP Ltd. said its sentiment index jumped 3 points to 0 this month, the first time there hasn't been a negative reading since April 2005.
Britain's strengthening economic recovery has helped to boost property-market demand, creating an issue for Bank of England policy makers as price increases strain affordability. Banks have tightened up mortgage-lending criteria and the BOE's Financial Policy Committee will assess risks posed by property at its meeting next month.
"Strong price increases, widespread talk of a possible housing bubble and recent warnings from the Bank of England on house-price inflation are starting to test the resolve of buyers," Richard Donnell, director of research at Hometrack, said in a statement.
Property demand continued to outpace supply in May, according to Hometrack, though it said growth in demand is beginning to moderate. There were other signs of a softer market, with the share of postcodes reporting price gains slipping to 42 percent from 50 percent.
Prices in London's commuter area in the South East led gains this month with a 0.7 percent increase, followed by a 0.6 percent rise in both the capital and the East Midlands.
Upbeat Outlook
GfK's survey showed that optimism about the economic outlook jumped 4 points to 12 this month. A measure of people's assessment of their personal financial situation in the next 12 months rose 1 point to 6 and an index on the climate for making major purchases rose 1 point to minus 3.
The British Chambers of Commerce raised its growth forecast for the U.K. today, and sees 3.1 percent expansion this year versus a previous estimate of 2.8 percent. The group said GDP will surpass its pre-recession peak in the current quarter, and raised its growth forecast for 2015 to 2.7 percent from 2.5 percent.
The pound rose against the dollar and traded at $1.6729 as of 10:13 a.m. London time, up 0.1 percent from yesterday.
(An earlier version of this story corrected the number of monthly house-price increases in the first paragraph.)