Bond Surge Worldwide Drives Index Yield to One-Year Low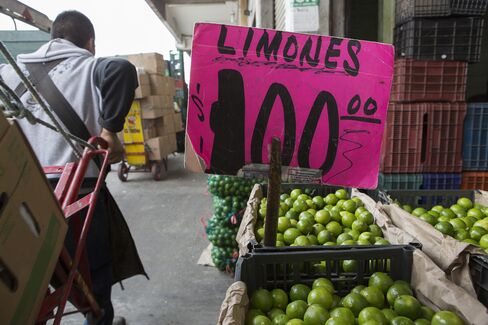 A worldwide bond-market surge pushed yields to the lowest levels in a year on growing evidence central banks can keep stimulating economic growth without igniting inflation.
Treasury 10-year note yields fell to the least since June. A rally yesterday drove the yield on the Bloomberg Global Developed Sovereign Bond Index to 1.28 percent, the lowest since May 2013. Australia's 10-year yield dropped to an 11-month low, Japan's slid to the least in 12 months, while European bond yields were close to the lowest since the formation of the region's shared currency. The U.S. sold $29 billion of seven-year notes at the lowest yield since October.
The U.S. economy contracted 1 percent in the first quarter, the Commerce Department said. Fixed-income securities rallied yesterday in the wake of a report showing German unemployment unexpectedly rose in May.
"It gives investors less fear about what's going on with the U.S. and more with what's happening globally," said Aaron Kohli, an interest-rate strategist BNP Paribas SA in New York, one of 22 primary dealers that trade with the Federal Reserve. "The fundamentals are not in favor of what's going on in rates, but it's something that can go on for much longer because the momentum is so strong."
The Bloomberg Global Developed Sovereign Bond index has climbed 4.3 percent this year through yesterday, while Treasuries returned 3.6 percent, based on Bloomberg indexes. Every one of the 26 bond markets from Hungary to Japan tracked by Bloomberg and the European Federation of Financial Analysts Societies has gained during the past month.
Treasury Yields
The benchmark U.S. 10-year yield dropped as much as four basis points, or 0.04 percentage point, to 2.40 percent, the lowest since June 21, before trading at 2.46 percent at 3:47 p.m. New York time, Bloomberg Bond Trader data showed. The yield fell seven basis points yesterday. The price of the 2.5 percent note due in May 2024 slipped 3/32, or 94 cents per $1,000 face amount, to 100 13/32.
Australia's 10-year yield lost as much as nine basis points to 3.61 percent. Japan's dropped to as low as 0.56 percent. Singapore's fell to 2.18 percent, the lowest level since October.
Evidence that weakening labor markets will constrain demand and inflation has caused investors to pour into government bonds. That's confounded economist predictions for a second year of losses as signs earlier this year that U.S. economic growth is gaining traction prompted the Federal Reserve to taper its $85 billion-a-month bond-buying program.
Auction Yield
The Treasury's auction of seven-year notes today drew a yield of 2.010 percent. The bid-to-cover ratio, which gauges demand by comparing the amount of bids with the amount of debt, was 2.60, versus an average of 2.55 at the past 10 auctions. Yields at a five-year note sale yesterday dropped to the lowest since November.
"It's a good, old-fashioned squeeze" as investors who bet on lower prices for Treasuries have been forced to buy them as the debt rallied, said David Ader, head of U.S. government bond strategy at CRT Capital Group LLC in Stamford, Connecticut. "We are pretty close to the bottom in yields for the year."
It was the final of three sales this week of coupon-bearing notes. The $35 billion of five-year securities sold yesterday at a yield of 1.513 percent and $31 billion of two-year debt auctioned on May 27 drew a yield of 0.392 percent.
ECB Meeting
Euro-area government bonds have advanced since European Central Bank President Mario Draghi said on May 8 the Governing Council was "comfortable" taking measures to boost inflation in the region. Consumer-price increases in the 18-nation currency bloc have been less than half the central bank's goal of below 2 percent since October. The ECB meets on June 5.
An estimate due June 3 will show the rate was at 0.7 percent for a second month in May, according to the median forecast of economists surveyed by Bloomberg.
"You have a dynamic today that is at play that I'd say is truly extraordinary, and I'd argue is truly historic, where Draghi and ECB are going to be incredibly aggressive going forward," BlackRock Inc.'s chief investment officer Rick Rieder said in a television interview on "Bloomberg Surveillance" with Tom Keene. "U.S. Treasuries don't look that bad, relative to the rest of the world."
Inflation Gauge
The Fed's preferred gauge of inflation, an index of personal consumption expenditures, has remained below its 2 percent target for almost two years. The measure increased 1.1 percent in March, the latest figure available, from a year earlier.
The average yield to maturity on bonds from Greece, Ireland, Italy, Portugal and Spain fell to 2.13 percent yesterday, matching the least since the formation of the currency bloc in 1999, according to Bank of America Merrill Lynch indexes.
Greece's government securities returned 26 percent this year through yesterday and Portugal's increased 15 percent, the best-performing sovereign debt markets tracked by Bloomberg World Bond Indexes. Treasuries gained 3.6 percent and German bonds earned 4.4 percent.
"I would be surprised if we rallied a lot from here, but it can always happen," said Justin Lederer, an interest rate strategist at Cantor Fitzgerald LP in New York, one of 22 primary dealers that trade with the Fed. "I look at the these peripherals and am totally surprised that Italy and Spain could be trading at sub-3 percent given where we were two years ago when everything was breaking up in Europe."
U.S. government securities maturing in 10 years and longer yielded 92 basis points more than non-U.S. sovereign debt, the lowest level since Sept. 25, Bank of America Merrill Lynch indexes showed.
The International Monetary Fund last month predicted global growth of 3.6 percent in 2014, revising down its January estimate of 3.7 percent. Next year, the expansion will accelerate to 3.9 percent, unchanged from the prior forecast.
Before it's here, it's on the Bloomberg Terminal.
LEARN MORE