Mukesh Ambani Buys Viacom's India Partner for 4G Content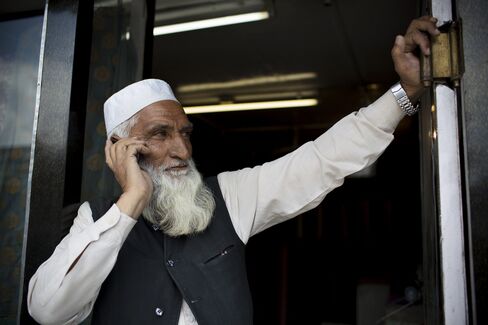 Billionaire Mukesh Ambani's Reliance Industries Ltd. agreed to buy the Indian partner of Viacom Inc. for 40 billion rupees ($678 million) to gain news and entertainment content for its new mobile phone company.
Reliance, through Independent Media Trust, will control 73.1 percent of Network 18 Media & Investments Ltd. and 55 percent of TV18 Broadcast Ltd., the Mumbai-based company said in an exchange filing yesterday. An open offer triggered by the deal may raise the stakes to 95 percent and 81 percent respectively, according to the filing.
Ambani is spending about $11 billion on a high-speed fourth-generation cellular network to tap rising data usage among India's 890 million phone users as gaming and mobile social networking surge in the world's second-biggest market for mobile phones.
"We call this a diversified-service provider strategy," said Kamlesh Bhatia, Mumbai-based research director, Gartner Inc. "It's a smart move by Reliance. Globally, telecom operators have explored the opportunities of owning and aggregating content with a view to continue to hold subscriber attention."
Reliance Industries is primarily engaged in oil and gas exploration and owns the world's largest refining complex. It also manufactures downstream petrochemicals, polymers and polyester products.
Return to Telecom
The rollout of its phone service will mark the return of Mukesh Ambani, 57, to telecommunications almost a decade after he handed over the group's phone business to Anil, 54, as part of a split following a family feud.
Reliance Jio Infocomm Ltd., a unit of Reliance Industries Ltd., has erected at least 10,000 signal towers as it accelerates plans to start 4G services later this year, two people familiar with the matter said in April. In February, the company spent $1.8 billion to buy airwaves to compete with Vodafone Group Plc, the world's No. 2 mobile-phone company by users, and billionaire Sunil Mittal's Bharti Airtel Ltd.
Reliance already has access to the largest tower network on tap for any phone-service operator, through sharing pacts with Mittal's Bharti Infratel Ltd., Reliance Infratel Ltd. -- the company of Mukesh Ambani's younger brother Anil -- and Viom Networks, a joint venture between Tata Teleservices Ltd. and SREI Infrastructure Finance Ltd.
'Classic Philosophy'
The latest acquisition "fits into the classic Reliance philosophy of owning components of their own supply chain," said Harit Shah, a telecom analyst at Nirmal Bang Equities Ltd. in Mumbai. "It will help them provide streaming live news for their 4G customers when they roll out their services."
Reliance will make an open offer for shares of Network 18 at 41.04 rupees each, totaling as much as at 9.44 billion rupees, it said in the filing. Shares of Network 18 rose 7.8 percent to 48.90 rupees as of 10:02 a.m. in Mumbai, after jumping 8 percent yesterday before the announcement.
It will offer 30.18 rupees a share for as much as 26 percent of TV18, valued at as much as 13.5 billion rupees. TV18 rose 1.7 percent to 35.60 rupees, after gaining 2.5 percent yesterday.
Additionally, Reliance will also make an open offer for Infomedia Press Ltd. at 3 rupees a share to acquire a 26 percent stake. Infomedia surged 4.8 percent to 3.25 rupees.
Biggest Weighting
Reliance Industries, which has the biggest weighting in the benchmark S&P BSE Sensex Index, advanced 1.1 percent to 1,085.45 rupees, valuing the company at 3.51 trillion rupees.
Network 18, which runs a joint venture with Viacom called Viacom18, broadcasts TV channels from Comedy Central to MTV, as well as a Hindi-language entertainment channel called Colors that carries the Indian version of Big Brother. The group also publishes Forbes magazine's India edition. Network 18 partners with Comcast Corp. to run CNBC-TV18. Bloomberg TV India, a local affiliate of Bloomberg LP, which is the parent of Bloomberg News, competes with CNBC-TV18.
In January 2012, Network 18 Group agreed to acquire the assets of a company that ran 12 regional channels in the South Asian nation for 21 billion rupees. As part of that deal, Reliance was to help Network 18 founder Raghav Bahl to fund his portion of the rights offer. In September 2012, TV18 Broadcast announced a rights issue for 27 billion rupees.
Reliance spent 20.8 billion rupees on the rights issue of Network 18 and 1.35 billion rupees on TV 18. After the conversion of the debentures its stake in Network 18 will reach 73.10 percent and in TV 18 to 55 percent.
Network 18 announced the resignations of its Chief Executive Officer B. Sai Kumar two days ago and Chief Financial Officer R.D.S Bawa yesterday in separate statements.
Before it's here, it's on the Bloomberg Terminal.
LEARN MORE