Japan Inflation Quickens to Fastest Since 1991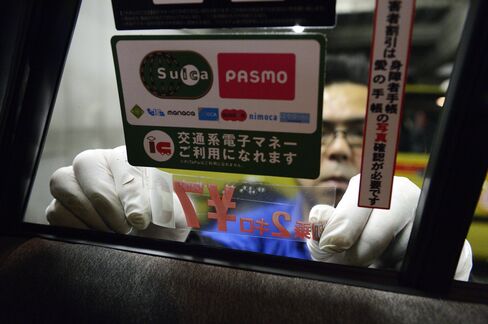 May 30 (Bloomberg) -- Japan's industrial production and household spending fell more than forecast and inflation surged to a 23-year high on a tax rise that is pinching consumers who have seen limited wage gains.
Production fell 2.5 percent in April from the prior month, the trade ministry said in today, more than a 2 percent drop forecast by economists surveyed by Bloomberg News. Household spending declined 4.6 percent from a year earlier, steeper than a projected 3.4 percent drop, while core consumer prices rose 3.2 percent.
The data show the challenge facing Prime Minister Shinzo Abe as he tries to cap the world's biggest debt burden while the Bank of Japan carries out record easing to drive inflation. Weak growth next quarter -- the period that Abe will look at when deciding whether the economy can bear a further increase in the sales tax -- would boost the chances of further fiscal support.
"The economy will probably rebound in the July-September period, but the pace of recovery may be only moderate," said Yuichi Kodama, chief economist at Meiji Yasuda Life Insurance Co. in Tokyo. "There's a good chance that Abe's government will give a go-sign for the second tax increase. It may compile an economic stimulus to avoid any slowdown in the recovery."
Wages Lag
The Topix index of shares swung between gains and losses, and was little changed at 1:32 p.m. in Tokyo. The yen rose 0.2 percent to 101.62 per dollar.
Wage gains are lagging inflation. Among the 92 percent of companies planning to boost overall pay in the fiscal year that started last month, 47 percent see base wages rising, according to a trade ministry survey. Even so, base wages will rise less than 1 percent at 84 percent of those companies, the survey showed.
Barclays Plc. became the latest bank to drop a prediction for further BOJ easing this year. Economists Kyohei Morita and Yuichiro Nagai cited in an e-mailed note the BOJ's strengthened confidence that it will achieve its inflation target given the firm trend in consumer prices among reasons for revising the forecast.
There's no need for the BOJ to add to stimulus at this point, International Monetary Fund First Deputy Managing Director David Lipton told reporters today in Tokyo. Japan needs to minimize its reliance on monetary policy, he said.
Aso Upbeat
The central bank's baseline scenario is for core inflation -- excluding the effects of the higher sales tax -- to remain around 1.25 percent for some time, before following a rising trend from the second half of this fiscal year. Last month's 3 percentage point increase in the tax would add 1.7 percentage points to inflation in April, Kuroda said in March.
Finance Minister Taro Aso told reporters after the data releases that the slowdown in the three months through June seems to be less than anticipated, and predicted the pick-up next quarter should be fast.
Production is projected to rise 1.7 percent this month before dropping 2 percent in June, the trade ministry said today.
Board member Sayuri Shirai said yesterday unprecedented easing could last beyond next year and downplayed the bank's optimism that inflation would reach its 2 percent target in fiscal 2015.
Core inflation, excluding the impact of the tax rise, may fall under 1 percent in July, according to Yasuhide Yajima, chief economist in Tokyo at NLI Research Institute.
Other data today pointed to a tightening of Japan's labor market. The unemployment rate stayed at 3.6 percent in April, while the ratio of jobs per applicant rose to 1.08 from 1.07 in March.
The economy is forecast to shrink an annualized 3.4 percent this quarter after 5.9 percent growth in the first three months of the year.
(An earlier version of this story was corrected to show that Abe will consider third-quarter data when deciding on tax rise.)
To contact the reporter on this story: Toru Fujioka in Tokyo at tfujioka1@bloomberg.net
To contact the editors responsible for this story: Paul Panckhurst at ppanckhurst@bloomberg.net Andy Sharp, Arran Scott