Hepatitis Warrior Hiking in China Shows Glaxo Hurdles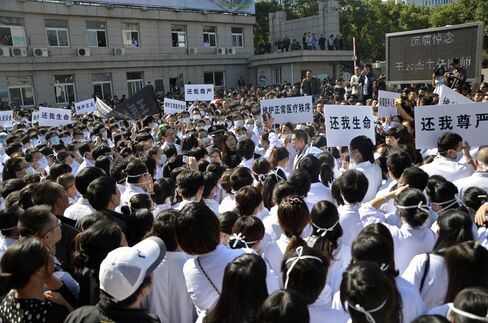 Lei Chuang trekked almost 1,000 miles over 80 days from Shanghai to Beijing last summer, along riverbanks and highways, to deliver a petition beseeching China's leaders to cut the prices of hepatitis B drugs.
The 27-year-old activist, who contracted the virus as a child from a reused vaccination needle, is planning another round of campaigning. This time he's putting the spotlight on GlaxoSmithKline Plc, the British drugmaker under government investigation in China for bribery.
China's middle class increasingly is taking to the streets or the Internet to voice discontent on issues from pollution to wages. As frustration with the health system rises, patients like Lei are pushing the government and drugmakers to reduce costs and improve the quality of care.
"If drug companies can afford such huge sums for bribing doctors and hospitals, then they should still be profitable if prices are lowered by 50 percent," said Guangzhou-based Lei, nicknamed the "Hepatitis B Warrior" by Chinese media. "They could use that money to benefit patients instead."
Rising drug prices are already drawing a backlash in the U.S. and other parts of the world. On May 19, Lei sent a letter to the Chinese government with 27 hepatitis B patients' signatures asking it to make Glaxo cut prices on its Heptodin treatment. He's penning more letters to Glaxo in China and in London.
Patient Rage
Out-of-pocket expenses for patients in China continue to rise even as the government has taken steps such as centralized auctions to lower drug prices, said Yu Fang, a professor of pharmacy administration at Xi'an Jiaotong University. In 2012, the average cost of an outpatient hospital visit was 192.5 yuan, he estimates, a rise of 7 percent.
"Pressure for change is building up, even though it's mainly indirect as there's no civil society speaking up on behalf of people vulnerable to skyrocketing health-care costs," said Yanzhong Huang, senior fellow for global health at the Council on Foreign Relations.
The Chinese government has stopped some hospitals from charging a markup on medicines and has banned doctors' pay and bonuses from being linked to drug sales as part of its push to curb corruption and improve the medical system.
Angry Patients
China's citizen's have become more vocal on subjects that affect their health and families. Demonstrators in the eastern city of Hangzhou turned violent in early May as they protested against a planned waste incinerator. That was China's third protest in six weeks to break into conflict, a trend that challenges President Xi Jinping's quest for social stability.
Instances of patients taking out their rage on doctors also are rising. About 64 percent of hospitals reported skirmishes that resulted in significant injuries to workers in 2012, an increase from 47.7 percent in 2008, a survey by the Chinese Hospital Association showed.
Common triggers for the violence included anger over treatment outcomes, poor communication and complaints about high costs, according to the association.
"China's investigations into pharmaceutical companies is just the beginning, and it should follow up further with deeper actions in order to pull down those prices that are falsely inflated," Fang said.
Drug Mark-Ups
In a May 15 editorial published the day after Chinese police gave details on the Glaxo investigation, the official Xinhua News Agency accused the British drugmaker of manipulating prices of the hepatitis B medicine Heptodin to disguise its real costs.
A box of the drug is priced at 142 yuan ($22.80) in China, compared with about 18 yuan in South Korea, 26 yuan in Canada and 30 yuan in the U.K., while costing 15.7 yuan to produce, the Xinhua editorial said, citing prices listed on a document it obtained. Glaxo didn't respond to questions about Heptodin pricing in China.
"Mark-ups of around 30 percent on branded drugs can be typical and reasonable, but it's harder to justify when you have prices that are many times that of comparable generic drugs," said Fang, who has conducted studies on prices.
A one-month course of Pfizer Inc.'s blood-pressure medicine Norvasc, for instance, cost the lowest-paid Chinese government worker seven days' salary and was four times pricier than the generic version, according to Fang's 2010 survey of hospital pharmacies in central Shaanxi province.
Competitive Factors
Pfizer said via e-mail it prices medicines based on competitive factors and their "overall value, innovation and high-quality." The company will collaborate with the government to continue providing high quality and affordable Norvasc to patients, it said.
Glaxo has reported profit declines in China due to the investigation, which has lasted for almost a year. The company said it will continue to cooperate with Chinese authorities.
Other health-care companies have also come under scrutiny in China. Roche Holding AG has said local authorities called on its offices in eastern China's Hangzhou city on May 21. Johnson & Johnson was fined last August for monopolistic practices. Harbin Pharmaceutical Group Sanjing Pharmaceutical Co. in May said its chairman jumped to his death while being investigated for corruption.
"The go-go days are over for foreign pharmaceutical companies in China, they'll have to learn to live with this new reality of lower profit margins," said Huang.
Hepatitis Activist
Lei, the hepatitis activist, said he's fighting for fellow patients such as a factory-worker friend in Guangzhou, who spends about a fifth of his 3,000-yuan monthly salary on hepatitis drugs. He himself doesn't need the medicines as the virus is latent in his body, he said.
The chemistry university graduate, who has about 135,000 fans on his Weibo microblog account, collected more than 2,000 signatures from supporters as he hiked through towns and cities last summer. In a video clip posted on the website of Jining city's government-controlled Dazhong news portal, the bespectacled, pony-tailed Lei is seen walking as he drags a suitcase, and is surrounded by media from the northern province.
He's now planning a similar trek to Beijing later this year, starting from northeastern China.
"We want to keep putting pressure on the company and through the government to make drug prices more transparent, and we want to show them our grievances," he said.
— With assistance by Daryl Loo
Before it's here, it's on the Bloomberg Terminal.
LEARN MORE