Caspersleep.com Wants to Sweeten Your Dreams
Mattress shopping sucks. A new company tries to fix it
We spend a third of our life asleep, but Philip Krim, 30, thinks most people are doing it badly. "Quality sleep ties to happiness, job satisfaction, being better in relationships," he says. "Yet no brand comes to mind when you think of sleep." He wants Caspersleep.com, his mattress startup, to win the night.
Since April, Krim and four co-founders have sold one type of bed, a memory-foam core with a latex top, which arrives via UPS or Uber in a mini-fridge-size box. The mattress, which I tried for two weeks, has the squishy embrace of a Tempur-Pedic bed. The latex foam stays cool, and the whole thing offers enough bounce for a bored kid. It's shallow yet provides firm support. At $850 for a queen, Casper isn't cheap. But the materials are U.S.-made, and similar beds at Sleepy's and other chains cost up to $4,000.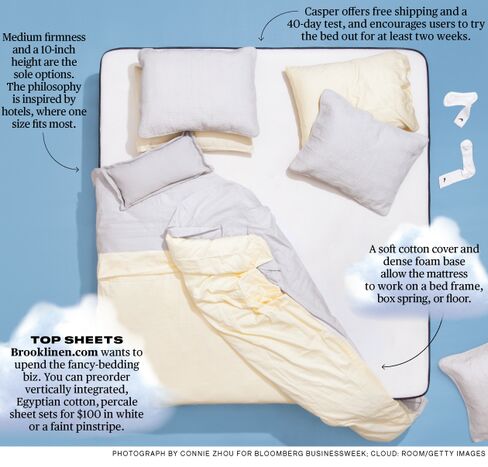 These stores dominate mattress sales, so "consumers know very little about what they should buy," Krim says, noting that a few minutes in a showroom isn't enough to determine a bed's quality. "The experience is driven by a commission salesman who's good at lying about what you need." Most recommend Sealy, Simmons, or Serta, the three brands that control half the market.
So far, Casper has raised $1.6 million of funding led by Ben Lerer, the venture capitalist who specializes in trendy, urban upstarts such as Everlane and Warby Parker. The mattress has been back-ordered since its launch. "You know who needs a mattress? Everybody. But nobody likes buying one," Lerer says. Investing in Casper, he adds, "was a very easy decision."
Before it's here, it's on the Bloomberg Terminal.
LEARN MORE