Emerging-Market Stocks, Gold Drop With S&P 500 at Record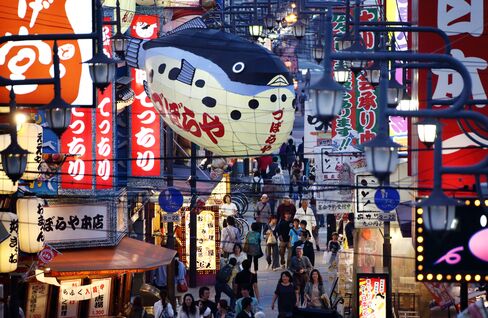 Emerging-market stocks fell, trimming a monthly advance, as oil and gold slumped. The Standard & Poor's 500 Index closed at a record, while Treasuries were little changed as data showed an uneven recovery in the economy.
The MSCI Emerging Markets Index slid 1.1 percent at 4 p.m. in New York, paring a fourth monthly gain. The S&P 500 added 0.2 percent to a record 1,923.57. The yield on 10-year Treasuries was little changed at 2.47 percent. Gold fell 0.9 percent, capping the biggest weekly drop in eight months, and oil futures slid 0.8 percent.
Data showed U.S. consumer spending unexpectedly fell in April after the biggest surge in almost five years as incomes slowed, a sign the largest part of the economy will take time to accelerate. An index of consumer confidence fell more than forecast in May, while business activity in the Chicago area unexpectedly increased. Japan, which has struggled to defeat deflation, posted the fastest price growth since 1991 amid stimulus from the country's central bank.
"The market is almost trading directionally sideways," Kevin Mahn, president and chief investment officer of Hennion & Walsh Asset Management in Parsippany, New Jersey, said in a phone interview. His firm oversees more than $600 million. "There is no volatility and investors are waiting for the next signal whether they put more in or take more out."
Household Spending
Household purchases, which account for about 70 percent of the U.S. economy, dropped 0.1 percent in April, the first decrease in a year, after a revised 1 percent gain the prior month that was the strongest reading since August 2009, Commerce Department figures showed. Incomes advanced 0.3 percent after climbing 0.5 percent.
The Thomson Reuters/University of Michigan final index of sentiment dropped to 81.9 in May from 84.1 in April. The median projection in a Bloomberg survey of economists called for 82.5 after an initial May reading of 81.8.
The Institute for Supply Management-Chicago Inc.'s business barometer rose to 65.5 this month from 63 in April. The median forecast of 46 economists in a Bloomberg survey projected the index would fall to 61. Readings greater than 50 signal growth. Gains in manufacturing, which makes up about 12 percent of the economy, have been supported by rising demand for durable goods such as automobiles, appliances and machinery.
Still Cautious
"The consumer is still conservative and cautious," Sam Wardwell, an investment strategist at Pioneer Investments in Boston, said in a phone interview. His firm manages about $249 billion globally. "The outlook for the market for the rest of the year remains constructive. It's not so much we don't have a belief where the market is going, we just don't know what route it's going to take to get there."
The S&P 500 yesterday climbed to its highest level on record, taking its 2014 gains to 3.7 percent. The gauge has rebounded 5.6 percent since a selloff in small-cap and Internet shares spread to the broader market and dragged the gauge to a two-month low in April. It has advanced 1.8 percent in May, heading for its fourth consecutive monthly increase.
Treasuries are posting the biggest monthly gains since January as signs the world's largest economy is failing to grow as anticipated leads investors to unwind bets for higher borrowing costs. The Bloomberg U.S. Treasury Bond Index rose 1.1 percent in May through yesterday, pushing its gain for 2014 to 3.5 percent. The Bloomberg Global Developed Sovereign Bond Index advanced 0.4 percent in May and is up 4.3 percent this year.
European Bonds
The euro-region's higher-rated government bonds fell today, with longer-maturity debt leading declines, as the securities pared a rally which had taken yields across the region to all-time lows. Austrian, Belgian and French bonds dropped, while German securities held a decline from yesterday.
The yield on 10-year U.K. gilts climbed three basis points to 2.57 percent, while 10-year bund yields increased less than one basis point to 1.36 percent.
The MSCI World Index has gained 1.6 percent in May, its best month since February.
The MSCI Emerging Markets Index slipped 1.1 percent, trimming its biggest monthly advance since October. The gauge has risen 3.3 percent in May, its fourth consecutive increase and its longest stretch of monthly gains since 2009.
Russia's Micex Index declined 1.1 percent today, paring its advance this month to 9.7 percent, its first gain this year. President Vladimir Putin has refrained from escalating the crisis in Ukraine, following the country's presidential election on May 25. Petro Poroshenko, who won the poll with more than 50 percent of the vote, has vowed to wipe out insurgents and re-establish order. The Ukrainian Equities Index lost 1.3 percent today, trimming its rally in May to 11 percent.
China Economy
The Hang Seng China Enterprises Index jumped 4.8 percent in May, its biggest gain in six months, amid speculation China will take further steps to lessen an economic slowdown. The Thai baht had its biggest monthly slide this year after the country's military overthrew the government.
India's S&P BSE Sensex has rallied 8 percent this month as Narendra Modi won parliamentary elections. The gauge was little changed today. Data showed India's economy grew less than 5 percent for the eighth straight quarter, adding pressure on Modi to spur investment. Gross domestic product rose 4.6 percent in the three months ended in March, unchanged from the previous period.
The S&P GSCI gauge of 24 commodities fell 0.7 percent as West Texas Intermediate oil dropped 0.8 percent to $102.71 a barrel. Crude posted its first monthly advance since February as inventories shrank at the delivery point for New York contracts.
Gold Prices
Gold dropped 0.9 percent to $1,246 an ounce after the S&P 500 climbed to a record and signs of easing tensions in Ukraine curbed demand for the precious metal as a haven. This week, the metal has dropped 3.6 percent.
The dollar was little changed at 101.78 per yen. The Japanese currency strengthened earlier as a government report showed inflation accelerated to the fastest in more than two decades in April, reducing the prospect of additional stimulus by the Bank of Japan.
The euro gained 0.2 percent to $1.3632, and is down 1.7 percent since April 30, the biggest monthly drop since January.
Commodity companies in the Stoxx Europe 600 Index fell, while gains in technology and real-estate shares left the index little changed today. BNP Paribas slid 2.4 percent after a person familiar with the matter said the U.S. wants more than $10 billion to settle federal and state investigations into the French lender's dealings with Iran and Sudan.
The European equity gauge climbed 1.9 percent this month, taking it close to a six-year high yesterday.