Ukraine Firefight Shatters Post-Election Optimism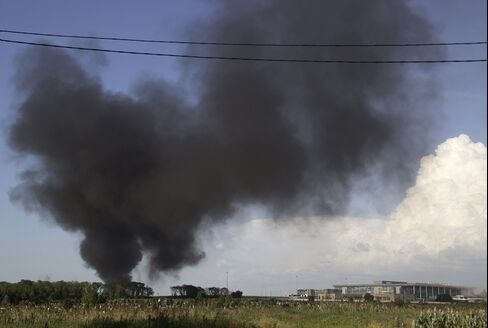 A thaw in tension over Ukraine that drove down Russian borrowing costs is giving way to the fiercest fighting yet in the standoff amid separatist calls for President Vladimir Putin to intervene.
The yield on Russia's August 2023 ruble bonds jumped 18 basis points yesterday, the most in 23 emerging markets tracked by Bloomberg and the biggest increase in more than three weeks. The ruble slumped and the Micex Index of stocks had the steepest decline since April 15.
Escalating violence in Ukraine's east shattered market optimism that President-elect Petro Poroshenko would usher in a period of calm as he pledged to seek dialog with Russia to resolve the six-month-old crisis. Putin came under growing pressure to intervene yesterday after 40 people were killed in clashes in Donetsk on May 26.
"Geopolitical risks are underestimated," Dmitry Khlebnikov, head of fixed-income trading at Citigroup Inc.'s unit in Moscow, said by e-mail yesterday. "The market reacted too optimistically to the presidential elections. I don't exclude that we'll see an extension of the market correction."
Rebel Clashes
Russia's dollar government notes returned 6.2 percent in May, while Ukraine's advanced 9.2 percent, the two leading performers among 56 sovereigns in the Bloomberg USD Emerging Market Sovereign Bond Index. The securities slumped earlier this year as Putin annexed Crimea and the U.S. and European Union slapped sanctions on his inner circle in retaliation, with threats to add additional penalties.
Investors "have been reassured by Putin's more conciliatory tone of late," Nicholas Spiro, managing director of Spiro Sovereign strategy in London, said by e-mail yesterday. "Yet the further bloodletting in eastern Ukraine shows there's ample scope for east-west tensions to flare up again. What concerns investors the most is the threat of further sanctions against Russia."
Troops killed "dozens" of rebels without suffering any losses, Interior Minister Arsen Avakov said yesterday, while the mayor's office in the eastern city of Donetsk said 40 people died and 31 were wounded. The self-proclaimed Donetsk People's Republic sent an official letter to Putin asking for help, including military assistance, according to separatist leader Denis Pushilin.
Ruble Volatility
With the yield on Russia's benchmark 2027 ruble bond dropping from a record 9.71 percent on March 14, returns are "at very attractive levels at the moment," Jetro Siekkinen, an emerging-market bond manager in Helsinki at Aktia Asset Management, said by e-mail yesterday.
"I am more concerned about the short-term volatility in the ruble," he said. "We've seen a very strong rally in the currency since the middle of March, so perhaps hedging the foreign-currency risk from current levels makes sense."
The ruble slumped for a third day, weakening 0.3 percent to 34.5085 per dollar as of 3:10 p.m. in Moscow today. Russia's currency is the best performer among 24 emerging markets tracked by Bloomberg against the dollar this month, with a gain of 3.4 percent.
The U.S. believes pressure needs to be maintained on Russia to reduce tension over Ukraine, U.S. Ambassador to Ukraine Geoffrey Pyatt said on CNBC yesterday. The U.S. has to "wait and see" Russia's response to developments before considering tighter sanctions, he said.
"The question is how Russia will react to the intensification of the military operation," Vladimir Bragin, head of research at Alfa Capital Partners Ltd. in Moscow, said by e-mail. "If the operation gets serious, it won't take long for new sanctions to be imposed."