Look Ma, No Hands: Sergey Brin's GoogleCar Has No Steering Wheel, No Brakes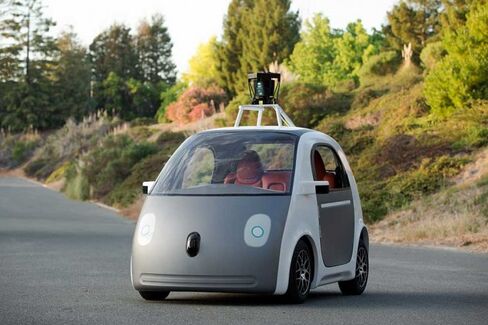 Google is doubling down on the most quixotic research project in its Google X research lab: driverless cars.
At the Code Conference, an annual $6,500-a-ticket tech confab held this week south of Los Angeles, Google co-founder Sergey Brin revealed that the company has quietly designed and manufactured its own line of driverless vehicles and was preparing to start testing them later this year.
The two-seat, all-electric autonomous automobile is remarkable mainly for the features it doesn't have, such as a steering wheel, a dashboard, and a brake pedal. "We took a look from the ground up and asked what should self driving cars be like?" Brin said during an interview on Tuesday night.
The opening night of the conference also saw another debut of sorts. New Microsoft Chief Executive Officer Satya Nadella spoke for the first time at the annual conference and emerged largely unscathed from a public grilling by organizers Kara Swisher and Walt Mossberg. During his session, Nadella demonstrated a new Skype tool that can almost instantly translate a live conversation into different languages. "This has been a dream of humanity," Nadella said. The feature, called Skype Translator, will begin rolling out later this year, Microsoft said in a blog post.
Google and Microsoft seem to be racing to realize a future once only dreamed about in science fiction. Google has been testing its self-driving car technology for the past few years but previously had modified a fleet of Toyota Priuses and Lexus SUVs, equipping them with cameras, computers, radar, and laser range finders. Brin said that creating a car from scratch allowed Google to focus on building in safety measures, such as a foam bumper and a flexible, plastic windshield, and to install a 25 miles-per-hour speed limit for pedestrian safety.
The gray prototype conjures the kind of vehicle one a costumed character might drive through a children's theme park. It slightly resembles a classic VW Bug without the snub nose. Brin said Google planned to build a few hundred prototypes and to start testing the vehicle on roads in Northern California roads by the end of 2014. Each vehicle will carry a human safety tester who can take over the vehicle via joystick in case of an emergency.
He described riding in one of the vehicles on a test track and called it relaxing: "Within seconds I was doing my e-mail. I forgot I was there. It reminded me of catching a chairlift by yourself. There's a bit of solitude."
Brin's vision is ambitious and perhaps at odds with more than 100 years of Americans' affection for and pride in their automobiles. He imagines a fleet of autonomous cars that users can summon like taxis and ride to their destinations. Such a network of roving robot cars will make owning a car less important and allow cities to make better use of land that is currently devoted to parking lots and fleets of vehicles that sit idle for most of the day.
The self-driving car project is a testament to the influence Google's co-founder still wields at the company, despite the fact that he says he has largely removed himself from decisions affecting other parts of the business. Unlike other projects in the X lab, like efforts to spread wireless Internet access around the world via high-altitude balloons, and Google Glass, which arguably makes surfing the Web and taking photos easier, the driverless car project does not appear to affect any of Google's current businesses. "The project is about changing the world for people who are not well-served by transportation today," Brin said.
He acknowledged that the GoogleCar will not be hitting the road anytime soon, saying it could take several years to meet safety guidelines and to prove that driverless cars are "significantly safer" than vehicles with a human, however fallible, at the wheel.
Before it's here, it's on the Bloomberg Terminal.
LEARN MORE