Obama Answers Foreign Policy Critics With: Less-Is-More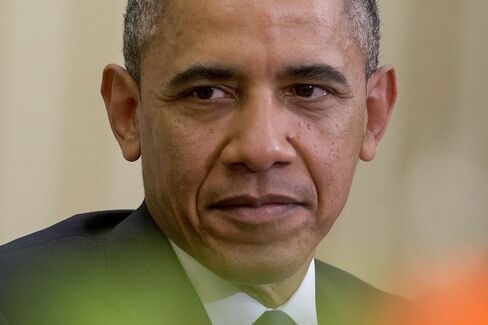 President Barack Obama is offering a less-is-more doctrine to explain his foreign policy, a bow to the reality that after five and a half years in office his strategy remains a puzzle to much of the public.
While Obama vowed when running for president that he wouldn't be as "doctrinaire" in foreign affairs as predecessor George W. Bush, he spelled out yesterday his own vision for the use of American power in a speech that was mostly a rebuttal to his critics.
"America must always lead on the world stage. If we don't, no one else will," Obama said. "But the U.S. military cannot be the only, or even primary, component of our leadership."
Obama delivered the message during commencement at the U.S. Military Academy in West Point, New York, one day after he announced a schedule for the final pullout of U.S. forces from Afghanistan.
The attempt to define his own doctrine suggests Obama sees his communication, not his policy, as falling short. Republicans have seized a chance to ramp up their criticism that Obama hasn't set a consistent course through a series of international crises from the Middle East, to Africa to Europe. There's evidence that Obama has failed to persuade the American people that he has.
Obama Doctrine
The West Point address was "an effort to give an explanation to individual policy decisions that the president has taken and give them a coherence of a strategic or doctrinal approach," said Vali Nasr, dean of the Johns Hopkins University School of Advanced International Studies in Washington and a member of a State Department advisory board.
The rest of the world has long come to accept that Obama wants to reduce the U.S. footprint in the Middle East and Europe to focus more on Asia, Nasr said.
The elements of Obama's doctrine "were there all along," he said. "It was never articulated and announced."
Almost half of Americans -- 47 percent -- want the U.S. to be less active in solving world problems, compared with 19 percent who want the U.S. to do more, according to a Wall Street Journal/NBC News poll in April.
Yet Obama's ratings on handling foreign policy have been sliding even as he has resisted calls for deeper engagement in Syria, Ukraine and other parts of the world. The Journal/NBC poll found 38 percent approved of the way he's handling the subject, the lowest level of his presidency and down from 52 percent in December.
Reacting to Events
For almost a year, since government contractor Edward Snowden began leaking a trove of documents that revealed U.S. spy programs and up to Russia's stirring of unrest in Ukraine, Obama's agenda had been defined almost entirely by his reaction to series of national security and foreign policy challenges.
From a late decision not to strike Syria with military force last summer to ordering sanctions in response to Russia's annexation of Crimea, Obama has sought to use other tools than brute U.S. force to achieve American goals.
In recent days, he also has emphasized that military force, carefully applied, must be part of the American arsenal in dealing with foreign threats. On Wednesday, he said he would ask Congress for a discrete $5 billion fund to pay for military counterterrorism operations and aid to allies in extremist hot spots.
He also plans to expand aid to rebels fighting Bashar al-Assad's regime in Syria and is considering giving them training by the U.S. military.
Hitting Singles
During a news conference while he was in Asia last month, Obama suggested a retrenchment, saying the U.S. should seek to avoid mistakes in foreign policy. "You hit singles, you hit doubles; every once in a while we may be able to hit a home run," he said.
In yesterday's speech, he sought to define a middle course between isolation and intervention.
Obama laid out four pillars of his doctrine: America should use military force when faced with a threat; partner with other nations on counterterrorism rather than launching invasions; strengthen international institutions; and support human rights and democracy around the world.
While terrorism is "the most direct threat to America at home and abroad," he said, "a strategy that involves invading every country that harbors terrorist networks is naïve and unsustainable."
Obama, who visited American troops in Afghanistan this week, argued America's is strongest when it leads by example.
'Straw Men'
Senator John McCain, the Arizona Republican who lost to Obama in the 2008 presidential election, chided Obama for attacking "straw men" and presenting false choices between restraint and full-scale war.
"There is a growing perception worldwide that America is unreliable, distracted, and unwilling to lead," McCain said. "We need better actions, and that starts with a more honest debate of the real choices we face and the proper options at our disposal."
McCain also welcomed Obama's promise to increase support for Syrian rebels. "Though such a step should have been taken years ago, it is not too late to take it now," he said.
In an interview with NPR recorded after the West Point speech and scheduled for broadcast today, Obama said the U.S. "has made mistakes not by showing too much restraint but by underestimating how challenging the environment is out there, not thinking through consequences."
Tommy Vietor, who was spokesman for the White House National Security Council during Obama's first term, said recent events gave Obama an opportunity to clarify his vision after months of tumult in the international sphere.
"They've gone through a period of six months to a year where there's been a lot of incoming fire," Vietor said of his former White House colleagues. "This is a chance to sort of reset that narrative and make an affirmative case for American values for President Obama's foreign policy and to sort of set the agenda going forward."
John Ullyot, a former spokesman for the Senate Armed Services Committee under Republican Senator John Warner, said Obama is seeking "to show that he is doing more than hitting singles and doubles and that he is actually stringing together a policy."
"The problem is there aren't a lot of opportunities to do that," he said.
Before it's here, it's on the Bloomberg Terminal.
LEARN MORE