Nokia Party Is Over as Finnish Industry Loses Value Added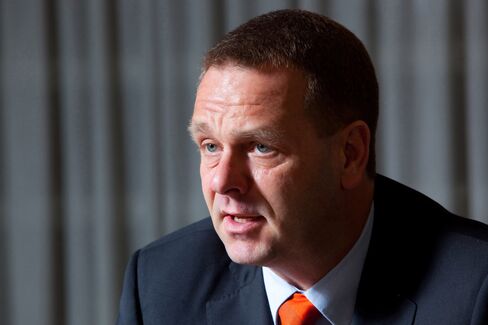 Finland's industry has lost 25 percent of its value added since 2007 as demand for its consumer electronics vanished and newsprint sales fell, the Economy Ministry said.
The northernmost euro member's export-led economy is suffering a demand drop in papermaking as consumers now read their news online and the collapse of the electronics industry that culminated in Nokia Oyj selling its mobile phones business to Microsoft Corp. last month.
"Finland's industrial value added is a quarter smaller than in 2007," Economy Minister Jan Vapaavuori at the Helsinki-based ministry said in a report published today. "The Nokia party is over for now."
The lost value added from the electronics industry is about 9 billion euros ($12.3 billion) over the past six years, while 1.5 billion euros have vanished from the forest industry, according to the report. As a member of the euro area, Finland no longer has the option to devalue its currency -- a traditional method it used to restore competitiveness of export industries over the decades up to 1991.
Creating Value
Finland needs to create value by shifting from pure manufacturing to providing related services, the ministry said. It must foster the growth of mid-sized companies to reduce its dependence on a small number of large corporations.
Relying on manufacturing alone "is no longer enough in the global economy," Vapaavuori said.
Kone Oyj, the supplier of elevators to the London Underground and the Mecca, gets about half of its sales from service contracts, which include both maintenance and modernization of elevators and escalators.
Finland should focus on areas, such as energy efficiency, recycling and solutions for reducing environmental burdens, according to the report. It needs to promote the use of renewable energy resources and for creating new materials, as well as tap growth in digitalization and the Internet of things, where equipment like fridges use information technology to communicate.
"We're still trying to identify how to grapple with this structural change in industry," Vapaavuori said. Companies must "create the success" in industry and boosting competitiveness must be a "way of life."
Before it's here, it's on the Bloomberg Terminal.
LEARN MORE