McCulley Returns to Pimco as Gross Seeks to Restore Shine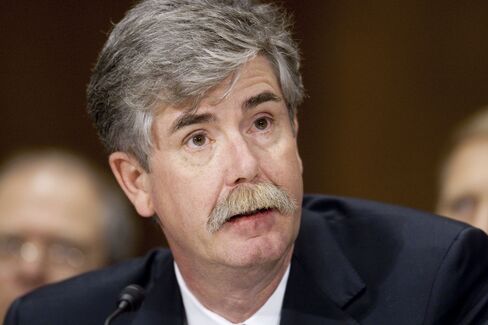 Paul McCulley was greeted by familiar faces after a three-year absence at Pacific Investment Management Co.'s Newport Beach, California headquarters: his rabbit sculptures.
The statues had been sitting in his former office at Pimco's Newport Beach, California, headquarters since McCulley left in 2010 and had later been moved to the firm's new building, according to two people familiar who asked not to be identified because they weren't authorized to speak on the matter. A reminder of McCulley's penchant for imaginary dialogues with his pet bunny in his commentaries, they're relics from a time when Pimco was among the fastest-growing large money managers.
As McCulley, 57, is returning to take over the newly created position as chief economist in his third stint at Pimco, albeit on a part-time basis, his old colleague Bill Gross is counting on the Pimco veteran to work his magic again to fill a gap left by former Chief Executive Officer Mohamed El-Erian. McCulley's reputation as a seasoned money-management executive may reassure investors as the firm battles record redemptions and subpar performance in the Gross's Total Return Fund, the world's biggest bond fund.
"It's smart for Pimco," said David Schawel, a money manager at Square 1 Bank in Durham, North Carolina. "Their underperformance seemed to be due to missed calls relating to central banking and macro - the very thing McCulley is strong at."
Whimsical Style
In his previous incarnations at Pimco, McCulley was known for a whimsical style in his commentaries that included imaginary question-and-answer sessions with "Ms. Morgan," whose name derives from the sorceress in the legend of King Arthur and the Knights of the Round Table. Now, the firm is counting on McCulley to work his magic to help restore confidence at the manager of the world's largest bond fund.
McCulley's return follows Pimco's biggest management shakeup in its 43-year history. In January, after El-Erian's decision to leave, the money manager named six deputy chief investment officers and appointed Doug Hodge as CEO. Gross has sought to assure investors the firm hasn't lost its touch, saying on Bloomberg Television that the funds will top the ranks by year-end.
Pimco can also use McCulley's expertise in macroeconomic analysis as it navigates what it calls the "new neutral." At its annual secular forum this month, Pimco outlined its outlook for the next three to five years, with global growth converging toward lower, more stable speeds and interest rates that are below their equilibrium reached prior to the 2008 global financial crisis.
'Zero' Daylight
Executive Vice President Richard Clarida called the new neutral a "natural evolution" from the new normal, a term popularized by El-Erian and Gross starting in 2009 to describe an era of subdued returns after the crisis.
El-Erian, 55, serves as chief economic adviser to Pimco's parent Allianz SE, and writes a daily column for Bloomberg View, the opinion section of Bloomberg News.
"There is zero, absolutely zero, daylight between me and Pimco on the new neutral," McCulley said in a telephone interview. "In fact there's the antithesis of daylight: same church, same pew, same hymnal."
McCulley retired from the money-management firm in 2010 to work as a public speaker, researcher and writer at think tank Global Interdependence Center. In 2007, he coined the term shadow banking to describe financing sources outside traditional deposit-taking banks.
Smile On
McCulley named his personal philanthropic foundation Morgan le Fay Dreams Foundation after the Netherland Dwarf bunny. The rabbit featured in his monthly commentaries. In 2000, he noted that she and the equity markets "shared many characteristics: boundless exuberance and a passion for mischief."
In a 2005 note, he compared her pickiness regarding lettuce freshness to the bond market picking through economic data. Now he's returned to the place that "will always be Camelot to me," he said in the statement yesterday, his first day back.
"I guarantee you I've got a smile on my face," he said.
McCulley, who had grown his hair and beard after leaving Pimco in 2010, trimmed both back to acceptable corporate standards in August, five months before he and Gross started talking about his return. In his new role, he will be a member of its investment committee, spending up to 100 days a year in Pimco offices around the world, and won't manage any money, the firm said.
Dreams Donation
McCulley first joined Pimco in 1990 as an account manager. He left two years later for UBS Warburg, a unit of Zurich-based UBS AG, where he served as chief economist for the Americas. He returned to Pimco in 1999 as a portfolio manager and also served as head of the firm's short-term desk.
The nonprofit Global Interdependence Center said in 2010 that McCulley made a $1 million grant from Morgan le Fay Dreams Foundation to establish the Global Society of Fellows to gather economists and policy makers from around the world to help address economic issues.
In the late 1990s, McCulley was named several times as a member of the Institutional Investor All-America Fixed Income Research Team. He has an undergraduate degree from Grinnell College in Iowa and a master's in business administration from Columbia University in New York.
McCulley said he has known Gross for a quarter of a century, and has worked "side by side" with the famed co-founder of Pimco.
Not Surprised
"We're all grown-ups, we all know each other, we all respect each other," McCulley said. "I'm looking forward to seeing Bill as a participant, not just as a leader sometimes, because I haven't actually been in a robust 'let's get the right answer' with him in the investment committee."
Pimco's decision to bring McCulley back was a good one, said Erik Gordon, a professor at the Ross School of Business at the University of Michigan.
"They were smart enough to bring in someone who won't be surprised by Gross's management style and personality," Gordon said. "Pimco's problem isn't lack of television air time since El-Erian left. The problem is sub-par performance that led investors to pull their money out."
The $230 billion Pimco Total Return Fund lost 1.9 percent in 2013 as Gross was tripped up by wrong-way bets on U.S. Treasuries and inflation-linked bonds. Investors pulled $40.4 billion from Total Return last year, according to Morningstar Inc. data.
Solidifying Perspective
Allianz, Europe's biggest insurer, saw Pimco clients pulling a net 21.7 billion euros ($30 billion) in the first quarter, the Munich-based insurer said in a statement May 14.
After lagging behind 74 percent of rivals in the past year, Total Return has gained 1.4 percent in the past month to beat 97 percent of peers, according to data compiled by Bloomberg. The fund also underperformed in 2011 when it missed a rally in Treasuries. Gross called that year "a stinker" in a letter to clients.
McCulley's perspective bolsters the more detailed research on specific securities and industries by the deputy CIOs, with a broader overview of the global economy, Gross said.
"Paul's going to solidify the top-down secular macro outlook, and the DCIOs will solidify the bottom from the bottoms-up, and we will meet in the middle to generate market-beating returns," Gross said in a telephone interview yesterday. "You can count on that."