China Cleans Up the Internet by Squelching Dissent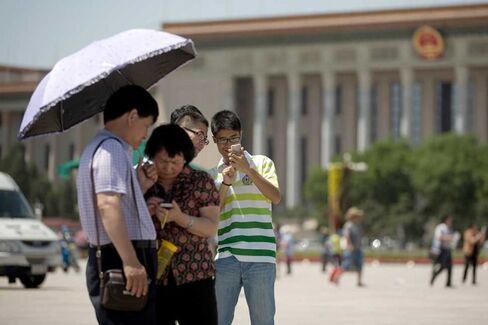 It's understandable that authorities want to control the nastier parts of the Internet, including spam, porn, online scams, and such deadly stuff as terrorist recruiting. Still, it almost always seems as if China's online cleanup campaigns have an additional target: squelching dissent.
Yesterday, China's State Internet Information Office, the Ministry of Industry and Information Technology, and the Ministry of Public Security jointly announced the launch of a campaign against spreading "rumors" and harmful information through chat groups on instant messaging services such as Tencent's WeChat.
"While such services have become popular online communication channels, some people have used them to distribute illegal and harmful information, seriously undermining public interests and order in cyberspace," said a statement from the State Internet Information Office, reported the official Xinhua News Agency on Wednesday. "We will firmly fight against infiltration from hostile forces at home and abroad," the statement warned.
As always, the issue is how "illegal and harmful" information is defined. In one recent case, what was treated as illegal was information about a massive strike occurring against a Nike supplier—a protest that was widely covered in the traditional media, including by some of China's state-owned press. And Shenzhen-based labor activist Lin Dong, who used an instant messaging service to forward information about the protest, was picked up and held by police for a month. (He was finally released last week.)
The authorities like to boast how big and important China's rapidly expanding Internet is as a medium for people to speak out; so said China's latest annual human rights white paper, which was released on Monday. Noting that China last year had 618 million Web users, including 532 million using instant messaging services, the report released said that people in China post and forward 250 million microblog messages and over 20 billion WeChat and other IM messages every day. "The popularization and improvement of the Internet have dramatically expanded the space of freedom of speech," the report crowed.
"As the conflicts intensify between the Party and the people, the Party wishes to clamp down, clean up, and suppress any information detrimental to it," wrote 26-year-old blogger Zhang Jialong in an article that appeared on the Foreign Policy website last month. "One can anticipate that the Party will continue to do anything in its power to tightly control the media and Internet, turning it from a platform for relatively free expression into just another propaganda tool," continued Zhang, who was recently fired from his job at Tencent after he participated in a February meeting in Beijing to discuss Internet freedom with U.S. Secretary of State John Kerry.
Before it's here, it's on the Bloomberg Terminal.
LEARN MORE