Yen Advances to End as Easing by BOJ Seen as Unavoidable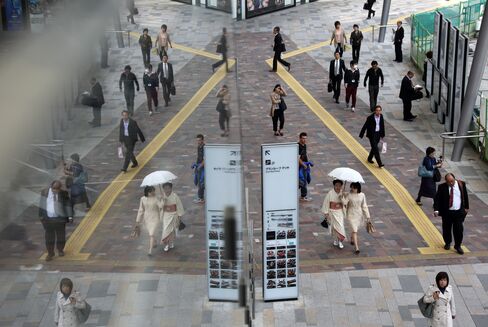 May 28 (Bloomberg) -- The yen is set to snap this month's advance against its Group of 10 peers, trading patterns suggest, amid speculation the Bank of Japan will have to expand monetary easing to ensure it meets an inflation target.
Technical indicators approached overbought levels as the yen tested 200-day moving averages against the euro and U.S. and Australian dollars. Citigroup Inc. said the Japanese currency's failure to push beyond its moving average versus the greenback signals a decline, while Commonwealth Bank of Australia projected a drop against the Aussie.
"The yen is getting stretched," Joseph Capurso, a Sydney-based currency strategist at CBA, said by phone yesterday. "Japan's probably got the weakest fundamentals, at least when it comes to how it affects the yen. I think there's more upside to dollar-yen and euro-yen, as well as Aussie-yen."
Foreign-exchange analysts forecast the yen will drop to 107 per dollar, a level unseen since September 2008, while 75 percent of economists surveyed by Bloomberg News estimate the BOJ will boost stimulus by the end of the year. The yen has gained against all but four of its 16 major peers this month as BOJ Governor Haruhiko Kuroda refrained from expanding easing even as consumer price growth stalled.
The yen traded at 101.77 versus the dollar and 138.32 against the euro as of 12:42 p.m. in New York, after reaching 15-week highs against both currencies on May 21. It was at 93.91 yen per Aussie, down from last week's high of 93.04, which was the strongest in almost two months.
Hammer Pattern
Levels around the 200-day moving average are "key supports" for the dollar, euro and Aussie against the yen, Niall O'Connor, a New York-based technical analyst at JPMorgan Chase & Co., wrote in an e-mailed response to questions on May 26. Support is where there may be orders to buy an asset.
In the week through May 23, dollar-yen formed what's known as a hammer pattern, which is created on a candle chart when a currency falls, then rebounds to close above its opening price.
"The failure to sustain below the 200-day moving average" and "the weekly hammer pattern point toward a higher dollar-yen," Shyam Devani, a Singapore-based senior technical strategist at Citigroup, the world's biggest foreign-exchange trader, said in an interview yesterday.
CBA predicts the yen will slide to 100 against the Aussie by the end of the year, and recommends selling the currency on gains past the 200-day moving average, according to Capurso.
BOJ Action
Demand for haven currencies such as the yen will prevail unless the BOJ is willing to introduce more easing measures, Desmond Chua, a strategist at CMC Markets in Singapore, said by phone yesterday.
Japan's core consumer prices rose 1.3 percent in March from a year earlier, after climbing by as much in the previous three months, data showed on April 25.
The nation's economy will contract this quarter by the most since an earthquake and tsunami struck Japan in 2011, amid the impact of the first sales-tax increase since 1997, according to a separate Bloomberg poll.
Euro-yen holding above its 200-day average last week is "important," Thomas Averill, a managing director in Sydney at Rochford Capital, a currency and rates risk-management company, said yesterday by phone. "That signifies that the yen is likely to be sold off more broadly."
To contact the reporter on this story: Kristine Aquino in Singapore at kaquino1@bloomberg.net
To contact the editors responsible for this story: Garfield Reynolds at greynolds1@bloomberg.net Naoto Hosoda, Paul Armstrong