Ukraine Bonds Go Back to Beginning After Turmoil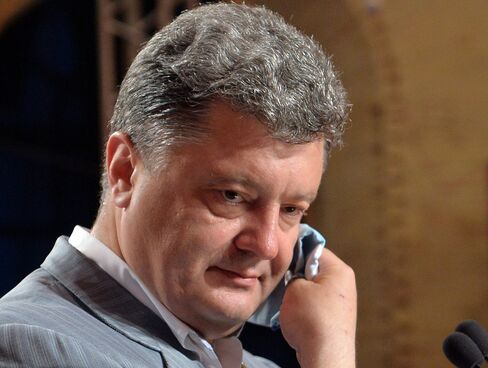 After everything Ukraine's been through over the past eight months, from Russia's annexation of Crimea to the election of President Petro Poroshenko, not much has changed in the eyes of creditors.
The country's bonds yield an average 7.72 percentage points more than U.S. Treasuries. The spread was 7.84 percentage points on Sept. 19, the day before Moody's Investors Service cut the former Soviet republic's credit rating, which sent yields surging and ushered in some of the most extreme swings in Ukrainian bond prices since the global financial crisis. The country's dollar notes have returned 7.6 percent since then, less than the 8.2 percent average of emerging-market government bonds in the span.
The return to September's spread levels shows how waning financial concern -- the country now has more cash to pay back its debt and is implementing economic reforms -- is being offset by growing geopolitical risk as tension with Russia mounts. While international aid guarantees totaling $27 billion have at least delayed any potential default, tensions with Moscow are escalating as the country aims to wipe out separatists in its east.
"All of that and here we are again," Peter Lannigan, a managing director at broker-dealer CRT Capital Group LLC in Stamford, Connecticut, said yesterday in a phone interview. "For me, if I'm thinking of managing an emerging-market portfolio, I view Ukraine as strictly a trading asset. It's increasing your volatility significantly."
Whipsawed Investors
Ukraine's bonds have whipsawed investors since September. After borrowing costs surged in November when former President Viktor Yanukovych backed out of a free-trade pact with the EU, $15 billion of Russian aid pledges sent relative yields plunging to as low as 6.55 percent.
They nearly doubled in a month as deadly street protests forced Yanukovych's ouster and Russia withdrew its support. A deal with the International Monetary Fund to unlock aid sent bonds surging again before separatist unrest in the country's Donetsk and Luhansk regions prompted further selling. Ukraine had its credit ranking cut by Moody's, Standard & Poor's and Fitch Ratings eight times since September.
The country's securities have rallied for 10 straight days, the longest streak since 2010, amid speculation the election of Poroshenko will ease tensions with Russia, which Ukraine has accused of fanning separatist unrest along their shared border.
'Big Uncertainty'
The yield on Ukraine's $2.6 billion of 9.25 percent bonds due 2017 tumbled 0.19 percentage point to 9.54 percent at 10:01 a.m. in New York.
Ukraine's government said yesterday it inflicted "significant" losses on pro-Russian rebels in the east, a day after Poroshenko vowed to intensify operations to defeat the separatists.
That drew a warning from Russian Foreign Minister Sergei Lavrov that any escalation would be a "colossal mistake."
"The big uncertainty that looms over everything is how Russia will act going forward," Steffen Reichold, an economist at Stone Harbor Investment Partners LP, which manages $63 billion in assets and is underweight Ukrainian debt, said yesterday in a telephone interview. "There's still a lot that could go wrong. We don't see a green light to move back into Ukraine bonds."
Russian President Vladimir Putin said May 23 that Russia will work with the next Ukrainian president and "respect the will of the Ukrainian people."
"To the degree Russia does not foment tensions in Ukraine's eastern regions, that's positive, but still far from over," Lannigan said. "It looks at this point that Kiev will prevail and keep the country together. The market is saying, if those regional separatists do not have the support of Russia, the government headed out of Kiev will eventually prevail."