Thailand Risks Inheriting Asia's Sick-Man Tag on Unrest: Economy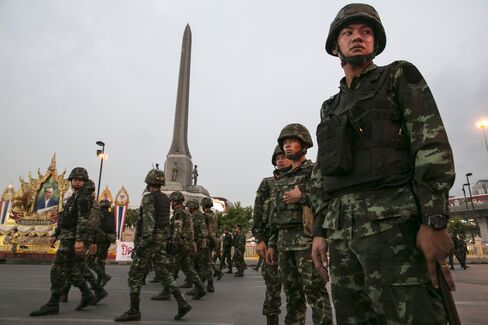 Thailand, once prized in Southeast Asia for its relative economic stability, is in danger of inheriting the "Sick Man of Asia" tag as the latest coup threatens to send investors scurrying toward once-riskier neighbors such as the Philippines and Myanmar.
Vietnam, Indonesia, Malaysia and the Philippines are forecast to grow more than 5 percent this year, while Thailand is on the verge of a recession after gross domestic product shrank in the first quarter. The imposition of martial law was "credit negative" for Thailand, Moody's Investors Service said May 22. Two weeks earlier, Standard & Poor's raised the sovereign grade of the Philippines, which earned the "Sick Man" moniker for decades of limited growth.
With global companies and investors increasingly looking for options in Asia beyond China, Thailand's latest upheaval contrasts with improved outlooks elsewhere. Pro-investment Joko Widodo is the frontrunner for Indonesia's July presidential vote, the Philippines is forecast to report its ninth straight quarter of above-6-percent growth, and Vietnam is taking steps to loosen its grip on state enterprises and lure investors.
"Countries like Vietnam and the Philippines are snapping at its heels and may overtake Thailand if the fundamental political challenges are not resolved," said Frederic Neumann, co-head of Asian research at HSBC Holdings Plc in Hong Kong. "The constant change in leadership and policy left adrift are taking a cumulative toll on Thailand's economy and damping its long-term prospects."
Underweight Stance
Credit Suisse Group AG this week forecast Thailand stocks will underperform for one to three years, saying "last week's coup leaves investors little reason to stay." Goldman Sachs Group Inc. on May 25 reiterated its underweight stance on Thai equities, and Morgan Stanley said it sees no growth this year amid "a deeper slowdown and a subdued recovery."
The median of 26 economists' forecasts for average 2014 GDP growth was 1.6 percent in a Bloomberg quarterly survey released today, compared to 3.4 percent previously.
Even the nation's biggest state pension fund is looking for better returns elsewhere. The Government Pension Fund is buying shares in India, Indonesia and the Philippines, which have stable politics and stronger economies, Sombat Narawutthichai, the fund's secretary general, said this week.
India, where the strongest electoral mandate in 30 years has raised expectations for faster economic growth, has the potential to expand about 10 percent annually for the next 20 years, Jim O'Neill, former chairman of Goldman Sachs Asset Management, said on May 16.
Lagging Gains
The Philippines is forecast to say tomorrow that first-quarter GDP grew 6.4 percent from a year earlier, while Malaysia this month reported a better-than-estimated 6.2 percent expansion. In contrast, Thailand's GDP shrank 0.6 percent in the three months through March.
The benchmark SET index of stocks has gained about 8 percent this year, lagging the 16 percent gain for the Jakarta index and the 15 percent increase for the Philippines. The baht is among the worst performers over the past six months of 11 widely traded Asian currencies tracked by Bloomberg.
Thailand's military seized power last week to end six months of political stalemate between Yingluck Shinawatra's government and its opponents. Before the coup, anti-government protesters had been demanding an unelected council run the country to wipe out the influence of former prime ministers Thaksin Shinawatra and his sister Yingluck, whom they accuse of corruption and using the appeal of economically damaging populist policies to win the last five elections.
Buying Chance?
Thailand has overcome coups, natural disasters and downturns in the past. During the last military intervention in 2006, annual economic growth accelerated to 5.1 percent from 4.6 percent as exports strengthened.
Military coups are not new in Thailand and historically, "when there's blood on the streets" you're supposed to buy, Jim Rogers, chairman of Rogers Holdings, said last week. Templeton Emerging Markets Group views "the coup as likely overall positive as it creates a more stable environment than before," Mark Mobius, executive chairman, said May 22.
The economy is in worse shape than when the 2006 coup took place, Christian de Guzman, vice president at Moody's in Singapore, said in a May 23 interview. Moody's is concerned about "the further effect the political situation will have on the economic and fiscal metrics that we look at," he said.
Rival investment destinations are also in better shape than eight years ago: Japanese investors are increasing allocations in Indonesia and helping develop Myanmar's power industry, while the Philippines plans to ease restrictions on foreign ownership to lure more capital.
Steepest Fall
Foreign direct investment into Thailand was just ahead of Malaysia in the region in 2012, with flows to Vietnam and the Philippines also rising, World Bank data showed. In AT Kearney's global cities index for 2014, Bangkok had the steepest fall from the 2008 ranking, sliding 15 levels while peers including Mumbai, Jakarta and Ho Chi Minh City climbed.
Sony Corp., Panasonic Corp., and Hitachi Ltd. are among companies advising workers against traveling to Thailand, while foreigners arriving in the country dropped 4.9 percent in the first four months of 2014 from a year earlier. The military regime late yesterday said it had reduced the hours of a daily curfew to 12:01 a.m. to 4 a.m. each day, from an initial 10 p.m. to 5 a.m.
Thailand's manufacturing output fell in April for a 13th straight month, data showed today, while exports declined for a third time this year. The state planning agency this month forecast total investment may drop 1.3 percent this year from an earlier prediction of a 3.1 percent increase.
"This coup has come at a difficult time," said Edward Teather, a Singapore-based senior economist at UBS AG who covers Southeast Asia. "Thailand has been losing ground as an investment destination for a while now. If that doesn't change, Thailand will miss growth opportunities."