Thai Army Arrests Fugitive Minister After Media Speech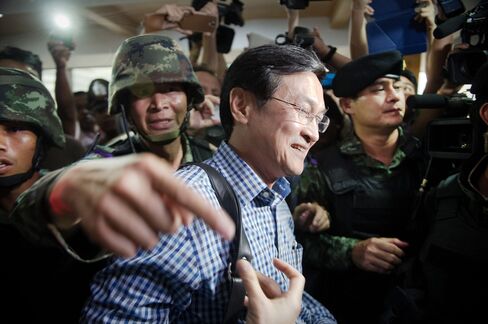 May 27 (Bloomberg) -- Thai soldiers arrested a former education minister as he was being interviewed in Bangkok by foreign reporters after he emerged from hiding to criticize last week's coup.
Chaturon Chaisang, a member of former Prime Minister Yingluck Shinawatra's cabinet, was answering questions at the Foreign Correspondents' Club of Thailand when soldiers arrived and took him into custody. Chaturon had defied an order to report to the junta and said the coup won't solve Thailand's political conflict.
"It's nice that they come with some smiles," Chaturon said as soldiers pushed their way past journalists. "I knew this was going to happen. I'm ready."
Hundreds of politicians, political activists, academics and company executives have reported to the junta since the May 22 putsch, and the army has said it will detain some people for as long as seven days. Army chief Prayuth Chan-Ocha pledged yesterday to stamp out anti-coup protests after being officially endorsed as the nation's leader by royal command.
"I just want to warn General Prayuth that harsh measures will not help," Chaturon said. "To be biased against one side of people, is not going to help. To be biased for only one side of the society will only hurt this country, will only damage this country. And if you really want to resolve the problems of the country, don't be oppressive. Allow people to participate in the process."
No Choice
Prayuth said he had no choice other than to take power after months of street protests against the government headed by Yingluck, whose brother Thaksin Shinawatra was ousted in a coup in 2006.
Even after Yingluck was forced to step down by the Constitutional Court on May 7, her opponents continued to push for the removal of the entire government in a bid to erase the Shinawatra family's influence on Thai politics, raising the risk of a backlash from the mostly rural voters who elected Yingluck in 2011.
In his address yesterday, the army chief said that "everyone was suffering" as a result of the past six months of political uncertainty, and that it was time to "restore political and social stability, as well as confidence."
Protests have sprung up across Bangkok and in the northern city of Chiang-Mai to denounce the coup in defiance of martial law that was imposed two days before the military seized power. A small group of demonstrators gathered at Bangkok's Victory Monument for a third day today. A night-time curfew will remain in force until tensions ease, Prayuth said.
'Quite Resilient'
Thailand's benchmark SET Index of stocks rose 0.3 percent to 1,392.73 at the close in Bangkok today, gaining for the first time since the military takeover. The baht weakened by 0.1 percent to 32.626 per dollar as of 5:38 p.m. local time, according to data compiled by Bloomberg.
"The market has been quite resilient," Stock Exchange of Thailand President Charamporn Jotikasthira said today in a Bloomberg Television interview from Bangkok. "What happened in the past several months, we were in a political deadlock and as a result we were not able to move the economic engine properly. So we just have to reset the system and get back to normal as soon as possible."
Prayuth said yesterday he will name a prime minister and legislative council to implement electoral reforms and measures aimed at bolstering the economy, which shrank 0.6 percent in the first quarter. The junta said it will honor payments to rice farmers, accelerate spending on infrastructure and support free trade.
The government plans to spend 2.6 trillion baht ($79.7 billion) in the fiscal year starting Oct. 1 and take in revenue estimated at 2.4 trillion baht, Rungson Sriworasat, permanent secretary at the Ministry of Finance, told reporters today, adding that the junta's ability to approve spending quickly would boost investor confidence.
To contact Bloomberg News staff for this story: Tony Jordan in Bangkok at tjordan3@bloomberg.net
To contact the editors responsible for this story: Rosalind Mathieson at rmathieson3@bloomberg.net Peter Hirschberg, Dick Schumacher