South Africa's New Finance Chief Pledges Fiscal Discipline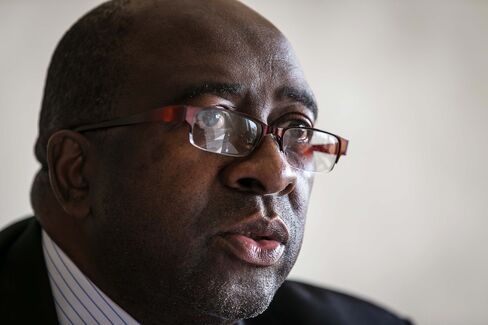 Nhlanhla Nene, who replaced Pravin Gordhan as South African finance minister, pledged to follow his predecessor in bringing down the budget deficit and spurring the economy.
The National Treasury has a clear, three-year fiscal framework in place, Nene, 55, said in an interview yesterday in the capital, Pretoria.
In the five years that Nene was deputy finance minister, the government committed to bringing the budget deficit down to below 3 percent of gross domestic product by curbing spending and boosting growth. Economic policy in President Jacob Zuma's final term is focused on the 20-year National Development Plan that seeks to cut the jobless rate to 14 percent by 2020 from 25 percent currently.
"Investors know, they have seen all our documents, they've seen our medium-term policy framework, they've also seen our National Development Plan, which is our blueprint," Nene said. "We've set a clear fiscal framework, so fiscal discipline is on the cards. What we want to do is grow the economy. When it grows, we will be able to spend more."
The rand fell for a second day, dropping 0.7 percent against the dollar to 10:4325 as of 4:33 p.m. in Johannesburg.
Parliamentary Career
Nene holds a marketing diploma, a Bachelor of Commerce honors degree in economics and a certificate in macro- and micro-economics from the University of London. He became a local government councilor for the ruling African National Congress in 1996 and held the post until 1999, when he became a lawmaker.
He served as co-chairman of Parliament's joint budget committee and chairman of its finance committee before being appointed deputy finance minister in 2008.
"Nene is an experienced and highly competent technocrat," Mark Rosenberg, Africa director at Eurasia Group in New York, said in an e-mailed note. "Nontheless, we view Nene's broadly political appointment as slightly negative for fiscal policy" since he doesn't have the clout within the ANC to push back against pressure from other cabinet ministers to increase spending, Rosenberg said.
The economy has come under strain this year as a four-month strike over pay at the world's biggest platinum mines curbs output. Gross domestic product fell an annualized 0.6 percent this quarter, the first contraction since a 2009 recession, after mining plunged 24.7 percent, the statistics agency said today.
Strike Impact
The government is concerned by the impact of the strike, which isn't in the interest of workers or the industry, Nene told reporters in Pretoria yesterday.
"It is in the interest of everyone that it gets resolved," he said.
Gordhan, 65, was moved to head the department of cooperative governance and traditional affairs, which oversees South Africa's municipalities. He will be well-placed to address underdevelopment in rural areas, which is a key priority for the government in the next five years, Nene said.
"We want to see local government that is working," he said. "The deployment of the former minister of finance in that department will work in the positive for us."
Before it's here, it's on the Bloomberg Terminal.
LEARN MORE