Luxembourg, Cyprus Have Europe's Cleanest Waters: Survey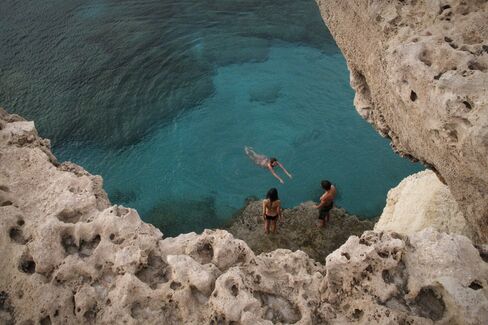 Bathers in search of Europe's cleanest waters for a swim may want to consider landlocked Luxembourg, sandwiched between Belgium, Germany and France.
The grand duchy's 11 bathing sites, which include rivers and lakes as well as beaches, have all been deemed to have "excellent" water quality in 2013, making the 998-square-mile (2,586-square-kilometer) nation and Cyprus the only ones in the 28-member European Union to be given 100 percent records.
Albania, a non-EU member also sampled, had the worst record with 8.2 percent of its sites deemed poor, the European Environment Agency said today in a report. Estonia was the EU country with the highest proportion of non-compliant swimming areas with 5.7 percent, then the Netherlands at 5.1 percent and Belgium and France each at 3.5 percent.
The quality of the bloc's bathing water increased by 0.5 percentage point in 2013 from a year earlier, with 94.7 percent of all waters meeting minimum standards, the agency said. Swimming sites deemed "excellent" rose by 3.6 percentage points to 82.6 percent as Luxembourg, almost a fifth smaller than Rhode Island, and Cyprus, with 112 coastal swimming spots, got the best marks.
"Europe's bathing water has improved over the last two decades: We are no longer discharging such high quantities of sewage directly into water bodies," EEA Executive Director Hans Bruyninckx said.
"Today's challenge comes from short-term pollution loads during heavy rain and flooding," he said in a statement. "This can overflow sewage systems and wash fecal bacteria from farmland into the rivers and seas."
All waters in Malta, Romania and Slovenia were deemed to be of at least sufficient quality. All in Lithuania and Latvia where enough samples were available also passed.
The survey covered more than 22,000 sites across the European Union as well as Albania and Switzerland.
The water ratings didn't include litter and pollution -- just levels of two types of bacteria that indicate contamination from sewage or livestock and can cause vomiting and diarrhea.