Bank of China Hiring 20 in Frankfurt in Yuan Clearing Bid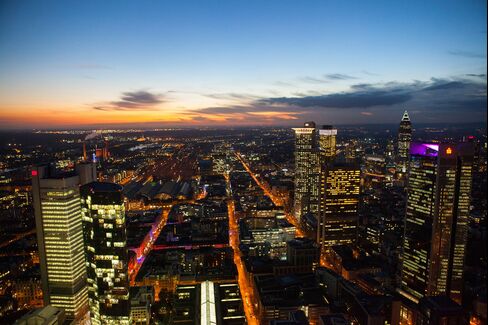 Bank of China Ltd.'s Frankfurt branch is hiring about 20 people and increasing equity by 1 billion yuan ($160 million) in a bid to become the first bank in the euro area to clear payments in the Chinese currency.
"The globalization of the renminbi is a great opportunity for Chinese banks," Li Guang, the lender's head in the German city, said in an interview. "Just look at the success of American banks, which is also partly based on the international dominance of the dollar."
The appointment of a clearing bank is the next step in Frankfurt's goal to become a leading offshore yuan hub after the Bundesbank and the People's Bank of China agreed March 28 to cooperate in the clearing and settling of the Chinese currency in Germany's financial capital. Beijing-based Bank of China, the first Chinese lender to enter the German market when it set up a branch in Frankfurt in May 1989, has since been joined by four other major state-owned Chinese lenders as trade builds between the two countries.
"We are pro-actively preparing and striving to become the renminbi-clearing bank in Frankfurt," Li said, using another term for the yuan. Being granted approval to clear transactions "increases your influence and position in the market," he said, adding that the final decision will be made by the PBOC, the Asian nation's central bank.
Beijing Meeting
The Bundesbank, in a statement on its website, said it expects "a clearing bank that has yet to be named to start operating very soon." That followed a meeting in Beijing this month between the two central banks and the State of Hesse's Economy Ministry, where they discussed what steps should follow the March agreement.
The PBOC didn't respond to faxed questions seeking comment on when a clearing bank will be appointed and which may be selected.
Bank of China employs almost 200 people in Frankfurt. The new hires, which the bank expects to complete by the end of the year, will also serve to boost the bank's longer-term expansion in Germany, Li said.
Industrial and Commercial Bank of China Ltd., Bank of Communications Co., Agricultural Bank of China Ltd. and China Construction Bank Corp. also have branches in the city, which is home to Germany's two biggest lenders, Deutsche Bank AG and Commerzbank AG.
Counting Experience
Bank of China is counting on its experience as the bank chosen to clear offshore yuan trades in Hong Kong and Taiwan.
So far, only branches of Chinese banks have been appointed as clearing banks in the offshore market. ICBC was appointed to clear trades in the currency in Singapore in February 2013.
The new employees at Bank of China's Frankfurt branch will reinforce the functions of financial institutions, back office, treasury and clearing, from its location in the city's financial district, Li said.
"Some of the people are experts from Bank of China on the mainland or from overseas branches who have experience dealing with offshore renminbi," while others will be hired locally, Li said.
Bank of China also plans to add two new branches in southern Germany to existing subsidiaries in Frankfurt, Dusseldorf, Hamburg and Berlin. An office in Munich with five new employees will be opened this year or next, and a presence in Stuttgart is part of the longer-term plan, Li said.
"The new branches will complete our network in Germany and increase our presence," said Li, whose bank's clients include Volkswagen AG, Daimler AG and Allianz SE.
While Chinese exporters such as China Petroleum & Chemical Corp. and Baosteel Group Corp. are also among its biggest customers, the bank's "strategy in Germany is to expand the China-related business of German customers," Li said.
China was Germany's third-biggest trade partner last year, with 140 billion euros ($191 billion) in turnover passing between the two countries, according to the Federal Statistics Office in Wiesbaden. China ranks fifth among importers of German goods and is the second-biggest exporter to Germany.
Before it's here, it's on the Bloomberg Terminal.
LEARN MORE