Kakao Corp Agrees to Buy Daum to Spur Growth, Gain Seoul Listing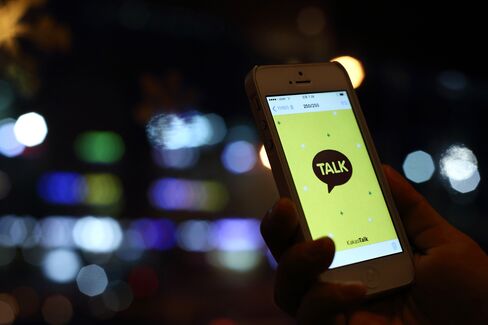 Kakao Corp., South Korea's largest mobile messaging service, agreed to buy Daum Communications Corp. to jump-start growth and gain a listing.
Kakao shareholders will hold more than two thirds of the combined company after a reverse takeover that values Kakao at 3.1 trillion won ($3 billion), based on the terms of a Daum regulatory filing. Daum will be renamed Daum Kakao and the new company will be listed in October.
The deal follows Facebook Inc.'s acquisition of messaging app WhatsApp Inc. for as much as $19 billion and Rakuten Inc.'s $900 million takeover of Viber earlier this year. The transaction also makes Kakao board Chairman Kim Beom Su a billionaire after he co-founded Kakao, which had said it was aiming for an IPO next year, in 2006.
Kakao decided that expanding on its own would take too long and leave the company lagging behind competitors, Chief Executive Officer Lee Sirgoo told reporters in Seoul today.
"Kakao's move to possibly list itself through the merger with Daum cuts down time and costs," Huh Nam Kwon, chief investment officer at Shinyoung Asset Management, said in an interview in Seoul today. "It ultimately produces synergy for them, as the leading players in the online and offline industries join forces."
Daum shares were suspended from trading today as the Korea Exchange reviews whether the merger plan meets its rules for backdoor listings, according to today's filing. The shares rose 6.7 percent to 78,100 won, the highest level in more than seven weeks, on the Kosdaq index on May 23, the last day of trading before today's announcement. Trading volume was more than 6 times the company's average this year.
'Growth Boost'
Naver Corp., an Internet portal that competes directly with Daum, fell 4 percent to 745,000 won at the close in Seoul, the steepest loss since April 7. South Korea's benchmark Kospi index declined 0.3 percent. WeMade Entertainment Co., an online game maker that owns 5.6 percent of Kakao's preferred shares, rose by the daily limit of 15 percent.
"The merger will act as a strong growth boost for Daum, which has been struggling to keep up with Naver," Heo Pil Seok, chief executive officer at Midas International Asset Management Ltd., said by phone. "Kakao would have needed to consider a merger at some point, even if it had decided to go public on its own."
The number of unique visitors to Daum's portal dropped to 26.6 million as of the end of March from 29 million at the end of April 2010, according to regulatory filings. That compares with 31.1 million for Naver as of the end of March.
Asian Growth
Kakao has 140 million users of its KakaoTalk instant messaging service application, the company said today. KakaoTalk is on 93 percent of smartphones in South Korea and the company is investing in Southeast Asia, mainly Indonesia, the Philippines and Malaysia, as it seeks growth, Kakao CEO Lee said in an interview in April.
Kakao shareholders will receive 1.5557456 of shares in the merged company for every share they hold, according to today's filing. Shareholders who oppose the deal will receive 113,429 won per Kakao share, giving the company a valuation of 3.1 trillion won based on 20,486,580 common shares and 6,510,000 preferred shares outstanding as of Dec. 31, according to a Kakao filing in March.
That breaks down to 23,555 won per user, based on user numbers provided by Kakao, compared with $42 for each of WhatsApp's 450 million members at the time of the Facebook deal.
Kakao board Chairman Kim is Kakao's largest shareholder with 29.9 percent, while Kcubeholdings Co., wholly owned by Kim, holds 23.7 percent. Kim was previously co-chief executive officer of Naver and founder of Samsung SDS Co., according to his K Cube Ventures website.
Separate Operations
Daum's largest shareholder is Lee Jae Woong with 13.67 percent as of March 31, according to a regulatory filing.
The companies will continue to be operated separately "for the time being," Daum said in a statement.
It hasn't been decided who will run the merged company, Kakao's Lee said today.
"Kakao's strong competitiveness in mobile combined with Daum's contents, service business know-how and technology will create the best synergy," Daum CEO Choi Sae Hoon said in today's statement. Kakao's Lee said the merger will help the company to cope with a "fast-changing global market."
Kakao competes directly with Naver-controlled Line Corp. Line, which had 400 million users as of April 1, has a target of 500 million to 600 million users by the end of this year, Chief Executive Officer Akira Morikawa said in April.
"Daum's value as an Internet portal, its search engine, display advertisement and game businesses create a considerable synergy effect with Kakao's mobile messenger and mobile service," Ahn Jae Min, an analyst at Kiwoom Securities Co., wrote in a research report today. "This will enable them to gain considerable influence over South Korea's Internet portal market that has been dominated by Naver for the past decade."
(An earlier version of this story corrected the valuation of Kakao to include preferred shares.)
Before it's here, it's on the Bloomberg Terminal.
LEARN MORE