EU Drafts $2.5 Billion Ukraine Gas Debt As Cuts Looms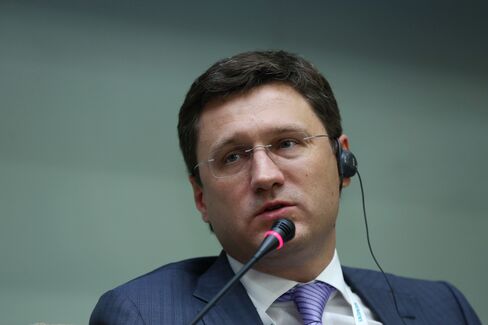 Russia, Ukraine and the European Union sketched out a tentative deal on part of the transit nation's gas debt to Moscow-based OAO Gazprom that would help avert gas cutoffs, the European Commission said.
Ukraine's state energy company, NAK Naftogaz Ukrainy, would pay Russia's gas exporter $2 billion by May 30 and a further $500 million by June 7, the commission said in a statement after trilateral talks in Berlin yesterday. The bills will partially cover Ukraine's outstanding debt for fuel deliveries from November 2013 through May this year, it said.
Ukraine will give its answer on the "proposal for discussion" by the evening of May 28, the country's Energy Minister Yuri Prodan told reporters in Berlin yesterday. The draft agreement is subject to approval from the governments in Kiev and Moscow.
Ukraine depends on Russia for about half its gas, making energy a battleground in the wider political struggle between the two countries. About 15 percent of Europe's annual gas demand crosses Ukraine in pipelines from Russia and is vulnerable to disputes between the former Soviet allies.
"Both sides need to talk with their prime minister or president and with their company boards," EU Energy Commissioner Guenther Oettinger said after the Berlin talks. "We have set a deadline for an answer that further talks are acceptable by Wednesday evening."
Cut Warning
Negotiators haven't reached a deal yet on gas prices, according to Russian Energy Minister Alexander Novak. Russia increased the bill for Ukraine by 81 percent starting from the second quarter, canceling two gas discounts in place since 2010 and 2013 because of Ukraine's mounting debts and annulled agreements over Crimea.
"We are ready to continue talks on price settlement of future gas supplies to Ukraine if we get payments this week, until Friday," Novak told a press conference in Berlin.
Ukraine's overdue gas debt is $3.5 billion from November through April, according to Gazprom. Russia is also seeking about $1.7 billion in advance payments for June shipments. Payment is due by June 2, and starting from the following day, Ukraine will only get what it pays for, Gazprom said earlier this month.
The prepayment requirement may be canceled and the cost for Naftogaz may be lowered if Ukraine settles its debt, Novak said yesterday.
Price Dispute
"Gas price is settled by contract between Gazprom and Naftogaz," Novak said. "No changes are considered. The question can be only on discounting on export duties."
Ukraine is ready to pay for Russian gas at fair market prices, close to the $268.50 it paid for the fuel in the first quarter, according to Prodan. There is still no debt agreement yet, he said.
The government in Kiev wants the future price to be set before starting payments, Ukrainian Finance Minister Oleksandr Shlapak said today, according to RIA Novosti news service.
Naftogaz and Gazprom must clinch a gas deal by May 29 or they'll meet in Stockholm arbitration as planned earlier, Ukrainian Prime Minister Arseniy Yatsenyuk told reporters in Kiev today.
"I was somewhat surprised by the position declared by the Ukrainian side," Gazprom CEO Alexey Miller said in an interview with Russian state TV late yesterday. "It shows simply that the risks of Ukraine not paying by Friday still remain. Of course, hope dies last."
Subject to endorsement of the Berlin's draft debt agreement and the first payment, a third round of political talks between Russia, Ukraine and the EU could take place on May 30, the European commission said.