Chinese Stocks Advance on Policy Support Speculation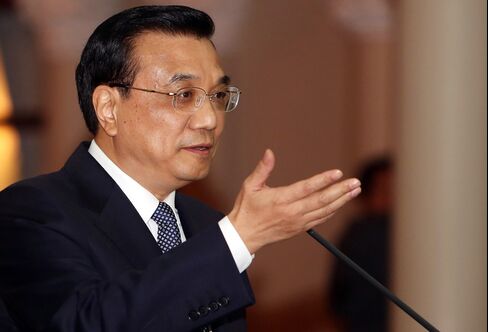 China's stocks gained, sending the benchmark index to its highest level in almost two weeks, amid speculation policy makers will take further steps to bolster economic growth.
The Shanghai Composite Index rose 0.3 percent to 2,041.48 at the close after Premier Li Keqiang said the nation will fine-tune policy to support the economy. SAIC Motor Corp. and Avic Aircraft Co. paced gains among transportation stocks as President Xi Jinping urged development of new energy vehicles and said the nation should invest more to develop airliners.
Economists at Goldman Sachs Group Inc. and Nomura Holdings Inc. said Li's comments signal looser monetary policy, while China International Capital Corp. predicted government support for the economy will boost investor sentiment. Policy makers have already accelerated infrastructure projects and eased funding restrictions for financial companies amid forecasts for the weakest economic expansion since 1990.
"Premier Li's comment gave some good expectations about policy loosening," said Wu Kan, a money manager at Shanghai-based Dragon Life Insurance Co., which oversees about $3.3 billion. "Thematic plays are active in the market."
Li said China will adjust policy when needed and solve problems such as tight funds for the real economy, especially for small companies, according to a statement posted on the central government's website on May 23. Downward pressure on the economy is "relatively large," Li was cited as saying during a trip to the northern province of Inner Mongolia.
Automakers Rally
The seven-day repurchase rate, a gauge of interbank funding availability, slid 20 basis points, or 0.20 percentage point, to 3.18 percent today, the biggest drop in three weeks.
The CSI 300 Index of China's biggest companies rose 0.4 percent to 2,156.44, while the ChiNext index of smaller stocks jumped 1.9 percent for its sixth straight day of gains. The Hang Seng China Enterprises Index added 0.2 percent.
The Shanghai Composite is valued at 7.6 times projected earnings for the next 12 months, compared with the five-year average multiple of 11.8, according to data compiled by Bloomberg. Trading volumes in the index were 19 percent below the 30-day average today.
SAIC, China's largest carmaker, gained 0.8 percent. BYD Co., the automaker part-owned by Warren Buffett's Berkshire Hathaway Inc., jumped 10 percent in Shenzhen. Automakers should develop products based on market needs to promote the industry as a strong economic driver, Xi said during a visit to SAIC, according to the Xinhua News Agency.
IPO Outlook
Avic Aircraft increased 3.9 percent while Jiangxi Hongdu Aviation Industry Co. rose 1.5 percent.
The nation should invest more to develop and produce domestically-made large airliners, Xi was cited as saying during a visit to a Commercial Aircraft Corp. facility.
"As senior government officers are making field trips across the country, we see signs of faster policy adjustment and reform," Hanfeng Wang, an analyst at CICC, wrote in a report. "The market has little room to fall in the near term."
The nation's securities regulator asked brokerages on May 23 to provide some supplementary material for initial public offering applications, including more information on pre-IPO share sales and pricing, the China Securities Journal reported today, without citing anyone. The request signals that the re-starting of IPOs is near, according to the report.
Chinese stocks traded in the U.S. rose to a two-month high on May 23 as real-estate companies including E-House China Holdings Ltd. rallied on speculation the government is easing property curbs to spur growth.
E-House, a Shanghai-based real-estate agent, jumped 25 percent last week after its first-quarter earnings beat analyst forecasts. SouFun Holdings Ltd., China's biggest real-estate information website, rallied 12 percent. Youku Tudou Inc. fell to a 10-month low after the video-website operator's sales forecast trailed analysts' estimates.