Japan Risks Low Growth Even as Easing Spurs Inflation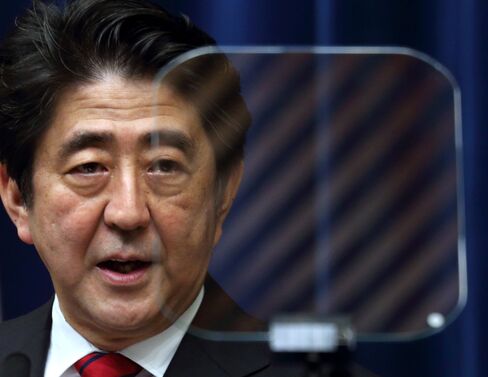 Japan's risk of spurring inflation without boosting the nation's growth potential is raising the stakes for Prime Minister Shinzo Abe's next round of economic restructuring measures, due in June.
An economy "with low real growth rates under mild inflation" is possible, should the government fail to deliver, Bank of Japan Deputy Governor Kikuo Iwata said in a speech in Tokyo yesterday.
Investors are looking for lower corporate taxes, labor-market flexibility and progress on a U.S.-led trade pact as Abe prepares for the next phase of the roll-out of the so-called Third Arrow of Abenomics, economic restructuring to boost long-term growth prospects. Iwata's comments yesterday built on Governor Haruhiko Kuroda's calls for the government and companies to do more to boost the nation's outlook.
"The BOJ is stepping up its rhetoric to push the government to raise Japan's potential," said Junko Nishioka, chief Japan economist at Royal Bank of Scotland Group Plc in Tokyo and a former central bank official. "Iwata is basically saying that the BOJ is achieving results, so now it is time for the government to show its commitment to ending deflation."
Abe's strategy for boosting long-term growth is under scrutiny as the initial jolt fades from monetary stimulus that weakened the yen and sent stocks surging. While the Topix index of stocks rose 0.7 percent in morning trading in Tokyo today, it remains down about 8 percent this year, after gaining more than 50 percent in 2013.
Economic Performance
Japan's economy grew at the fastest pace since 2011 in the first three months of this year, an annualized 5.9 percent gain, driven by spending that was front-loaded before an April 1 sales-tax increase. Economists project that gross domestic product will fall an annualized 3.4 percent this quarter as consumers pare back their purchasing. The government is aiming for an annual average 2 percent expansion over a decade.
Restructuring the economy to deliver higher growth could fuel wage increases, helping to prevent consumers from being squeezed by rising prices. The BOJ's stimulus helped lift core inflation, which excludes fresh food, to 1.3 percent in March from minus 0.4 percent in April 2013 when the central bank started easing a campaign of record easing.
"The BOJ is aware that if the government doesn't make efforts on this, the public may start to complain about the inflation policy," said Masayuki Kichikawa, chief Japan economist at Bank of America Corp. in Tokyo.
Government's Task
Kuroda said May 21 that the government and companies need to make efforts to aid growth as the central bank chases its goal of stable 2 percent inflation.
Raising the potential rate further is a task for the government "which is equipped with policy tools including regulatory reform," Iwata said yesterday. The BOJ has "high expectations that the government will continue to make further progress in its growth strategy in order to strengthen the growth potential of Japan's economy."
The central bank estimates the nation's potential growth rate at about 0.5 percent, a number that needs to increase to meet the government's ambitions. A shrinking labor force poses a barrier, with the possible solutions including boosting female participation and importing workers from abroad.
"The third arrow has been disappointing," Paul Sheard, the chief global economist for Standard & Poor's, said from Tokyo in an interview with Bloomberg Television on May 15. "They really have to do something about the demographics if they want to meet these ambitious targets for longer-term real growth."
Corporate Tax
As officials debate growth measures, issues include the pace and scale of corporate tax cuts. Japan's effective rate of about 36 percent is the second-highest in the Group of Seven after the U.S. and compares with levies of about 24 percent in South Korea and 23 percent in the U.K.
The ruling Liberal Democratic Party's tax panel will recommend a reduction in the levy on the condition the tax base is widened and alternative revenue sources are found, Kyodo News reported today. Deputy Economy Minister Yasutoshi Nishimura said last month that significant reductions in those levies will begin by April next year.
"We want to come up with a road map that gets us much closer" to a rate below 30 percent, Nishimura said in an interview with Bloomberg News in New York. "Japan needs more foreign direct investment and we want to do more to encourage corporations to invest here."
Cautious Approach
Some in the government are more cautious about lowering the tax on corporate profits.
Tetsuo Saito, head of coalition partner New Komeito's tax panel, said in an interview yesterday it would be too hasty to start cutting the levy from the next fiscal year.
Tomo Kinoshita, chief economist at Nomura Holdings Inc. in Tokyo, said in a note last week that investors are focused on a corporate tax cut and policy announcements on the Trans-Pacific Partnership trade negotiations, labor-market flexibility and special economic zones.
The BOJ refrained from boosting stimulus at last week's meeting, and raised its view of business investment as the economy shows signs of weathering the impact of the sales-tax increases. Still, seventy-five percent of economists surveyed by Bloomberg News before the meeting forecast that the central bank will loosen further by the end of the year.
Before it's here, it's on the Bloomberg Terminal.
LEARN MORE