Sony Forms China PlayStation Venture in Microsoft Challenge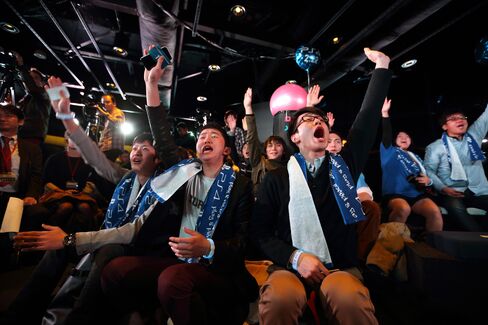 Sony Corp. took steps toward selling PlayStation gaming consoles in China as Chief Executive Officer Kazuo Hirai seeks to tap players in the world's largest market and rebound from a projected sixth loss in seven years.
Sony agreed to form two ventures with Shanghai Oriental Pearl (Group) Co., owner of the Oriental Pearl Tower, to start making and selling PlayStation consoles after China lifted a 13-year ban on sales of the machines. The Tokyo-based company will have a 70 percent stake in one venture and 49 percent in the other, according to a statement filed with the Shanghai Stock Exchange. Sony rose the most in almost two months.
The move by Sony comes after Microsoft Corp. announced plans to sell its Xbox One machine in China, and Nintendo Co. said it plans to expand in emerging markets with new devices. China's video-game industry will generate about $10 billion in sales next year, according to PricewaterhouseCoopers LLP, and console makers are trying to distract Chinese players from games on their smartphones and tablet computers.
"PlayStation needs to expand its user base," Hirai told reporters in Tokyo today after the ventures were announced. He added that the PlayStation platform is the main driver for expanding the company's network business, which includes music and video downloads.
Sony rose 3.1 percent to close at 1,683 yen in Tokyo trading. The shares are down 7.8 percent this year, compared with the 8.3 percent drop on the benchmark Topix index.
Shanghai FTZ
In September, Shanghai inaugurated a free-trade zone with more relaxed financial and investment controls as China seeks to unleash market forces in the world's second-largest economy. That's helping attract companies from console makers to banks.
Nomura Holdings Inc., Japan's biggest brokerage, signed an agreement earlier this month with Shanghai Lujiazui Financial Holdings and others to form a venture in the free-trade zone.
"Sony entering the China market can broaden sales," Ryosuke Katsura, a Tokyo-based analyst at UBS AG, said by phone. "PlayStation 4's online game network service can help the company avoid piracy issues that are more prevalent with packaged games."
Satoshi Fukuoka, a spokesman for Sony, declined to comment on whether Sony will sell the PS4 or design another console for China, and he also declined to comment on the timing for starting sales in China.
Oriental Pearl
State-owned Shanghai Oriental is involved in hotels, cable television, advertising and broadcasting on Shanghai's subway system. The company can help Sony navigate the regulatory process for getting licenses, said Xu Xiaojun, the board secretary of Shanghai Oriental Pearl Group.
The company is building its game business portfolio and recently bought stakes in U.S. and Japanese companies, she said.
"This is a big market," Xu said. "We want to build a big culture and entertainment platform where we can utilize our traditional advantages in entertainment content."
Japan's No. 1 TV maker unexpectedly forecast a 50 billion-yen net loss this year as slumping demand for its sets and video cameras was compounded by the costs of restructuring and exiting the personal-computer business.
Piracy Issues
The PlayStation is one of three pillars of Hirai's turnaround strategy for a company that has seen its TV business lose money for 10 straight years. The company forecast sales of 16 million liquid-crystal display sets this fiscal year, though Hirai said today it can still make money by selling only 13.5 million units, the same number as last year.
Console makers may face an uphill slog to get a generation of gamers grown used to a free online model and increasingly migrating to mobile devices to pay hundreds of dollars for hardware. The companies also will have to battle rampant piracy of movies, music and games.
"Without any assurance that their intellectual property will be respected, it is difficult to see how any manufacturer can make money in China," Michael Pachter, an analyst at Wedbush Securities in Los Angeles, said in an e-mail today.
Microsoft and BesTV New Media Co., a subsidiary of Shanghai Media Group, formed a $79 million gaming venture in September to reach Chinese consumers.
Nintendo Plans
TCL Multimedia Technology Holdings Ltd. said in April it will make a game player that features a joystick compatible with mobile games for Google Inc.'s Android system so they can be played on any TV.
The PS4 beat the Xbox One to first place in U.S. console sales in April, extending its lead for a fourth month, according to Port Washington, New York-based NPD Group Inc. Titles like the PS4's Killzone Shadow Fall are helping drive demand among hard-core gamers.
"In China you don't need to have a large market share to hit your numbers," said David Rubenstein, a managing director at Advanced Research Japan in Tokyo. "You just need a few million enthusiastic gamers."
Nintendo President Satoru Iwata said this month the Kyoto-based company plans to expand in emerging markets with new devices starting next year. Nintendo is studying the regulations regarding entry into China, Iwata said in a May 8 interview.
Yasuhiro Minagawa, a spokesman for Nintendo, said the company has nothing more to disclose regarding sales in China.
Before it's here, it's on the Bloomberg Terminal.
LEARN MORE