Modi Signals He'll Reduce India Cabinet Size Before Inauguration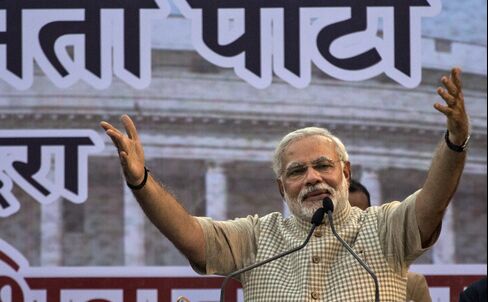 Narendra Modi, due to be sworn in today as India's prime minister, signaled he'd reduce the number of cabinet ministers in what he called an "unprecedented" overhaul of the nation's top decision-making body.
In Modi's cabinet, set to be announced later today, one minister will head a cluster of ministries that work in similar areas, he said in a Facebook post. He didn't reveal the size of the cabinet or which ministries would be consolidated.
"It will bring more coordination between different departments, will be more effective and bring a speed in process," Modi said of the changes. "The top layers of government will be downsized and there would be expansion at the grass root level."
Modi has vowed to reduce the size of India's government to revive Asia's third-biggest economy after winning a parliamentary majority in the nation for the first time in 30 years. He faces the challenge of reducing Asia's second-fastest inflation and pushing through a backlog of stalled projects valued at more than $200 billion.
"Modi is going to be pushing for a slimmer, more nimble government," said Jai Mrug, an independent political analyst in Mumbai who conducts opinion polling. "He's doing this because bureaucracy between departments is a major cause of inefficiency, and a consolidation of power is one of the hallmarks of the way he governs."
Cabinet Size
The size of Modi's cabinet will range from between 13 to 24, according to reports in India media today. The Economic Times said Modi will have 13 cabinet ministers, NDTV television put the number at 23 and Times Now predicted 24.
The ministries of road transport and highways and shipping may be absorbed into the Ministry of Transport, the Indian Express reported last week, without saying where it got the information.
Arun Jaitley, 61, a former trade minister, is the frontrunner to become finance minister even though he failed to win a seat in the lower house of parliament, according to two senior party leaders, who asked not to be identified because the discussions are private.
The Congress-led government inducted 34 cabinet ministers in 2009. The BJP's last prime minister, Atal Bihari Vajpayee, had 21 in his 1998 cabinet and 24 when he formed a government in 1999.
Modi, 63, won after making campaign promises of a stronger economy, more jobs, better roads and a high-speed rail network. His Bharatiya Janata Party won 282 seats of the 543 up for grabs, ousting the Congress party that's ruled independent India for most of its history.
High Expectations
Modi vowed to work for the nation's poor in a May 20 address to BJP lawmakers. His campaign resonated with voters as well as investors, with the benchmark stock index rising to a record high and the rupee strengthening.
His policies over the next few months will have significant implications for the nation's credit rating, Standard & Poor's said May 16. The company had said it might downgrade Asia's third-biggest economy to junk status if the next government is unable to revive growth and improve public finances.
"Investors have high expectations for Modi," Tamara Henderson, an economist at Bloomberg LP in Singapore, wrote in a May 21 research report. "To sustain election euphoria, India's new government needs to demonstrate its commitment to fiscal prudence with a conservative mid-year budget plan."
Indian President Pranab Mukherjee will preside over Modi's swearing in, due to start 6 p.m. at the colonial-era presidential place in New Delhi.
"The Modi era begins with high hopes," said Satish Misra, a political analyst at the Observer Research Foundation in New Delhi. "There is no scope for an excuse for him after getting a huge mandate to run the country."
Before it's here, it's on the Bloomberg Terminal.
LEARN MORE