Euro-Area Periphery Hooked on BOJ Stimulus: Chart of the Day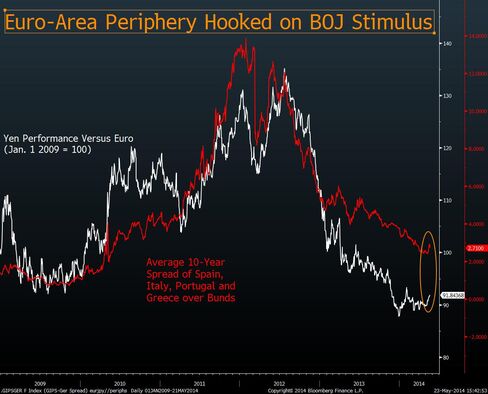 Euro-area peripheral bonds are hooked on Japan's monetary stimulus.
The CHART OF THE DAY shows Europe's peripheral bond rally stalled this month as the yen strengthened versus the euro. Last week the Bank of Japan refrained from adding to the 60 trillion yen ($589 billion) to 70 trillion yen poured into the monetary base each year that has encouraged Japanese investors to put money into higher-yielding European assets.
"Peripheral yield spreads appear vulnerable to a correction following the strong rally and the yen tends to often strengthen on credit risk," said Anezka Christovova, a foreign-exchange strategist at Credit Suisse Group AG in London. "Japanese portfolio flows usually have an impact. Those flows could now divert elsewhere. We don't expect any substantial action from the Bank of Japan in coming months and that could also lead the yen to strengthen."
Japanese investors bought a net 1.41 trillion yen of long-term foreign debt in the week ended May 16, the most since Aug. 9, data from the finance ministry in Tokyo showed on May 22. Flows into Europe may be tempered as yields in Europe's periphery climb. The average yield spread of 10-year Portuguese, Greek, Spanish and Italian bonds over German bunds has risen 20 basis points this month to 270 basis points, after touching 239 basis points on May 8, the lowest since May 2010, based on closing prices.
New York-based BlackRock Inc., the world's biggest money manager, said on May 8 it had cut its holdings of Portuguese debt, while Bluebay Asset Management said on May 9 it had seen the majority of spread tightening it was looking for.
Trading euro-yen based on movements in the bond-yield spreads of the euro area's peripheral nations would have been a successful strategy, Credit Suisse strategists, including Christovova, wrote in a May 21 note.
Before it's here, it's on the Bloomberg Terminal.
LEARN MORE