Real Madrid Director Says Galactico Spending May Continue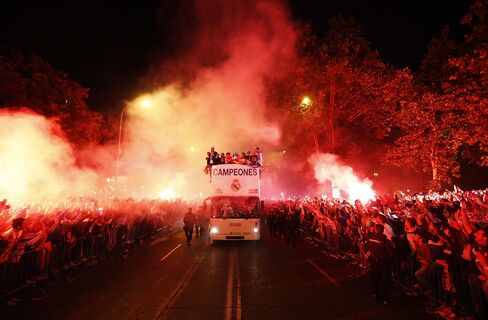 Real Madrid's $1 billion outlay on players on the way to a record-extending 10th Champions League last weekend may just be the start of the soccer club's spending.
Real rallied on goals by Sergio Ramos, Gareth Bale, Marcelo and Cristiano Ronaldo to beat Atletico Madrid 4-1 in the final in Lisbon two days ago. Ronaldo, an 80 million-pound ($134.7 million) signing from Manchester United in 2009, and Bale, who arrived from Tottenham last year, cost more than the entire Atletico squad, according to data on transfermarkt.com, which tracks player trading.
Asked if soccer's richest club by sales will pare back transfer spending after ending a 12-year wait for the European cup, Real director Pedro Lopez said "that's enough," before adding a proviso, "but the summer is just starting." Teams have until September to acquire players.
Real president Florentino Perez said the elite European title takes "some pressure off" although fans will soon be asking for an 11th title.
"The European Cup is in our DNA," Perez said. "Finally, we've achieved our obsession but after this year people will want another, and then another."
Perez, who started his third four-year term as team president last year, was speaking to reporters after the final before leaving Benfica's Estadio da Luz stadium with Lopez in a chauffeur-driven black Audi A8.
Beckham Signing
After becoming Real president in 2000 on a promise to sign Luis Figo from Barcelona, Perez hired other so-called galacticos including Zinedine Zidane and David Beckham partly to boost sales, which have more than tripled to 520.8 million euros in the last 14 years. Spanish media coined the nickname galactico, meaning from another galaxy, as a hyperbolic way to describe Real's most famous super-star players.
Real won the 2002 title under Perez but it has taken more than a decade to add another.
"That's football," Lopez said, when asked why it had taken so many years. "The result of the match changes in a minute."
Real was eliminated in the semifinals in the last three seasons under previous coach Jose Mourinho.
The club, which is owned by its fans and plows all its net income back into the organization, can expect as much as 50 million euros ($68.2 million) in prize money from this season's Champions League: Bayern Munich, the 2013 champion, got 55 million euros last year. The payments vary depending on the television market in the country teams are based.
Player Bonuses
Real had agreed to pay a 400,000-euro bonus to each player for winning the European title, news website El Confidencial reported last month. That would amount to 10 million euros for its 25-man roster. Madrid's brand value increased to $768 million with the win, making it soccer's most valuable club after Bayern Munich, according to a report by London-based Brand Finance released today.
Real had seemed to be heading to defeat in Lisbon. Atletico was leading 1-0 on Diego Godin's first-half goal with two minutes of normal time remaining before Ramos leveled with a 93rd minute header.
Bale's header made it 2-1 after 110 minutes when he reacted first to Atletico goalkeeper Thibaut Courtois parry of Angel Di Maria's shot. Marcelo, a substitute, ran unchallenged through Atletico's defense to add a goal with a 15-yard shot. Just before the final whistle, Ronaldo was brought down and converted the resulting penalty kick to make it 4-1.
Succession Plan
Perez, 67, chief executive officer of Actividades de Construccion y Servicios SA, said in March that Marcelino Fernandez will be his successor at the Spanish builder. He hasn't named a preferred successor at Real, whose fans elect the president and board every four years.
"My message to the fans is I will keep working to keep the Real Madrid legend growing," said Perez, wearing a gray suit and blue shirt with a monogram of his initials.
Atletico Madrid, which has never won the Champions League, was playing in its first elite European final in 40 years. The result was similar to 1974, when the team lost to Bayern Munich after being unable to hold a late advantage.
In that final, Atletico took a 1-0 lead against Bayern Munich on Luis Aragones's 114th-minute free-kick. Bayern's Hans-Georg Schwarzenbeck equalized in the last minute and the German team prevailed 4-0 in the replay two days later.
Atletico fans chanted the name of Aragones, who died in February at age 75, during the game two days ago.
Recent Success
Even with the loss, the rojiblancos, or red-and-whites, had a successful season. They had clinched their first Spanish league title in 18 years on May 17 with a 1-1 draw in their last game at Barcelona.
"I feel bruised but not sadness," Atletico coach Diego Simeone told reporters after the defeat. "I'm proud of the extraordinary season we've had."
He said he will regroup and soon start planning the squad for next season.
Atletico, which is controlled by CEO Miguel Angel Gil, the son of the late former mayor of Marbella, has a payroll of about a quarter of Real Madrid. In February, Gil said that top scorer Diego Costa may leave.
"We'll carry on competing," Simeone said. "And making life difficult for our opponents."
Before it's here, it's on the Bloomberg Terminal.
LEARN MORE