Obama to Detail Last-Term Foreign Policy in West Point Address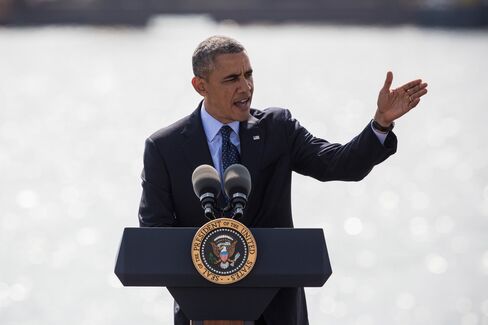 President Barack Obama will discuss future U.S. foreign policy after the wars in Iraq and Afghanistan in a commencement speech this week, an administration official said.
In the May 28 address at the U.S. Military Academy at West Point, Obama will outline how the the U.S. plans to adapt to fight the evolving nature of al-Qaeda and other terrorist groups in regions including South Asia, according to the official who asked not to be identified to discuss the goals of the talk.
He also will discuss the galvanizing role the U.S. must play in pushing for action on trade, climate change and other issues, while making the case for a sustainable international system that cooperates to confront such matters, the official said yesterday.
The president will commit the U.S. to using all its possible tools to achieve its foreign-policy goals without overreaching, according to the administration official.
Obama's speech at the primary training ground for future Army officers comes as his administration struggles with its role in crises in Ukraine and Syria and stalled Israeli-Palestinian peace talks, among other world trouble spots.
The address will mark the start of a concerted effort by Obama and leading administration officials to discuss a new stage of U.S. engagement in the world and the president's foreign-policy goals for the remainder of his White House tenure, the official said.
G-7 Meeting
Obama will continue to lead the effort during an early June trip to Europe that includes a meeting with leaders of the other G-7 nations in Brussels and commemorations of the end of World War II. Obama also will give a speech in Warsaw during that trip about the U.S. commitment to Europe.
The president has faced criticism from Republicans that he has mishandled the U.S. response to the Syrian civil war and hasn't done enough beyond issuing threats to stop Russian President Vladimir Putin from attempting to destabilize Ukraine. He is also under fire at home for allegations that veterans, including those from recent wars, haven't received timely health care at Veterans Affairs facilities.
Obama used a 2010 commencement speech at West Point to call on the U.S. to avoid unilateral conflicts.
"The burdens of this century cannot fall on our soldiers alone," he said then. "It also cannot fall on American shoulders alone. Our adversaries would like to see America sap its strength by overextending our power."
Obama's predecessor, George W. Bush, used a 2002 graduation speech at West Point to make the case for preemptive action against terrorism. That approach, which became known as the Bush Doctrine, provided the foundation for the 2003 invasion of Iraq.
Bush told the cadets that "our security will require all Americans to be forward-looking and resolute, to be ready for preemptive action when necessary to defend our liberty and to defend our lives."
Before it's here, it's on the Bloomberg Terminal.
LEARN MORE