World Cup Stadium-Builder's Backlog Propels Bonds: Brazil Credit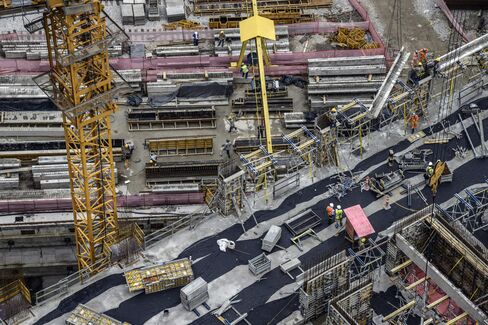 Creditors of Latin America's biggest construction company are being rewarded as governments from Brazil to Venezuela push infrastructure projects to shore up the region's economic growth, poised to weaken for a fourth year.
Construtora Norberto Odebrecht SA's $850 million of notes due in 2042 have returned 18 percent this year, the most among investment-grade bonds from companies in developing nations by Standard & Poor's and three times the average gain, data compiled by Bloomberg show.
Odebrecht, which has built three stadiums for the World Cup soccer tournament starting in Brazil next month, has a $34 billion backlog of projects, helping the company earn a credit rating from S&P that's higher than the country's own. Salvador-based Odebrecht is capitalizing on President Dilma Rousseff's pledge to spend more than $306 billion on public works projects as she tries to compensate for lackluster domestic demand.
"It's not a local homebuilder," Peter Lannigan, a managing director at broker-dealer CRT Capital Group LLC, said in a telephone interview from Stamford, Connecticut. "They build large infrastructure projects pertaining to transportation, infrastructure, sanitation, power plants, stadiums -- projects that are highly important to the countries where they build them."
Rating Boost
Odebrecht's press office said the company is in a quiet period and declined to comment on the performance of the bonds or the company's outlook in an e-mailed response to questions.
On May 9, S&P lifted Odebrecht's rating one level to BBB, the second-lowest investment grade and a step above Brazil's BBB-. In March, Brazil suffered its first downgrade in a decade.
Economies in Latin America will expand 2.2 percent this year, the slowest since a contraction in 2009, according to analyst estimates compiled by Bloomberg. Growth in Brazil will decelerate to 1.8 percent this year from 2.3 percent in 2013. Venezuela's economy will shrink 1 percent.
Mexico's government cut its 2014 growth forecast today after the economy recovered less than analysts estimated in the first quarter, held back by weak export demand.
"We expect investments in infrastructure to continue in the region even in a more challenging macroeconomic scenario, because of the needs that still exist," Renata Lotfi, an analyst at S&P, said by telephone from Sao Paulo. "The company has the capacity and the track record to get new projects, so we don't expect it will have issues renewing its backlog."
'Trade Through'
S&P decided to rate Odebrecht higher than the government because it determined the company would be able to service debt even if Brazil defaulted and projects in Venezuela dried up, according to Lotfi. A quarter of the company's backlog comes from Venezuela, while about a third comes from Brazil, according to S&P.
While Odebrecht is rated higher, the company's 2042 bonds yield 6.6 percent, or 1.3 percentage points more than similar-maturity Brazilian government notes.
"I don't think it will trade through Brazil even though the rating is actually higher," Joe Kogan, Bank of Nova Scotia's chief emerging-market strategist, said by phone from New York. "Ratings help, but just because a ratings agency uses the same code for the risk of a sovereign and the risk of a corporate, it doesn't mean the risk is the same."
Itau Unibanco Holding SA, which recommended adding Odebrecht's 2042 bonds after the ratings boost, said the company's policy of obtaining payment for projects upfront reduces the risk of losses in less-stable countries.
Earnings before interest, taxes, depreciation and amortization rose to $1.5 billion last year, according to Itau. The company's total debt relative to earnings was flat at 2.4 times, Itau said.
"S&P's upgrade is particularly important and positive, as it comes on the heels of S&P's recent one-notch downgrade of Brazil," Itau analysts led by Ciro Matuo said in a May 12 note. "We continue to praise Odebrecht's top-notch management for its ability to generate and deliver strong returns without compromising leverage and risk management."
Before it's here, it's on the Bloomberg Terminal.
LEARN MORE