Penoles Worst of Miners as Metals Lose Shine: Corporate Mexico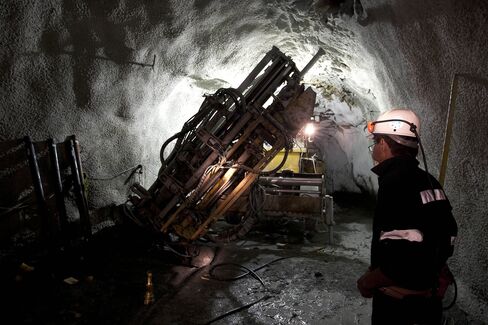 May 23 (Bloomberg) -- Industrias Penoles SAB is the worst performer among global mining peers as silver's slump and falling output erode sales of the metal's biggest producer.
Penoles fell 6.1 percent since the end of March, the biggest decline among 15 peers tracked by Bloomberg. It is still the second most expensive on a price-to-book basis and close to the most expensive on an estimated profit basis in four years, according to data compiled by Bloomberg.
Recent rulings trimmed revenue for Mexico City-based Penoles, including government tariffs for national mining companies that went into effect in January and a temporary halt to explosives usage at its Penmont gold mines. Gold prices slid 21 percent while silver dropped 32 percent last year.
"The fall in metal prices is affecting all mining companies and the last two quarters have been particularly difficult for Penoles," Fernando Bolanos, a Monex Casa de Bolsa mining and industrial analyst, said in a telephone interview from Mexico City. Bolanos, who has a sell rating on the stock, expects the selloff could continue. "If the prices remain around where they are now, Penoles's results for this year will probably remain flat."
Organic Growth
The stock tumbled 27 percent in the last 12 months, the worst performer on Mexico's benchmark IPC index, while Fresnillo Plc, the London-traded unit accounting for most of Penoles's profit, slid 20 percent. Fresnillo, 75 percent owned by Penoles, operates six silver and gold mines in Mexico.
Penoles gained 0.3 percent to 318.8 pesos as of 1:58 p.m. in Mexico City.
Celia Ortega, Penoles's manager of investment relations in Mexico City, said the company favors organic growth.
"This is a company with a conservative profile, that grows organically, and that's why the growth of Penoles is slow compared to other miners that may be more aggressive," she said in an interview. "Penoles has never had a crisis, its finances are sound, and that's something the investors that are with us know."
Penoles should be able to prevail through the industry's cyclical nature, said Eliecer Palacios, CEO of PetroRock Energy LLC, an energy investment and advisory firm.
"The mining industry goes through cycles," Palacios said in a telephone interview from New York. "This is an old company with a successful history and a very good board of directors. They have the right business model in place to withstand shifts in the market."
'Virtually Zero'
Penoles's sales slid 32 percent in the last year, the most among 15 industry peers tracked by Bloomberg, including a 21 percent drop in the first quarter as prices crimped production, said Santiago Perez, an analyst at Credit Suisse Group AG in Mexico City.
The company's gold production slid 33 percent in the first quarter while prices fell to $1,294 an ounce from $1,631 a year earlier. Penoles is Mexico's second-largest gold producer after Goldcorp Inc. Output at the company's Penmont mines, some of Mexico's largest gold mines, was "virtually zero" in the first quarter, Perez said. There is "no significant upside" to the stock's valuation, he said.
The company's silver production rose 3.7 percent in the period, Penoles said in a regulatory filing.
Three analysts recommend selling the stock, five say to hold it while two recommend buying Penoles, according to data compiled by Bloomberg.
'Not Sexy Year'
While 2014 will "not be a very sexy year" for the company because of the fall in prices, Penoles is "a very well-positioned company," said Jean-Baptiste Bruny, a BBVA Research analyst who has a buy rating on the stock.
"Despite a difficult year, they were able to overcome the fall in prices and are in a position for a mild rebound during the second half of the year as prices stabilize," he said in an interview from Mexico City.
The use of explosives at three mines jointly operated by Penoles and Minera Penmont was suspended last year following a lawsuit by local communities in northern Sonora state. The ban was lifted in March on the Noche Buena and Herradura mines, which have since resumed gold production, Gabriela Mayor, Fresnillo's head of investor relations, said last month on a quarterly earnings conference call.
Output is seen improving now that the explosives ban has been removed, Mayor said. Fresnillo will reach its production target of 450,000 gold ounces and 43 million silver ounces this year, she said. Mayor said declines in gold production were expected in the first quarter.
Challenging Conditions
"We anticipate that conditions in the mining industry will remain challenging this year," Mayor said on the call. "But by sticking to the consistent execution of our strategy, we believe that we can continue to make progress towards our short- and long-term goals throughout the course of the rest of the year."
Fresnillo's 2014 capital expenditure budget will be $225 million, down 3.4 percent from the prior year on the slide in precious metals prices, Chairman Alberto Bailleres said May 16 in a statement during the company's annual general meeting. Bailleres is Mexico's second-wealthiest man after Carlos Slim.
"The most significant impact on performance in 2013 was the decline in precious metals prices," Bailleres said. "Yet the group's long experience in mining has taught us to expect, plan for and manage through such cycles."
Mining Taxes
Penoles's earnings were curbed by Mexico's new mining taxes, implemented in January. Mexican mining companies now pay a 7.5 percent tax on earnings before interest, taxes, depreciation and amortization, or Ebitda, and a 0.5 percent tariff on gold, silver and platinum earnings.
"While the taxes might not have large long-term effects, it does require improved optimization of operations," BBVA's Bruny said.
First-quarter profit tumbled 42 percent to 1.24 billion pesos ($96.1 million), Penoles said in a filing April 30.
Penoles has been expanding with an average of one new operation a year, said the company's IR director Ortega.
Penoles expects the Saucito II mine to spur a rebound in production this year when it is completed in the fourth quarter, Mayor said. The mine is targeting production of 8.4 million ounces of silver and 35,000 ounces of gold a year when it reaches full capacity, she said.
New Mines
Fresnillo also expects to complete the San Julian mine in northern Mexico by the second half of 2015, Penoles said in a regulatory filing last month. The $515 million project will produce as much 10.3 million gold ounces and 44,000 silver ounces annually, the company said on its website. Construction of a third mine, known as Rey de Plata, is expected by the company to be completed by 2016.
Delays in completing the mines held back production and limited growth opportunities, JPMorgan & Chase Co. equity analyst Mandeep Manihani said in a May 1 report to clients. The completion of the Rey de Plata mine was pushed back a year to prevent projects from overlapping and better deploy capital, Credit Suisse's Perez said.
"If you look at Penoles year on year, everything fell," Perez said. "The first quarter was the last one that will be this difficult, as metal prices will likely be more favorable this year than last."
To contact the reporter on this story: Adam Williams in Mexico City at awilliams111@bloomberg.net
To contact the editors responsible for this story: James Attwood at jattwood3@bloomberg.net Robin Saponar