German Domestic Demand Reliance Shows Uneven EU Recovery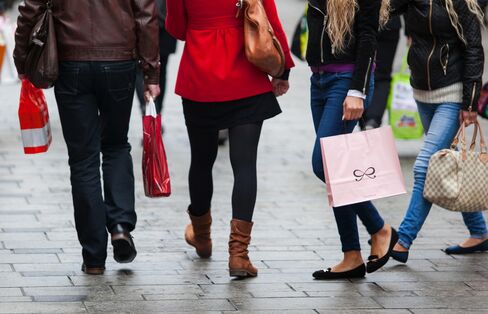 Germany's economic growth in the first quarter was driven exclusively by internal demand, highlighting the uneven nature of the euro area's recovery.
Domestic consumption climbed 1.9 percent from the fourth quarter and construction surged 3.6 percent, boosted by a mild winter, the Federal Statistics Office in Wiesbaden said today. Gross domestic product increased 0.8 percent, the office said, confirming a May 15 estimate. From a year earlier, the economy grew 2.3 percent when adjusted for working days.
Germany is key to the economic recovery in the 18-nation euro area, which is struggling to pick up pace amid near-record unemployment and subdued pricing power. The Bundesbank said this month that German growth will slow in the three months through June as the effects of the warm winter recede.
"We are in a new normal for Germany where domestic demand is the new driver of economic output -- something we'll continue to see in the coming months and years," said Christian Schulz, senior economist at Berenberg Bank in London. "Exports will grow but imports will probably grow more."
Household spending in Germany increased 0.7 percent in the first quarter, and public spending rose 0.4 percent, today's report showed. Net external trade subtracted 0.9 percentage point from growth as exports gained 0.2 percent and imports climbed 2.2 percent. Capital investment advanced 3.2 percent.
Slowdown Seen
While the economy will probably slow this quarter, that "should not be interpreted as a decline in the basic speed of the economy," the Bundesbank said in its monthly bulletin on May 19.
Even so, any pull-back would be a drag on the euro-area economy, which expanded just 0.2 percent in the first quarter, with France stalling and renewed contractions in Italy, the Netherlands and Portugal. Car sales in Germany dropped in April, contributing to the weakest growth in European auto registrations in five months.
Purchasing managers indexes published yesterday by Markit Economics showed the divergence in the currency bloc. Gauges of manufacturing and services in France, the region's second-biggest economy, both shrank this month, while a composite index of the industries in Germany held at 56.1, close to the highest level in three years.
European Central Bank President Mario Draghi will ease monetary policy on June 5 to counter the risk of too-low inflation, according to 90 percent of economists in the Bloomberg Monthly survey. Measures could range from a negative deposit rate to liquidity injections or an asset-purchase plan. Euro-area inflation has been stuck at less than half the ECB's goal of just under 2 percent since October.
Policy makers last met on May 8, when they kept the benchmark interest rate at a record-low 0.25 percent and the deposit rate at zero.
The Frankfurt-based Bundesbank predicts the German economy will grow 1.7 percent this year and 2 percent in 2015. The ECB forecasts growth for the euro area of 1.2 percent and 1.5 percent, respectively.
Before it's here, it's on the Bloomberg Terminal.
LEARN MORE