Five Reasons Ben Bernanke Would Make a Great Baseball Commissioner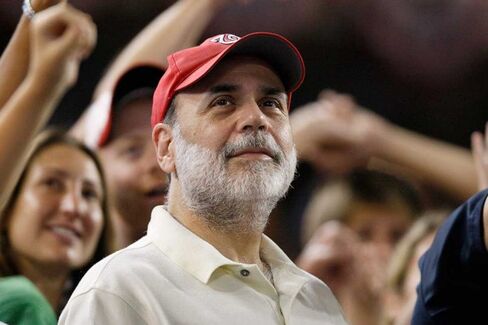 Andrew Ross Sorkin of the New York Times said today on CNBC that former Federal Reserve Chairman Ben Bernanke is interested in being the next commissioner of Major League Baseball. This isn't exactly a scoop. When he completed his term as chairman in January, he pointedly noted that Commissioner Bud Selig planned to retire in a year.
Bernanke is well known as a loyal fan of the Washington Nationals. According to the Washington Post, Jayson Werth, the Nats' star right fielder, tips his hat to Bernanke when he takes the field at games Bernanke is attending. There's even a 1980s precedent in Bartlett Giamatti, another bearded academic. Giamatti went from president of Yale University to president of the National League and then baseball commissioner. (It was Giamatti, a scholar of the Renaissance, who banned Pete Rose from baseball amid allegations that he had bet on baseball games.)
Still, something is unusual about the possibility of an economist, monetary maven, and global crisis specialist taking over the game of baseball. Here are five things we might expect from Commissioner Bernanke:
1. Steroids: Bring 'em on. What is quantitative easing if not a massive dose of anabolic steroids injected into the posterior of the U.S. economy?
2. Strike zone: Bigger, much bigger. Today's small strike zone makes it too easy for batters to keep their bats on their shoulders. A big strike zone would have them swinging on every pitch. That's activity. The Federal Reserve is a big supporter of increased activity.
3. Football: Why should Major League Baseball sit back while it loses fans to the National Football League? A creative problem-solver such as Bernanke won't let that happen. From now on, runners are out if they are tackled between bases. To even things out, they're allowed to detour through the outfield.
4. Luxury tax: The problem with the luxury tax is it's not high enough. The Yankees keep winning. An extremely high luxury tax would even the playing field and give a better chance to the Nationals. And hey, maybe even to the Cotton's Grocery Reds, a team in the Kiwanis Dixie Youth Baseball Program in Bernanke's hometown of Dillon, S.C.
5. Beards: The beards in baseball keep getting bigger. Brian Wilson of the Dodgers has one that seems to reach halfway to his knees. Bernanke keeps a nice, neat one that fits comfortably inside a batting helmet chin strap. Let the ex-chairman of the Fed be an example to all.
Before it's here, it's on the Bloomberg Terminal.
LEARN MORE