Ukraine's Chocolate Tycoon Set for Victory as Unity Frays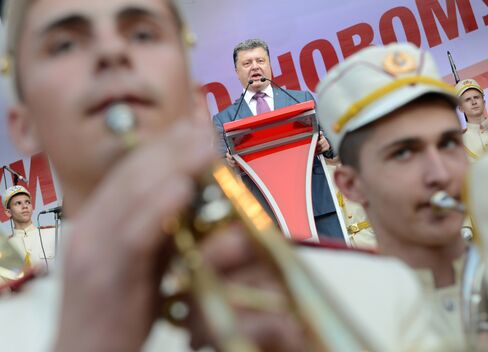 A billionaire chocolate magnate is sure he's the man to hold Ukraine together as gun-toting separatists threaten to rip it apart.
Petro Poroshenko, the front-runner in the May 25 presidential election, says he'll unite the nation by bolstering democracy and sealing deeper European ties. A regular presence at the Kiev protests that toppled President Viktor Yanukovych and a minister in the last two governments, the tycoon is a pragmatist who can strike deals to ease tensions, according to Iryna Bekeshkina, head of the Democratic Initiatives Foundation.
"Poroshenko comes across as strong, reliable and non-confrontational, a person who's able to reach compromises," she said by phone from Kiev. "His work with different camps is seen as a plus, an ability to agree with different people."
Poroshenko's challenge is unlike that facing most presidential candidates. Not only must he convince people to back him, he must do so amid hostility from President Vladimir Putin and separatist rebels who've seized swathes of Ukraine's easternmost regions. The U.S. and the European Union say the ballot will help Ukraine heal and warn of harsher sanctions if Russia meddles. Putin deems the cabinet in Kiev illegitimate.
Nationalist, Ex-Premier
Poroshenko leads a field of 21 candidates ranging from the nationalist Pravyi Sektor group that fought Yanukovych's riot police in January and February to the communist party. The chocolate magnate has more than five times the support of his nearest rival, former Prime Minister Yulia Tymoshenko. His goal is to capture more than 50 percent of the vote and avoid a second-round runoff, which would be held June 15.
The tycoon, who also has interests in media and has a fortune of $1 billion, according to the Bloomberg Billionaires Index, is flaunting his business acumen in appearances from pro-European western cities such as Lviv to the crisis-stricken east, where separatists face off against government troops.
"I know how to create new jobs," Poroshenko, 48, said on a talk show broadcast by private TV channel ICTV on April 22.
Born in the Black Sea Odessa region near the Romanian border, his business empire sprouted up from cocoa trading in his early years into Roshen Confectionery, a chocolate maker with operations in Ukraine, Hungary, Lithuania and Russia and 2012 revenue of $1.2 billion.
Business Acumen
"I like that he has his own business so he understands how it works in practice, not just in theory," said 37-year-old Oleksandr Skrypnikov, head of Mir Comforta, which sells air conditioners in Kiev. "He can reach agreements with everyone."
Poroshenko, a lawmaker, served as foreign minister under President Viktor Yushchenko, hero of the 2004 Orange Revolution that helped overturn Yanukovych's election win. He was economy minister under Yanukovych, who was eventually ousted in deadly protests sparked by his snub of a European integration accord.
The billionaire is promising to boost wages by nurturing employment and gearing the economy toward Europe through a free-trade pact. His posters carry the slogan "A New Way to Live!"
"We can't compromise with Russia on our European choice," he said May 18, according to his website. "I'll ensure immediate ratification of the EU association agreement."
Poroshenko's also showing off his deal-making skills in campaigning, sealing the endorsement of fellow billionaire Dmitry Firtash, who has close ties to Russia.
Tymoshenko Feud
The backing of Firtash, who's fighting extradition to the U.S. from Austria on bribery charges, persuaded ex-heavyweight boxing champion Vitali Klitschko to drop out of the election, leaving Poroshenko to square off against Tymoshenko.
As well as being the tycoon's closest rival, she's also his long-time foe. They bickered under Yushchenko over the premier's job, contributing to infighting that hamstrung the Orange Revolution and presented Yanukovych with a second chance.
"I won't vote for Poroshenko," said Denis Horokhovsky, 27, deputy head of public relations at COOP-Ukraine, company with interests in retail, banking and insurance. "He's changed his political views from one party to another and has already had the opportunities to implement what he's now promising to do after winning the post."
Poroshenko's relations with Russia have also soured since he threw his weight behind Ukraine's plan to sign the EU deal rather than join a Putin-backed customs union. Roshen's Russian bank accounts were frozen in March, its products were banned and the billionaire's wealth has plunged by almost $500 million this year, according to data compiled by Bloomberg.
Russian Leverage
Even if Russia recognizes the election, "it maintains much of its leverage against Ukraine," Bank of America Corp. analysts Vadim Khramov and Vladimir Osakovski said today in a research note. "Armed protests in the east of the country would continue, and could intensify. On top of that, Russia still has extensive economic leverage over Ukraine, mainly gas prices."
Russia, which has raised price it charges its neighbor for natural gas by 81 percent since April, is threatening to halt supply next month, saying Ukraine owes it $3.5 billion for fuel. The government in Kiev rejects calls the increase "political" and says it won't repay the debt unless the price cut.
"Normalizing ties with Russia depends on Putin, in particular whether he recognizes Poroshenko as Ukraine's legitimate president," said Oleksandr Parashchiy, head of analytics at investment bank Concorde Capital in Kiev.
Second-Round Win
The Russian leader may need to make that decision soon, with Poroshenko so far ahead in the polls. His backing is at 44.6 percent, compared with 8.4 percent for Tymoshenko, a May 14-18 poll by the Kiev-based Razumkov Center and Democratic Initiatives Foundation showed. He'd win a second-round runoff with about 52 percent backing, according to the survey of 2,011 voters. It had a margin of error of 2.3 percentage points.
On track to victory, Poroshenko is set to be in charge of tackling Ukraine's deepening economic crisis. Gross domestic product may shrink 7 percent this year, according to the European Bank for Reconstruction and Development.
The country's banks need at least 50 billion hryvnia ($4.2 billion) in fresh capital, central bank Governor Stepan Kubiv said last week. The hryvnia has weakened 31 percent to the dollar this year, the worst performance among more than 170 currencies tracked by Bloomberg.
"I assure you that as soon as there is stability in the east, there will be an investment boom in Ukraine," he said in a statement on his website. "It will create jobs, bring revenue to the state budget and build a strong Ukraine."
'Oligarch Collaborator'
While Poroshenko leads in the predominantly Russian-speaking south and east with about 26 percent backing, many voters there says they'll boycott the ballot because none of the candidates on offer represent their needs.
"Poroshenko isn't my candidate because he's a collaborator and I'm sure he'll cut a deal with the other oligarchs and Putin, hurting Ukraine's national interests," said Oleksiy, 28, an entrepreneur in the eastern city of Donetsk, where separatists are attempting to form an independent state.
About half of the voters in the violence-ravaged Donetsk and Luhansk regions may stay away from the election, according to the Razumkov poll. Clashes flared up again yesterday, with at least 16 pro-Kiev servicemen dying in their worst day of the campaign yet.
With no one else polling anywhere near Poroshenko, the tycoon is the only candidate with a hope of uniting the country of 45 million, according to Simon Quijano-Evans, head of emerging-market research at Commerzbank AG in London.
"Ukraine needs an elected president who's able to pull all the broken pieces together again and Poroshenko appears to face the least resistance on all fronts combined," he said by e-mail. "An elected president is only the first step toward regaining investor and electorate confidence. The hard work of consolidating all sides comes thereafter."
Before it's here, it's on the Bloomberg Terminal.
LEARN MORE