Red Lobster's Sale Embroils Its Parent in a Fight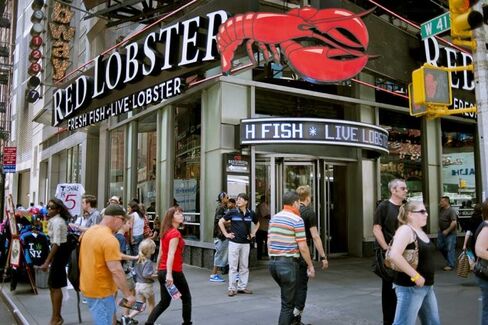 Peeved over the pending sale of Red Lobster, an investment firm wants to replace Darden Restaurants' board of directors. Starboard Value, an activist hedge fund in New York, contends that Darden has "essentially given away" the seafood chain in its recent $2.1 billion agreement to sell it to Golden Gate Capital, a private equity firm in San Francisco.
Starboard, which holds a 6.2 percent stake in Darden, nominated a dozen new directors today with hopes of replacing the company's entire board. Starboard has opposed the Red Lobster divestment since December, when Darden said it planned to sell the chain or spin it off to shareholders.
The fight centers largely around whether Darden directors foolishly squandered shareholder value with a "fire sale" of 700 Red Lobster properties or if the board got a respectable price considering the massive plunge in the chain's sales. Red Lobster caters to an older, lower middle-class demographic that has been financially pinched, leading to soft sales for many casual dining chains—with few hit quite as hard as Red Lobster. The brand also has high overhead costs, given a surge in shrimp prices, and is saddled by an inability to raise prices materially.
Starboard contends that Darden is gaining only $100 million more than the chain's real estate holdings, based on Golden Gate's plan to sell 500 locations to American Realty Capital Properties for $1.5 billion and lease back those properties. Darden said it will clear $1.6 billion in the sale, leading some analysts to criticize the heavy tax bill given the deal's structure. Starboard says Golden Gate obtained Red Lobster—which it calls "an iconic brand"—for less than one year of the chain's pretax earnings. Darden disputes that assertion.
"Darden's current Board has now confirmed our worst fears that it has no respect for the sanctity of shareholder rights," Starboard Chief Executive Jeffrey Smith wrote in a letter today to Darden shareholders. He is one of the candidates for the board that Starboard is proposing.
In a statement, Orlando-based Darden said Starboard's comments "continue to be based on incorrect and unrealistic analysis, including the unfounded assumption that a sale of the real estate could be conducted on a tax-free basis." The company said its Red Lobster disposal and other efforts to revive sales at its flagship Olive Garden chain were taken after "extensive conversations" with its shareholders. Further, it said Starboard's proposal to assume control of the company—while owning only 6 percent of the stock—does not suitably compensate shareholders.
Golden Gate had no comment on the sale or boardroom fight. Darden shares rose 1.5 percent at midday on Thursday. The shares have lost 9 percent this year, weighed down by weak sales for Olive Garden and the overall struggles for casual dining chains.
Before it's here, it's on the Bloomberg Terminal.
LEARN MORE